The Best Drugstore Makeup For Brown Skin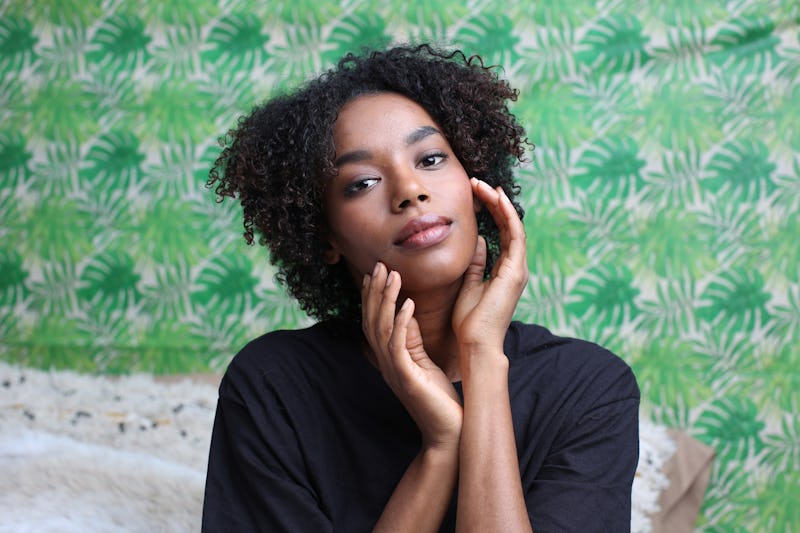 Affordable beauty gems allow makeup lovers to get that instant high without destroying their budgets. Places like Walgreens and Target keep those dollars in check a bit easier than higher-end stores, and brown babes can experience the rush, too: Some of the best drugstore makeup for women of color is out there for the taking.
Making shopping for darker skin tones isn't always the easiest task. Brands that cater to WOC sometimes feel few and far between. Things can get even trickier at the drugstore, where makeup aisles aren't as plush as major beauty stores, forcing darker-skinned women to turn to expensive brands just to find colors that actually work. As luxe as high-end makeup can be, it's not always possible to put your wallet through the ringer for it.
Luckily, there are plenty of black-owned makeup companies and brands featuring all-inclusive shade ranges whipping up quality products you can find at the drugstore. The line between affordable versus expensive makeup can honestly blur so much that it's often hard to tell the difference between the two. If you're a brown beauty on the hunt for new products to add to your stash, check out these 11 WOC friendly products that will help you (and your wallet) slay.
Deluxe Finishing Powder, $10, Amazon
White or light-colored setting powders can leave brown skin with a terrible, ashy cast, even when they claim to be translucent. Thanks to products like Black Opal's Finishing Powder, WOC can achieve flawlessly set results minus the ashy, cakey cast. Available in four shades, ranging from light to deep, Black Opal has a powder suitable for many shades of brown.
Second to None Foundation Stick in "Clay", $16, Amazon
Supermodel Iman's eponymous cosmetic brand is formulated for brown skin so you can count on it to do wonders in your makeup routine. Whether you use her foundation stick to give yourself an even complexion or carve out your face with an immaculate contour, this product comes equipped to handle many skin tones.
HD Pro Concealer, $6, Amazon
If there's any holy grail, budget friendly product, it's L.A. Girl's Pro Concealer. Even the deepest toned babe can find her shade in the brand's massive selection. You'll even be impressed by how multifunctional it is as you notice many top beauty bloggers using pro concealers to highlight and contour.
4. Shea Moisture Illuminating Powder
Illuminating Powder in "Ceylon Cinnamon", $12, Target
For a sun-kissed glow that isn't too pale, check out Shea Moisture's Illuminating Powder. It's such a treasure for caramel, mocha, and espresso-toned beauties.
5. Black Radiance Contour Palette
True Complexion "Medium to Dark" Contour Palette, $8, Target
Yet another black-owned cosmetics brand, Black Radiance knows just what WOC need. Their True Complexion Contour Palettes feature shades for sculpting and highlighting dark skin to perfection.
High Definition Blush, $10, Amazon
They may not be the most expensive, but NYX HD Blushes prove that low prices don't mean poor quality. Available in some of the boldest shades that dark skin can handle with ease, NYX's blush should be a staple in a brown babe's makeup bag.
Amore Matte Lip Crème, $11, Amazon
Milani's matte crèmes can give the priciest liquid lipsticks a run for their money. The line includes several chocolate, deep berry, and burgundy lip colors that look stunning against dark skin.
Fit Me Matte + Poreless Foundation, $8, Amazon
Industry vet Maybelline deserves a round of applause for its large foundation selection. Although your local drugstore may not include the full line, the brand's site has all 24 shades of the Fit Me matte foundation ready for WOC to snatch up with godspeed. Bye-bye oily skin, hello flawless complexion!
Natural Hue Minerals Bronzer in "Ebony Bronze", $6, Amazon
Think of CoverGirl's Queen Collection as a special shoutout to tan to dark skinned babes. The mineral bronzer is to die for, deep enough to show up wonderfully on a WOC rather than blending in with the skin like most bronzing products.
Full Coverage Concealer Jar in "Orange", $11, Amazon
Peachy pink dark circle correctors do nothing for deep skin. It takes a bold orange to really get the job done, like NYX's orange concealer jar. And if you're in the market for a great flesh toned concealer, it also comes in many appropriate shades.
11 Shea Moisture Perfecting Face Powder Duo
Perfecting Face Powder Duo In "Deep", $13, Target
A contour, highlighter, and bronzer all in one compact, Shea Moisture's Face Powder Duo does the job of many separate products. It doesn't come in a ton of options, but what's available does wonders for brown skin.
There's nothing better than finding a product that actually works against your skin. And at an affordable price point, drugstore beauty products women of color can use are worth literally jumping for joy.
Images: Ashley Batz/Bustle; Courtesy of Brands (11)