11 Of The Best Food-Inspired Too Faced Products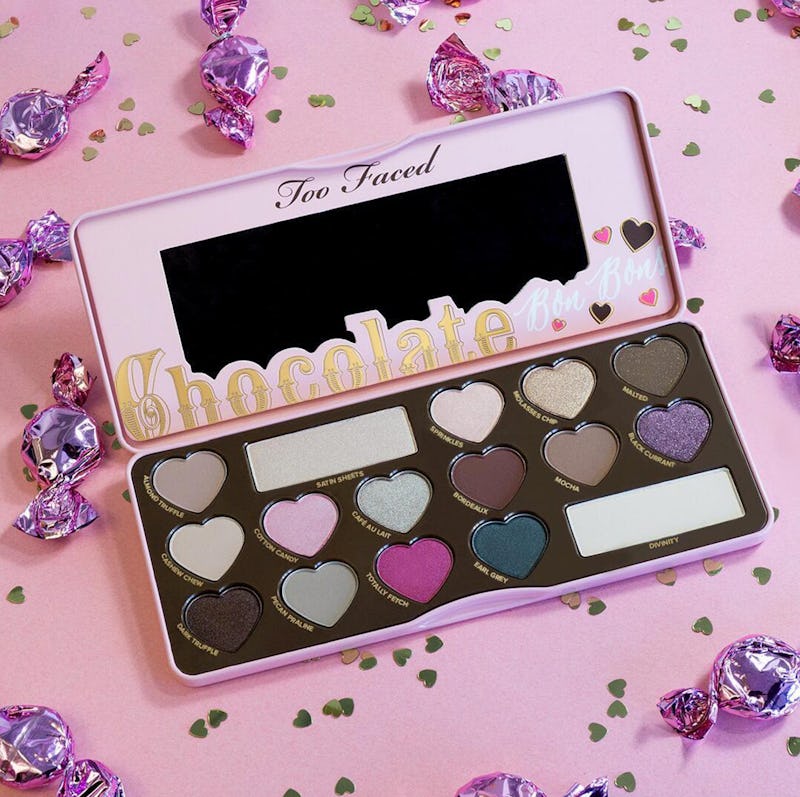 The Too Faced Sweet Peach Collection has officially arrived, but it's not the first time the brand has done something inspired by food — far from it, in fact. What are they, though? Let's take a look at some of the best food-inspired products from Too Faced, spanning everything from chocolate (and lots of it), to candy canes, to maple syrup. After all, we all need something to tide us over while we wait for the Sweet Peach Collection to drop, right?
Too Faced isn't quite like Bite Beauty or Skin Food (where the brand is built around the concept of food, and pretty much all the products are named after something edible), but they're pretty darn close. After their Chocolate Bar Palette made major waves when it was first released back in 2013, they've created tons more variations on that particular theme. Since they're also well-known for their bronzers, it's fitting that quite a few of their cheekbone-sculpting products hearken back to the candy theme as well.
So, with all that in mind, let's shop some of their, ahem, sweetest products, while we wait (and wait!) for that dratted Sweet Peach Collection to finally arrive.
Chocolate Bar Eye Shadow Collection, $49, Too Faced
So adorable and so, so wearable.
Milk Chocolate Soleil Bronzer, $30, Too Faced
Milk chocolate-inspired bronzer? It honestly doesn't get much cuter than that.
Cocoa Contour, $42, Too Faced
And hey, as long as we're on the whole chocolate/bronzer path? Why not get a whole palette of cocoa shades.
Peanut Butter and Jelly Eyeshadow Collection, $36, Too Faced
Chocolate is a pretty logical leap when it comes to makeup, but peanut butter and jelly? That's inspired. The neutral peanut-y shades are all gorgeous, and the bright purple jelly shade offers the perfect counterpoint.
Melted Liquified Lipstick in Jelly Donut, $21, Too Faced
"Jelly Donut" might be the cutest name for a lipstick shade ever .
Melted Chocolate Liquified Lipstick in Metallic Frozen Hot Chocolate, $21, Too Faced
Then, on the other side of the color spectrum, you've got this spectacular trendily frosty neutral nude.
Sugar Pop Sugary Sweet Eye Shadow Collection, $32, Too Faced
If the fact that it has macarons on the packaging isn't enough to convince you, the fact that it happens to be on sale should do the trick.
Melted Matte Liquified Matte Lipstick in Candy Cane, $21, Too Faced
According to the Too Faced website, this one smells like peppermint mocha. How adorable is that?
Chocolate Bon Bons Eye Shadow Collection, $49, Too Faced
The Chocolate Bon Bons Palette catapulted off the success of the of the first Chocolate Bar Palette, with some fun variations, including some nice pinks and purples (and heart shaped pans).
La Creme Color Drenched Lipstick in Sweet Maple, $22, Too Faced
This deep, plummy brown is perfect for winter (and for the whole '90s redux beauty trend).
Grande Hotel Cafe Limited Edition, $49, T oo Faced
Tragically, this set of palettes is now sold out — but it had an eggnog latte-themed palette, a peppermint mocha-themed palette, and a gingerbread-themed palette. RIP.
What do you think? It's tough not to go out and buy every single item off this list, isn't it? Well, luckily you have the holidays to blame in case you go off on an undue shopping spree.
Images: toofaced/Instagram; Courtesy Too Faced