9 Of The Best Plus Size Bras For Small Boobs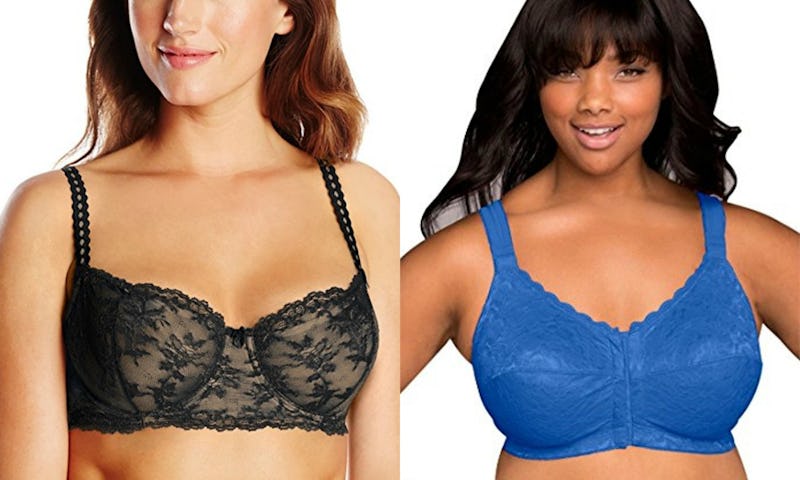 I love bra and lingerie shopping, but then again, I lucked out. Right after puberty, I happened to have a friend who worked for Victoria's Secret. She gave me a free professional fitting, and that was that. For women with specific bra needs, like plus size bras for small cup sizes, it's very rarely that simple. While plus size bras are becoming increasingly produced by retailers, the available cup sizes often go up as band sizes do, and as a result, it's pretty difficult to find bigger bands for smaller busts. That being said, women come in all shapes and sizes, and this creates a severely underserved percentage of women who need a plus size bra smaller than a D cup.
Way back when, someone might have told you that you needed to get your bras tailor made to your size. Not only is that route hella expensive, it's also just flat out inconvenient, too. Who wants to take an extra step that costs money every time they buy a new bra? Never fear: once again, Amazon comes to the rescue. While most bra stores tend to only carry the "standard sizes," the internet is loaded with a great selection of gorgeous and supportive plus size bras. A subsection of this category just so happens to be plus size bras for smaller busts, and we've rounded up some lovely ones that you'll actually want in your wardrobe.
1. This Gorgeous Lace Underwire Bra That Offers A Cups Up Through 48
If you're looking for light padding and molding with a gorgeous design, look no further than the Leading Lady plus-size padded lace underwire bra. It's got thicker straps and a leotard back for better fit, lift, and posture, and people with smaller busts have great things to say: "Like other big girls with small breasts, I find that this bra really helps accentuates what I have. T It gives support that I need, a little lift and is not uncomfortable." This one comes in an A cup up from band sizes 38 through a 48.
2. This Everyday Bra Made Specifically For A Cups
It's high time that there a bra catered specifically to all those A cups exists. Glamorise The Perfect "A" Bra comes only in an A cup, but it does so all the way up through 58. It's subtly padded to enhance your shape, and it's got a beautiful and subtly decorated outer layer that just might make this one your new go-to bra.
3. Front Closure And Seamless Support For All Sizes
With its scalloped trim and seamless appearance, people of all sizes are loving the Glamorise stretch-lace Wonderwire bra. It's got a front closure and a stretchy band that hugs your body for convenience and comfort, but it offers a B cup all the way up to a 46 band.
4. This Bra That Features Lifting Pads To Fill Out The Cup
The Warner's Elements of Bliss wire-free lift bra has lift pads that give you a natural shape without creating the pushed up cleavage look. Even though it's extremely soft and stretchy, it gives you plenty of support, and reviewers love it because it's wireless, virtually invisible underneath clothing, and comes in over 10 different attractive colors and patterns.
5. This Support Bra Molds To Your Cup Size
The Delimira plus size floral lace support bra molds to your cup size (as low as a B for most band sizes) because it has no padding. Instead, it uses a stretch top cup and super soft three-part lined fabric to give you great-fitting support. "Soft and comfy to wear," says one reviewer. "I bought it especially to wear around the house and I realize how much I like NOT having underwire. I need to buy more of these."
6. Full Coverage And Full Comfort With Tons Of Support
Wonderful for big and small busts alike, the Bali Flower underwire bra offers supportive full coverage with attractive scalloped and picot trims. It's got over 1300 great reviews because it's that comfortable despite the lining and underwire: "Excellent support for my small bust and a more natural and feminine shape. No longer do I have one single rounded lump for a bust line, but two shapely, lifted and separated breasts!"
7. Stay Supported And Aligned With This Sexy Lace Demi Bra
With a B cup all the way up to 40, the Felina Harlow unlined demi bra is a gorgeous and practical bra. It's got a high center front that helps to keep things supported and aligned, and it's got adjustable straps with a comfortable leotard back. It comes in 15 stylish colors, and reviewers are saying things like, "What I love about this bra is that the support is great because it has a wide band of lace that hugs the rib cage and gives just the right amount of lift. It's the perfect mix of comfort and sexiness."
8. A Sleek Body-Conforming Fit To Wear Under Anything
Another awesome option for small cups is the Le Mystere lace Tisha full-figure T-shirt bra. It's got an extremely smooth and body-conforming cup, but the subtle underwire and thick lining gives you support and comfort simultaneously. The cup size tends to be a little smaller than most other brands, too, so plus size women with a smaller bust often find it to be a good fit.
9. This Soft Cup Bra That Helps To Correct Your Posture
Not only does the Comfort Choice plus size allover lace bra support and shape a B cup up to size 54, but it also helps correct your posture with an extra powernet crisscross design in the back. Cotton-lined full coverage cups and wide adjustable straps feel as though you've got nothing on, but the seams lift and shape even the smallest cup sizes.
Bustle may receive a portion of sales from products purchased from this article, which was created independently from Bustle's editorial and sales departments.
Images: Amazon (9)