How To Catch Holiday Pikachu In "Pokemon Go"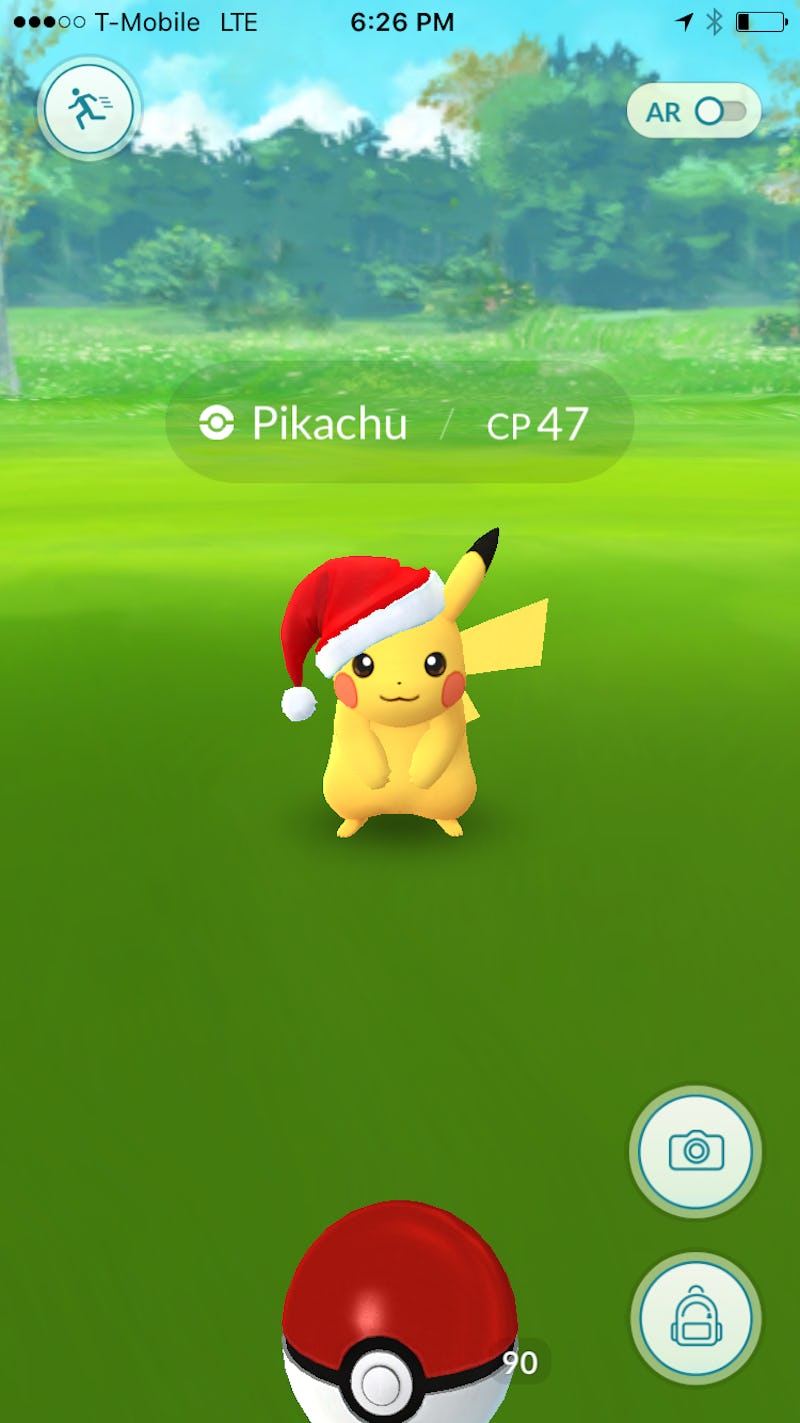 Just when we thought "Pokemon Go" couldn't get any more adorable, on Dec. 12, Niantic Labs announced that there will be a new Pokemon roaming the streets just in time for the holidays. If you're wondering how to catch a holiday Pikachu in "Pokemon Go" and basically win Christmas then read on. This special edition Pikachu will only be around until Dec. 29 at 10 a.m. PST, so get those Pokeballs ready! When you capture this limited edition Pikachu, it will appear in your Pokedex, "festive hat" and all — and seriously you guys: This little electric rat is way too cute to handle.
While a normal Pikachu can be fairly difficult to hunt down, players no longer have to hang out near power plants or train lines to find this rare electric Pokemon. As a gift to players, the holiday hat-wearing Pikachu will be more plentiful during the month of December, Niantic added, so there may be quite a few hanging around your neighborhood at this very moment. With all these festive Pikachus waiting to be caught, the question remains as to whether you can evolve this special Pikachu into a limited edition Raichu.
The past success of the Halloween event and Thanksgiving event (well, Thanksgiving-esque event — November's extra XP and Stardust event wasn't specifically a Thanksgiving one) have served to keep the popular augmented reality game fresh for its fans. The holiday season may be all about giving, but unlike the past events, this dressed up Pikachu does not offer any extra rewards (besides its cuteness). Some players may be disappointed that once you capture this limited edition Pikachu, that is the extent of the holiday event; there's no extra candy, Stardust, or multiplier to be had. However, Niantic is spicing things up by adding some Generation II Pokemon into the mix this winter, too, so players shouldn't feel too down about the lack of bonuses during holiday event. Unlike the wild Santa hat-wearing Pikachu, the Gen II Pokemon can only be obtained by hatching eggs (right now, at least) — so you may find yourself spending those precious pokecoins on a few more incubators.
So how exactly can you catch one of these elusive holiday Pikachus? Check out this step-by-step guide and get into the holiday Pokespirit!
1. Open "Pokemon Go"
Flip on your "Pokemon Go" app and head outside. There is no need to update the app, as this Pikachu is already roaming your streets in its adorable hat. You will also notice the new holiday-themed loading screen teasing the new Pikachu. The Santa-hat wearing electric pocket monster hangs Christmas lights on a large Pokeball in the sky, daring you to come and catch him.
2. Search The Wild For A Holiday Pikachu
While you walk around your neighborhood pay attention to the tracker on the bottom right hand side of your screen. The tracker displays what three Pokemon are within a 200 mile radius of the player. As these special Pikachu are so plentiful, eventually you will see a Pikachu in a Santa hat appear in the tracker bubble. Once you see a Pikachu, tap on the tracker to open the "nearby scanner." An image of the dressed up Pikachu will appear in front of a local Pokestop.
3. Tap On The Pokestop To Reveal Pikachu's Location
To reveal Pikachu's location, tap on the Pokestop image in the scanner, and then tap on the footprint image underneath. The holiday Pikachu in your tracker will be highlighted by a pink circle, and the map will zoom out to reveal the nearby PokeStop's location. Walk towards the Pokestop on your map that is highlighted by the pink circle and three footsteps. When you approach a 70 meter radius of the Pokestop, the Pikachu will appear!
4. Capture That Holday Pikachu!
Start throwing those Pokeballs and add this limited addition creature to your pokedex!
Happy Holidays!
Images: Pokemon Go (4)