ColourPop's Got Your Weekly Makeup Routine Sorted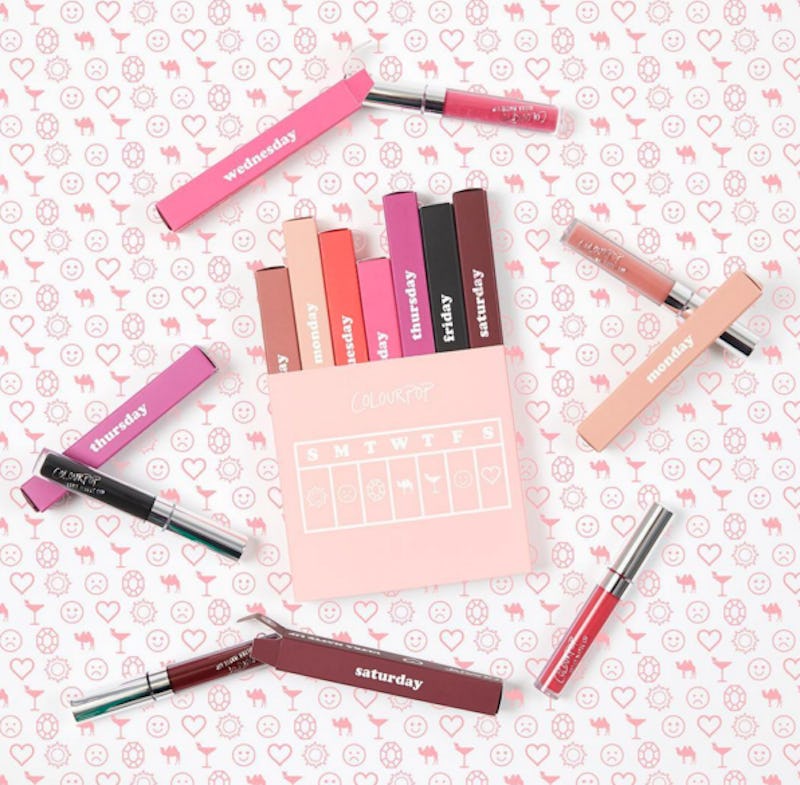 Growing up, I always thought the days of the week underwear were the coolest. Leave it to ColourPop to go and give that same idea a majorly grown-up upgrade. They've created lippies to suit your weekday moods, and the collection couldn't be more on-point. What time is ColourPop's Moment Of Weekness Collection coming out? You're going to want to shop this set as soon as it's available.
According to the brand's various social media accounts, these lipsticks will be available to shop at exactly 1 p.m. ET/10 a.m. PT on Dec. 13. Be sure to head over to the ColourPop website to rack up on lipsticks that will perfectly suit your attitude. Monday's shade is a nude color that will complete your hurried five minute face and "hair thrown up in a bun because you overslept" vibe. The Thursday hue is a bright pink because it's almost the freakin' weekend and time to celebrate that fact, of course. So, does this describe how you feel throughout the week or what?
It's absolutely amazing how this cosmetics company has completely captured our emotions in lipstick form, and if you can't wait to rock this brand 24/7, be sure to shop these shades as soon as possible!
Well, my weekly lipstick routine's sorted.
There's now an incredible color for your daily needs.
ColourPop gave a sneak peek of these lippies as part of a promotion, but now they'll be easy to add to your cart straight from the website with no promo involved.
It's just one hit after another for this brand.
According to the brand's Snapchat, you'll be able to shop these shades as singles and as a bundle.
The Moment of Weekness bundle will retail for just $35!
I mean, seriously. The perfect color for every single day. This is just too good not to purchase. ColourPop just gets it.
Images: colourpopcosmetics/Instagram (1); ColourPopCo/Snapchat (2)