You'll Keep ColourPop's Weekday Shades On Repeat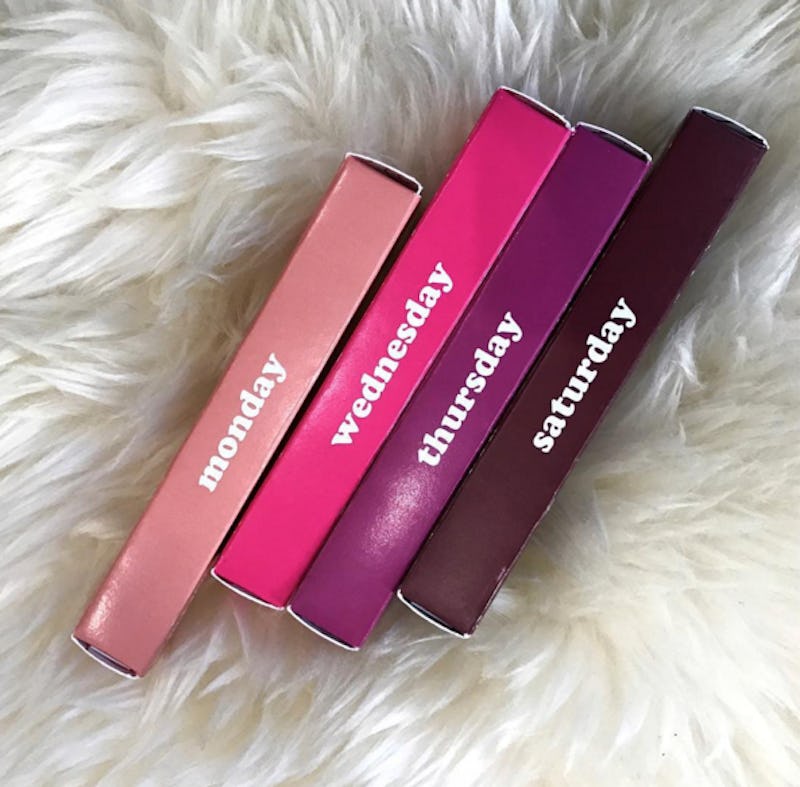 ColourPop has pretty much been my one-stop-shop for Christmas goodies. I mean with the Holiday Collection, the incredible sets at great values, and constant influx of new items, it's just entirely too difficult to resist a purchase from the brand this season. And now that they're launching lippies to suit your weekly moods, you may as well have your debit card handy. Can you buy ColourPop's Moments Of Weekness lippies individually? Find a shade to suit your daily attitude, and get to shopping.
The brand teased their latest collection a bit ago when they gave away one of four of their Weekday shades as part of a promotion. But now, you'll be able to add these colors to your cart whenever you please, or you know, while supplies last. These seven lip shades become available to shop at 1 p.m. ET/10 a.m. PT on Dec. 13.
According to the brand's Snapchat, you'll be able to shop the set as a bundle or purchase the lipsticks individually. So, if Thursday's vibrant pink pout is more your style, feel free to add that to your cart. But, if you're like me, you're going to feel as though ColourPop's magically been able to sum up your weekday feelings into lip colors (which is pretty freaking cool) and you're not going to be able to help yourself. In that case, buy the bundle for just $35. Come on. You know you want to!
Seven different colors for seven different days.
I mean. It just doesn't get better than this.
But, in case you have a few favorites, you can shop those individually.
Or, you know, just grab 'em all!
There's everything from nude shades for your more casual days to bold lippies for when the workweek is done!
Moment Of Weekness Lip Bundle, $35, ColourPop Cosmetics
Shop just a few or shop them all. There's really no wrong way to wear ColourPop throughout the week.
Tuesday Ultra Matte Lip, $6, ColourPop Cosmetics
When you're thrilled that Monday is over, you'll be inclined to slick this bright coral across your pout.
Saturday Ultra Matte Lip, $6, ColourPop Cosmetics
This dark hue is perfect for when you're ready to cheers the weekend!
Add these lippies and more to your cart, stat. For a limited time, you'll get a free gloss when you spend $10. Does ColourPop know how to sell it to you or what?!
Images: colourpopcosmetics/Instagram (1); Courtesy ColourPop (3); ColourPopCo/Snapchat (3)