Dorit's Party Brought The Extravagance On 'RHOBH'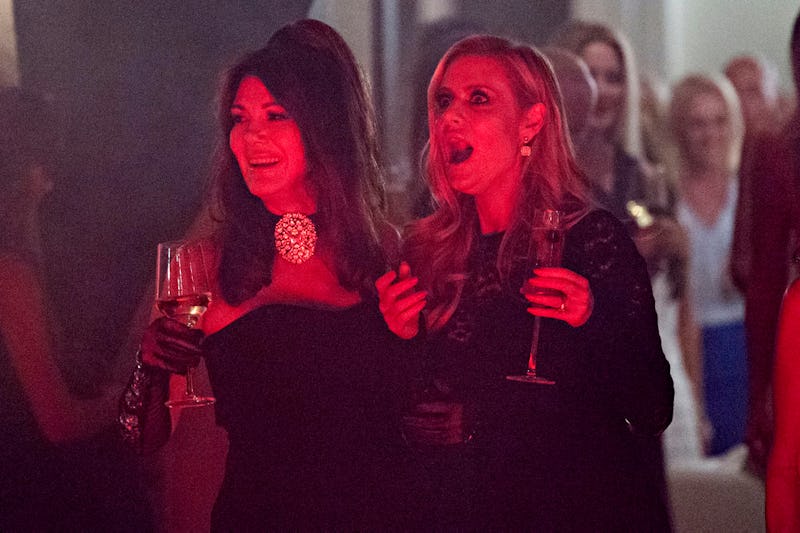 The newest Housewife on the block, Dorit Kemsley from The Real Housewives of Beverly Hills, is certainly establishing herself on the series. Tuesday's episode featured the events surrounding and leading up to her 40th birthday party and it was unbelievably lavish. Dorit's husband P.K. was the creative genius behind the bash and, although she was trepidacious about handing over the reigns to him completely for the whole planning process, it turned out to be amazing.
The birthday extravaganza started with Dorit telling everyone who would listen that she was nervous about her husband being able to handle party planning. He had the bright idea to try and keep her completely in the dark about the party theme and details, but she wasn't psyched about the relinquishing of control. P.K. gave a hint that he might be getting her a new car for her birthday and mentioned the color, Tiffany blue. Well, you would have thought he said "baby poop green" because Dorit was absolutely horrified by the idea that her husband might surprise her with a Tiffany blue-colored car. She actually said, "If I saw a Tiffany blue Maserati coming up the driveway, I couldn't fake a smile." My eyes rolled back into my head so hard that they pretty much almost shot out through the back of my skull. Don't worry though, she ended up getting a rose gold Bentley. So, we can all sleep soundly that a tragedy was narrowly averted.
P.K. nailed the party theme and created a lounge for her complete with sushi stations, walls of roses, and ice sculptures. Dorit even admitted that she couldn't have done anything better. Plus, when the rest of the Housewives are impressed, you know that you have thrown an epic birthday bash.
There was a tense moment where Dorit commented on Erika Girardi showing up in a "t-shirt dress" to the party and next week it looks like those two lock horns even further. Erika is a fan favorite, and it is probably not a good idea for Dorit to make her an enemy immediately upon her arrival onto the series. I am looking forward to seeing where that potential feud leads this season.
Images: Nicole Weingart/Bravo