Here's Who Plays Kathy Santoni On 'Fuller House'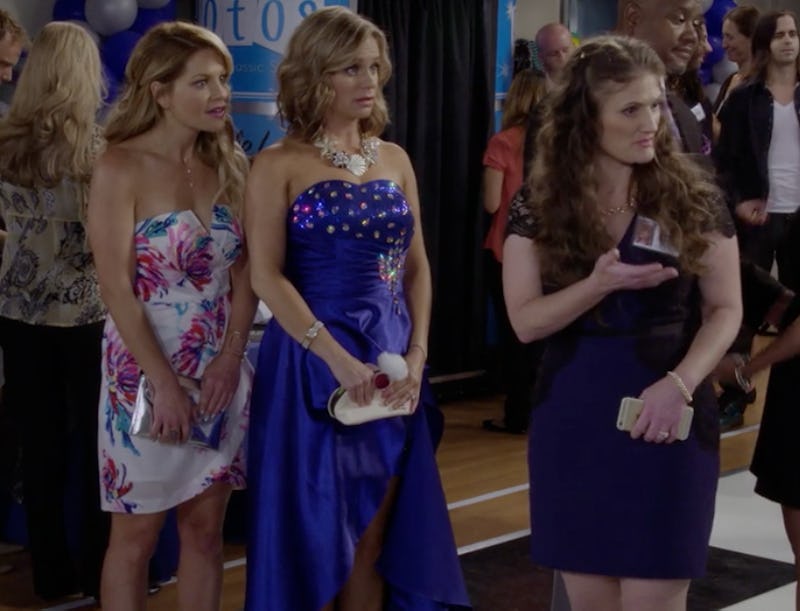 As cheesy as it might be, I absolutely adore Fuller House, so when Season 2 hit Netflix last Friday, I finished watching all 13 episodes by the end of the weekend. And even though I loved all of it, seeing Kimmy and D.J. go to their high school reunion was one of my favorite moments from the season. One of the things I love most about Fuller House is how often the show brings back characters we knew from the original series, and it was the perfect opportunity to see some familiar faces again, like Viper, Dwayne, and even Kathy Santoni. And just in case you're wondering who played Kathy Santoni, who is way nicer now that she's all grown up (minus that prank on Kimmy), I have good news for you: Yep, it's the same actress who played her in Full House! Warning: SPOILERS ahead!
At first, I was kind of confused by the whole thing, since earlier reports stated that, like Nelson, the role of Kathy would be recast for Fuller House. But something must have changed between then and now, because Anne Marie McEvoy, who played Kathy in the original series, returned for the reunion, and I'm so glad she did.
And what McEvoy's been doing since then is actually a huge departure from her Full House days. After the show, it seems like she exited Hollywood, since aside from guest starring on Fuller House, she hasn't had any acting roles since then. Today, she's known as Annemarie Conley, and she's a professor at the University of California, Irvine. Could you imagine walking into class to find Kathy Santoni as your teacher? I probably would have died, and then asked a million questions about what working on the set was like.
And although she's not too active on social media, a Twitter account that seems to belong to her (and is followed by her costar, Andrea Barber) refuted the rumor that Kathy was being recast back in August:
Here's hoping that whatever made her decide to come back to TV for Fuller House will lead to more guest starring roles in the future. I'd love to see more of Kathy, especially since she was such a huge part of D.J. and Kimmy's high school experience!
Images: Netflix, ABC