D.J.'s 'Fuller House' Reunion Had The Best Guests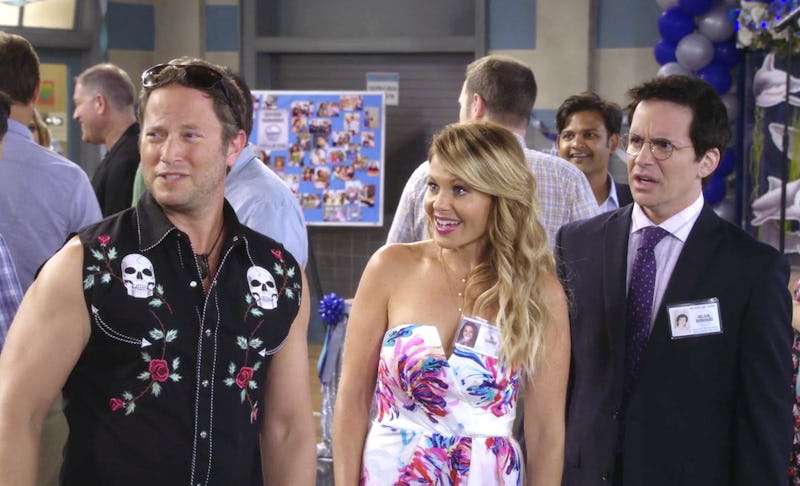 If only every Fuller House episode could be a high school reunion because Season 2's "D.J. and Kimmy's High School Reunion" on Fuller House was everything fans could want from the Netflix revival series — and more. It also led to some of the best original Full House character cameos. Not only did D.J.'s frenemy and ex-boyfriends show up, even Kimmy had a blast from the past. Most people dread high school reunions, but the Fuller House Episode 11 one was something to look forward to. SPOILERS ahead.
While devoted Fuller House fans probably already knew that Kathy Santoni and Nelson would be appearing in Season 2 (unfortunately, both Full House characters were recast), D.J.'s ex Viper and Kimmy's ex Duane also appeared — played by their original actors. Kathy was the first to show up and was still making Kimmy feel bad about herself — just like she did in junior high and high school. Yet, the real drama had to do with D.J.'s first love triangle that occurred long before the Steve and Matt one did.
Nelson was at the reunion and, though he was recast with Hal Sparks playing him, he was still as rich as ever — naming all of the places where he owned homes and what kind of jet he had. He also was still wearing those unfortunate glasses. The years hadn't been so kind to Viper since the '90s either. First off, Viper didn't even go to Bayview High, but showed up to the reunion since D.J. was the one who got away. Cool guy Viper was still playing in a band, but had a side job at Foot Locker. His style was actually worse than the '90s too with him wearing a sleeveless shirt adorned with skulls and roses. So needless to say, the spark that D.J. has with her other ex-boyfriend Steve — who came to save the day — wasn't there for Nelson and Viper.
The real MVP of the reunion was actually the most surprising. Duane — Kimmy's "whatever" boyfriend who she almost married in Las Vegas. Although he did have a love of Shakespeare back in Full House, it was still pretty shocking that he had gone to Harvard. While Kimmy was hiding in the photo booth after her Spanx were exposed, he told her how he turned his one-word catchphrase into a motivational motto. He inspired Kimmy to turn her night around and when she kissed him, he reverted to his old "Whatever" ways. Seriously, his spot was so charming maybe Kimmy should have married Duane over Fernando.
While D.J.'s old boyfriends hadn't really grown up, at least Duane did. And, seeing how little or how much people have changed over the last 20 years is what high school reunions are all about — even for our favorite fictional Full House characters.
Images: Netflix (3)