The National Film Registry Adds 'Thelma & Louise'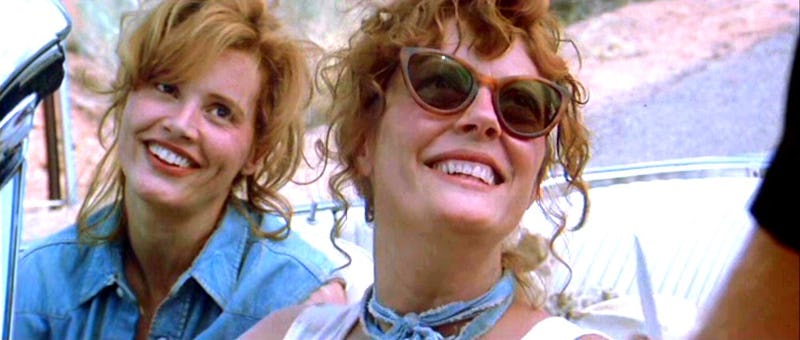 Seriously great news: among the 25 films added to the National Film Registry is the 1991 classic, Thelma & Louise . But, wait. What's that sinking sensation in your stomach? Like you swallowed a rock? Oh, right — you're registering the fact that this only just happened. So while one of the masterpieces of modern cinema has been out for, oh, 25 years, it only just made the cut for a list of films that all chosen for their "cultural, historical, or aesthetic" significance. Um. What?
This is pretty mysterious. After all, it isn't as if this is some niche cult movie that only your cousin studying for a masters in expressionist cinema knows about. The female friendship road movie received six Academy Award nominations (with Susan Sarandon and Geena Davis both getting Best Actress nominations and Ridley Scott getting a Best Director nomination) and won one Academy Award for the Best Original Screenplay for the screenwriter Callie Khouri. That was something that was near unheard of for a woman in that time, never mind one whose winning script was also the first screenplay she'd ever written. It made over $45 million in the US box office. And it's widely acknowledged to have provided Brad Pitt with his breakout role.
Spoiler alert. On top of all that, the movie managed to capture the subtle misogyny women were exposed to in their everyday lives. Khouri took inspiration for her screenplay from moments of sexual harassment in her own life, most specifically when an old man shouted at her out of a passing car and
...all of the sudden, I was filled with a rage I didn't know I possessed. I was not a human being in front of this guy. I was like, if I had a gun in my hand, I probably would have raised it, and if not fired it, at least made him think I was going to. And it would have happened (snaps her fingers) that fast.
She made no bones about her intent in emphasising the political aspects of Thelma and Louise's existence in her interview with Dazed this year:
Thelma & Louise was a movie I was making because, one, I had never seen a movie that made me feel good about the way the women were represented, and two, it was speaking to issues that were important to me. Not that I was really thinking of it in terms of issues, it was more about [asking myself], 'Well, let's just see what the reality would be if these things were to happen. If two women were to do what they did, how would it be perceived?' I don't think I realised [how the film would resonate with people], I just knew it was the film I knew I really wanted to see.
Her women-first movie didn't just resonate with audiences, (like the lesbian activist LA Time Magazine interviewed who called it "the first movie I've ever seen which told the downright truth"), but felt as if it captured the spirit of the time. In the following year, four women would go on to be elected to the Senate, prompting the press to dub 1992 "The Year Of The Woman." But misogyny wasn't dead; in the same year, during the presidential debate at the University of Richmond, President George Bush said, "This is supposed to be the year of the women in the Senate. Let's see how they do. I hope a lot of them lose."
The scary aspect of the film is, as The Atlantic has acknowledged, how well it has aged. A large part of the film's plot centred on the pair's inability to report what had happened to the police ("Just about 100 people saw you dancing cheek to cheek with him. We don't live in that kind of world, Thelma!") And, as the Trump campaign showed, sexual assault victims' testimony is still being treated with immense scepticism.
Sadly, Thelma and Louise continues to be one of the most important and relevant films about instutionalized misogyny that we have. The fact that it's only just being added to the National Film Registry could be considered further evidence of this.
Images: Pathe (2); MGM/Youtube