These Feminist Netflix Moments Will Fuel Your 2017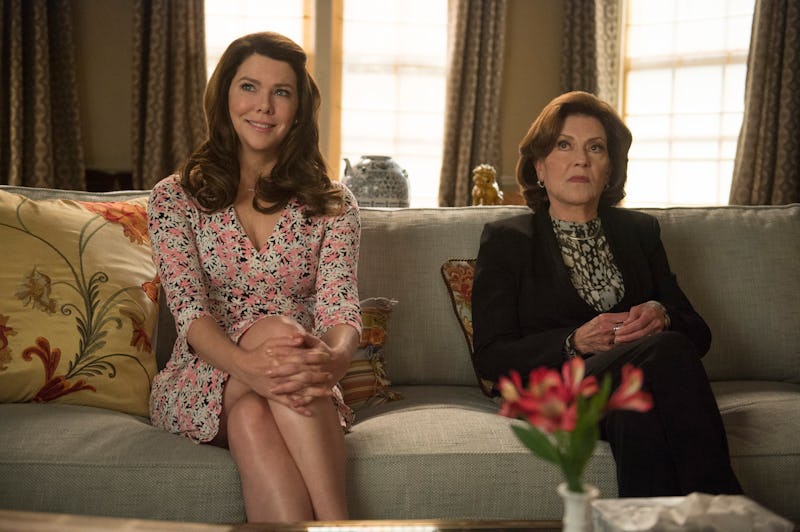 It used to be that, in Hollywood, all of the most respected and groundbreaking actors worked in film. But, with the advent of cable, and now with a multitude of streaming services, there is a golden age of television. TV (and the Internet) is now delivering more and more thought-provoking stories featuring women, minorities, and LGBT characters. And, when it comes to innovative streaming networks, Netflix — with their many female-led shows and gripping stories — is one of the most feminist streaming services around. Looking back now, at the end of the year, I found so many great feminist moments in Netflix shows from 2016 — and they can totally fuel you to have a great 2017.
With more and more female-led series hitting the streaming site, it was hard to narrow down the year's most influential moments. Netflix's shows have addressed sexism, ageism, LGBT relationships, sex, human rights, and mental health (to name a few), all from women's perspectives. And, for that, the network itself must be lauded. But, which shows have played the most significant parts making Netflix a leading feminist streaming platform in 2016? Which characters, story arcs, and series stand out? Here are the most feminist moments from Netflix this year, in my opinion.
Black Mirror, Yorkie & Kelly's Love Story
Guy meets girl. Guy loses girl. Guy gets girl back. Both are probably white. The trope is tired. That's why it's great that the show that usually makes viewers fear for the future was able to deliver a beautiful love story in the not-so-distant future. Yorkie & Kelly's "San Junipero" episode of Black Mirror surprisingly tackled mortality, religion, and technology while delivering an interracial, same-sex love story that sticks with you.
Unbreakable Kimmy Schmidt, Kimmy Goes To Therapy
Unbreakable Kimmy Schmidt is a survivor story. One thing in her past does not define her. Though, she can't pretend like it didn't happen either, which is why her season two arc seeing a therapist was so important. It is still groundbreaking for shows to destigmatize working on mental health. And, Kimmy going to therapy and working through her trauma was as brave and important as it was funny.
Grace & Frankie, Older Women As Leading Ladies
Hollywood has a ridiculous age problem. And, I've written about it before when discussing Grace & Frankie. Basically, leading men age but their on-screen love interests stay in their 20s. That is why it is so refreshing to see a series where the leading ladies are in their 70s, living interesting lives, having sex, drinking, smoking weed, and making us laugh. The show was also groundbreaking this season because there was a pretty steamy sex scene between two characters in their 70s.
Chelsea, Basically Everything
Since its premiere in May 2016, Chelsea Handler's innovative Netflix talk show Chelsea has quietly become one of the most feminist shows on the streaming site. Her new series delivers important interviews with important women, often discussing science, education, human rights, and other feminist topics like superheroes, immigration, pornography, plus-sized fashion, and women in politics, to name a few. If you want to catch up with Chelsea's most feminist episodes, you should start with "I Was A Ticking Time Bomb" and "Dinner Party: These Strong Women," they are both so inspirational, and both feature Gloria Steinem — so you can't go wrong with those.
The Crown, YAS QUEEN
The Crown on Netflix does not sugarcoat Queen Elizabeth's dramatized journey to finding her voice as leader of a monarchy. While handling global diplomacy, she also faces the struggle women still know too well of having to be perceived in multiple roles at once: a daughter, a sister, a wife, a mother, a queen. The show doesn't shy away from featuring the sexism the Queen faced, including microaggressions within her own family and tension within her marriage. (About the content featured in the show, a rep for the royal family told Bustle, "The Crown is a fictional drama. The Royal Household has had no involvement.")
Luke Cage, Misty Knight
Misty is a smart, badass detective. And, the actor who plays Misty, Simone Missick, is also spreading an important message. Missick told The Daily Beast she didn't have to lose weight, change her appearance, or fight her age for the part.
"It was really great to not have to be concerned with aging myself down for once … Simple things like them wanting my hair to be natural … Nobody asked me to lose weight for this role, nobody wrote that I needed to look 22 years old and get a lot of sleep every day in order to make that look real. It seems like a small detail, but as a woman, being told that you are good enough just the way you are, there's a freedom to that."
Gilmore Girls: A Year In The Life, Lorelai's Wild Adventure
It finally happened. Fans finally got more episodes of Gilmore Girls. And, it was worth the wait. I loved that Lorelai was portrayed as a woman in her 40s who has options. Lorelai is not just Rory's mother. The character is seen making big decisions about starting a family, traveling, romance, and expanding her business. Because, at 40, Lorelai still has time to make a change. The idea of reexamining your life and changing it any age, seen with Rory, Lorelai, and Emily, is so important. On Gilmore Girls, women are the leading characters in their own stories.
Stranger Things, Eleven
Eleven may be the most badass, terrifying, heroic, and beloved character of 2016. Did I mention she's a little girl? So cool.
Images: Neil Jacobs, Eric Liebowitz, Melissa Moseley, Patrick Wymore, Myles Aronowitz, Robert Viglasky, Robert Voets/Netflix; Netflix (2)