Why You Should Watch 'Clueless' Over The Holidays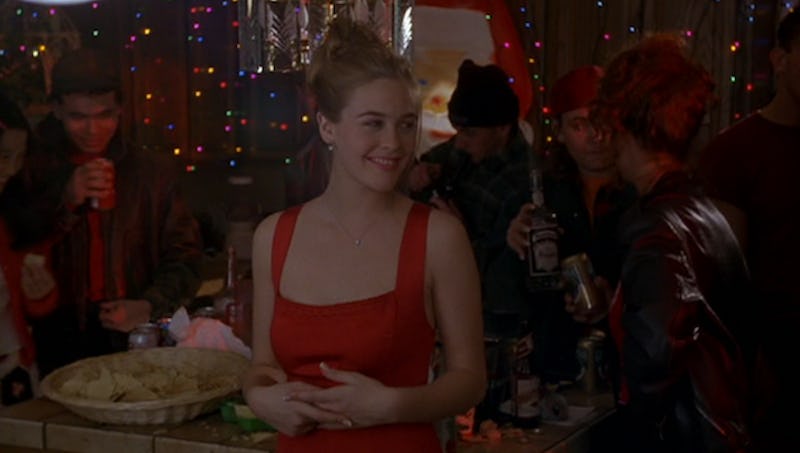 If you're thinking ahead to your holiday break and what you're going to do with those glorious days off, I recommend you do only one thing and that is nothing. Well, nothing that requires you to get off your couch, that is. My suggestion? Catch a flick in the comfort of your own personal movie theater, aka your living room. But don't just make it any film: Clueless is the '90s teen movie you need to watch over the holidays. Why? Because not only does the movie present the whole package — romance, comedy, and action — Clueless contains perhaps one of fiction's most memorable holiday parties.
Listen, I may have only been 4-years-old when the movie premiered, but I maintain that it is still one of the greatest of all time. Another plus for watching it over the upcoming holiday break that you're likely spending with your family? It's a crowd-pleaser. My mother and I love this movie equally. In fact, my mom probably quotes it at least once a week (that is not even an exaggeration).
Here's why Clueless should be one '90s teen movie you should watch over the holiday, that is, if you know what's good for you.
It's Basically An Interactive Sing-Along
Tai points out that Elton taught her "Rollin' With The Homies" and the accompanying dance moves, but really, it was tutorial for us all. And, isn't caroling big during the holiday season?
There's An Homage To A Christmas Carol (Sort Of)
Alright, so maybe I'm stretching this just slightly, but the Christmas party in the Valley is somewhat reminiscent of Fezziwig's Christmas shindigs in A Christmas Carol, and I am sticking by that.
There's Plenty Of Plaid
What? It's an important holiday fashion staple.
There's A Lesson The Protagonist Learns About The Frivolity Of Material Things
Every holiday movie includes this sentiment in one way or another, am I right? The holidays are about the gift of life, friends, and family. It just takes Cher a little bit longer than usual to get it.
It Offers Up A "Near-Death Experience" Revelation
It's a regular It's A Wonderful Life, if you ask me.
It Comes To A Heartwarming Conclusion
We'll just side step the whole "they totally used to be step-siblings" thing in this instance, if that's cool...
Basically, Clueless has all the hallmarks of a classic holiday film, while still being relevant in every single other season. You just have to watch it.
Images: Paramount Pictures; Giphy (3); Cinema Cut/YouTube