Stephanie & Jimmy Are Definitely Meant To Be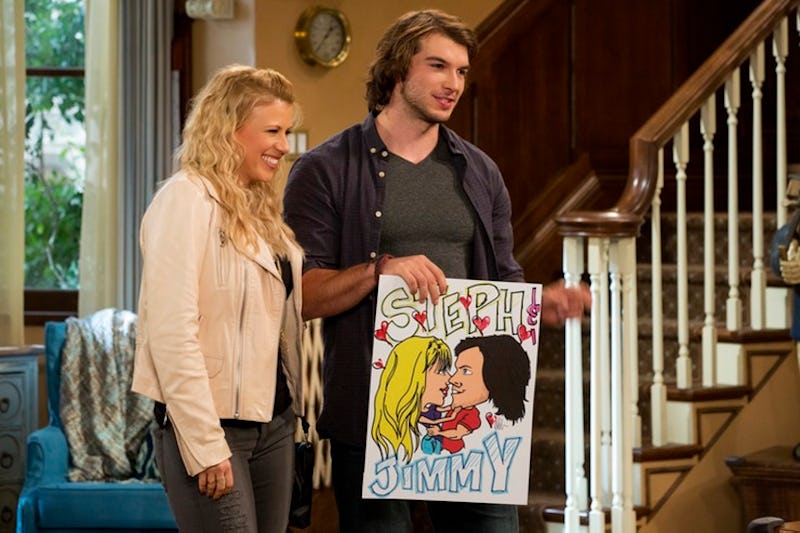 Before watching Fuller House Season 2, my hopes were high that the show would dive into Stephanie's love life, and I definitely wasn't disappointed. After all, Season 1 focused so much on Kimmy's relationship with Fernando and D.J.'s choice (or lack thereof) between Matt and Steve, and all Stephanie got was that short lived romance with Hunter Pence? But now, all that has changed. Warning: Spoilers ahead! Against all odds, we got to see her fall in love with a Gibbler this season, and now, it seems pretty obvious that Stephanie and Jimmy are the most stable couple on the show.
I'll admit it: At first, I was all poised to hate Jimmy Gibbler. I mean, suddenly, Kimmy's got a brother whose name rhymes with hers and who also never appeared in the original series? OK. But after the show actually introduced him, I was in love, especially since he was immediately into Stephanie and also really bad at lying about being D.J.'s boyfriend in front of Matt and Steve. And after watching his relationship with Stephanie (and the rest of the family) progress, I was officially sold on these two as a couple — more so than any other couple on Fuller House, except for maybe Max and Rose, who are the cutest.
Fuller House might be, at its core, a show about healthy, loving family relationships, but where romantic relationships are concerned, nobody on the show is having too much luck. Although Kimmy and Fernando have been together for years, they're in the middle of a divorce while simultaneously being engaged — what's the deal with that? Their relationship can be volatile at times, and in the beginning of Season 1, Fernando was frequently dating other women. He seems to be more loyal to Kimmy now, but that doesn't exactly create a good foundation for a lasting marriage if they ultimately end up giving that kind of commitment another shot.
And then, there's D.J. She's been conflicted about what she wants all along, and that bums me out for her, because it seems like she's always putting everyone else's feelings before her own. Even now that she and Matt have dated for most of Season 2, she still seems unsure of her feelings for him and has acknowledged that there's definitely still something there between her and Steve, even though he's now engaged to someone else. Because of that factor (which is huge), I can't see that relationship lasting much longer at all.
But where Stephanie and Jimmy is concerned? They're solid. When they have a misunderstanding, they immediately communicate it. And when Stephanie almost got spooked into running for their relationship after Jimmy dropped the L-bomb, she decided to work through her fear of commitment and stay with him anyway, which seems like it was a big deal for her. But nothing convinced me of their staying power more than when Stephanie told him she can't have children and Jimmy's reaction was that the only thing he cares about is having Stephanie in his life. I'd be surprised if Fuller House broke them up, and I could totally see them being the Uncle Jesse and Aunt Becky of the series.
Fingers crossed that I'm right, and that Season 3 brings a lot more Stephanie and Jimmy adorableness. My heart couldn't take it if they didn't last forever!
Images: Michael Yarish/Netflix, zivaupatree/Tumblr