Samantha Bee's Most Empowering Moments In 2016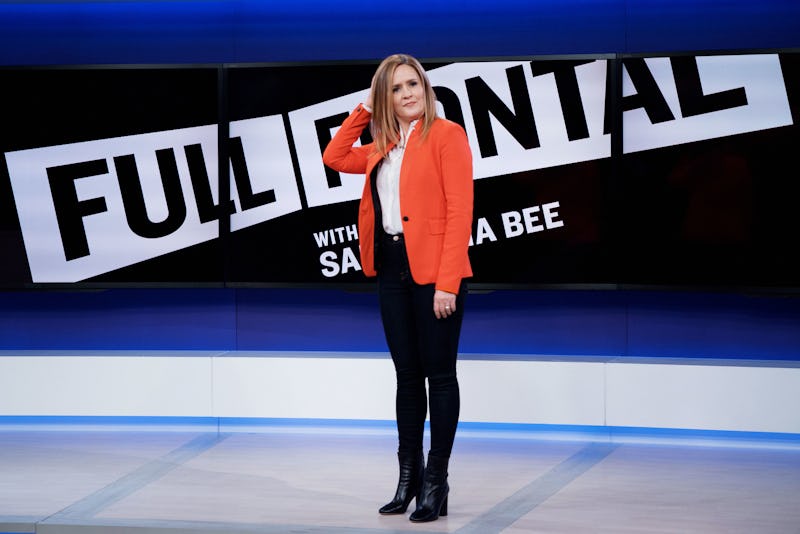 When Full Frontal with Samantha Bee aired its first episode on Feb. 8 of this year, the late-night game changed. It also highlighed a pre-existing problem: the lack of late-night programs helmed by female hosts. Amongst a sea of hilarious men who have come and gone in the space (Stephen Colbert, Jon Stewart, John Oliver, Trevor Noah), there were few women — until Bee. Samantha Bee had many empowering moments in 2016, as she used her platform to prove that she was an irreplaceable voice in late-night TV. And she just so happened to be female.
As Full Frontal with Samantha Bee started advertising ahead of its premiere, the billboard ads for the show had the following message: "Watch or you're sexist." It was an obvious jab at the glaring void of female hosts in late-night comedy and a subversive way for Bee to poke fun at her critics. While other well-known female comics were able to put humorous feminist twists on what it's like to be a woman in 2016 (see: Amy Schumer's Inside Amy Schumer), Bee wanted to talk about a range of topics that fell outside of those bounds — like public policy, immigration, global warming, and electoral politics.
On Full Frontal, she was able to do so, while still remaining unabashedly feminist and, in her own words, "female as f*ck." Let's take a look back at Bee's most powerful and liberating moments from 2016.
1. When She Shared A Strong Post-Election Message
Bee had a response to this tear-jerking quote from Hillary Clinton's concession speech: "To all the little girls watching, never doubt that you are valuable and powerful and deserving of every chance and opportunity in the world." She said, "If Ms. Rodham's not in the White House, that's OK. One of those girls is going to be. We still have millions of nasty women who aren't going away."
2. When She Exposed Crisis Pregnancy Centers
In this parody — featuring Patton Oswalt — Bee proved that crisis pregnancy centers were not equivalent to women's health clinics. National Abortion Federation CEO Vicki Saporta outlined the important differences, and explained that crisis pregnancy centers can trick women into thinking that they provide necessary health care services, when they often don't have the medical credentials to do so — and have ulterior motives.
3. When She Debunked Abortion Myths
Bee discredited "partial birth abortions," a procedure that does not exist. In the segment, Bee made it clear that "partial birth abortions are not a thing."
4. When She Responded To Donald Trump's Leaked Audio
Bee went in on Donald Trump and Billy Bush's leaked 2005 Access Hollywood audio. She called out the statements for what they were. Not "just lewd remarks," but remarks wherein "Trump was literally explaining a time tested strategy for sexual assault."
5. When She Mocked The $20 Bill Criticism
Bee's dissection of why it was ridiculous for anyone to be mad about Harriet Tubman's new placement on the $20 bill (plus her takedown of Andrew Jackson) was spot on.
6. When She Shed Light On The Rape Kit Backlog
Bee elucidated a problem that had insofar not been given much of a spotlight — rape kits that go untested. A news clip she shared stated, "There are an estimated 400,000 rape kits just sitting in evidence rooms [...] that have never been tested for DNA samples." She pointed out that police can legally "incinerate" rape kits before "the statute of limitations expires" — in all states. Then, she called for a much-needed change.
7. When She Supported The MJIA Act
The MJIA act — otherwise known as the Military Justice Improvement Act — is a reform that aims to make the process of sex crime prosecution easier for victims in the U.S. military. Sexual assault is reportedly a massive problem in the military, and Bee's coverage of the issue was important.
8. When She Pointed Out the Hypocrisy Of This Dress Code
When a Kansas senator put out a legislative dress code just for girls, Bee had no problem calling out the holes in that logic.
9. When She Took Down Clinton's Body Language "Experts"
Bee summed up the paradox of Clinton's critics: "So be perfect. But not too perfect." And pointed out that Trump didn't get any type of feedback on his body language.
10. When She Gave A Final Plea To Vote For Clinton
"Tomorrow, girls who were born before women had the right to vote will have a chance to vote for a woman," she said. Even though we know how it turned out at this point, watching Bee's final Clinton monologue is still inspiring.
11. When She Created "Nasty Woman" Shirts
And gave 100 percent of the proceeds to Planned Parenthood.
However much smaller the cracks in Bee's late-night glass ceiling might feel in the aftermath of the election, they're still cracks. In a political climate where progressive voices like hers are not only wanted, but needed, let's count that as a win for 2016.
Images: TBS