Alec Baldwin's 'SNL' Tweet Promises More Donald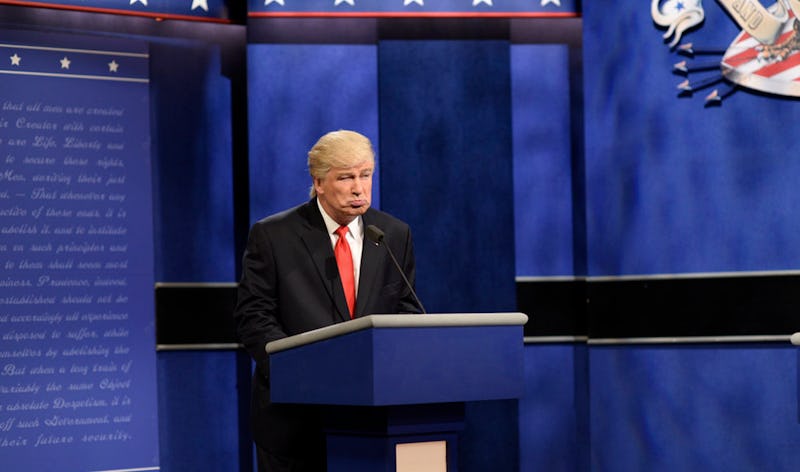 Notorious Trump-baiter and my own personal hero, Alec Baldwin, suggested that SNL's Donald Trump skits aren't ending anytime soon when he tweeted a tease that looked an awful lot like he was preparing to take on the role again. On Saturday morning, the tweet showed Baldwin getting ready to play Trump backstage and was captioned, "...@snl tonight." Now, I'm not a detective, but I do think that's some fairly substantial evidence that the actor will be reprising his much-loved Trump impression this Saturday evening. Well — "much-loved." The most notable aspect of Baldwin's impression is how angry he's made the man the impression is depicting.
The president-elect has been consistent in making his ire public after Baldwin's impressions. On Dec. 4, Trump tweeted, "Just tried watching 'Saturday Night Live' — unwatchable. Totally biased, not funny and the Baldwin impersonation just can't get any worse. Sad." Baldwin was quick to respond, offering to stop doing the impression if Trump would release his tax returns — and Trump suddenly went uncharacteristically quiet. This wasn't a one-off. Perhaps the joy of the whole Baldwin/Trump feud has been Baldwin's increasingly inventive ways of using Twitter to hold Trump accountable every bit as ruthlessly as his impression.
When Trump tweeted on Nov. 20 about SNL not satirizing both sides of the political spectrum equally, Baldwin's response was prompt:
Baldwin continued across multiple tweets, arguing that Trump needed to focus on improving the lives of Americans (with the implication being that he was being distracted by the small stuff, like skits about him on TV) and that Trump should focus on creating work and improving America's reputation abroad by fighting "for freedom and not just oil." Baldwin also suggested Trump make appointments who encourage, rather than generate "fear and doubt."
And perhaps this is what makes Baldwin so good at playing Trump. He cares — a lot. The above tweets are just a tiny percentage of the huge number of tweets he devotes on a daily basis to exploring Trump's questionable policies and appointments. And perhaps it's because he's so committed to his subject that he nails everything from the president-elect's, ahem, unusual way of pronouncing the way "apologize" to the Trump perma-pout.
So if you watch any show this Saturday, make it Saturday Night Live. It's not just the comedy that's great — it's how passionately the man behind the sketch feels about Trump's policies and politics.
Images: NBC