18 Perfect Gifts Every Fitness Lover Needs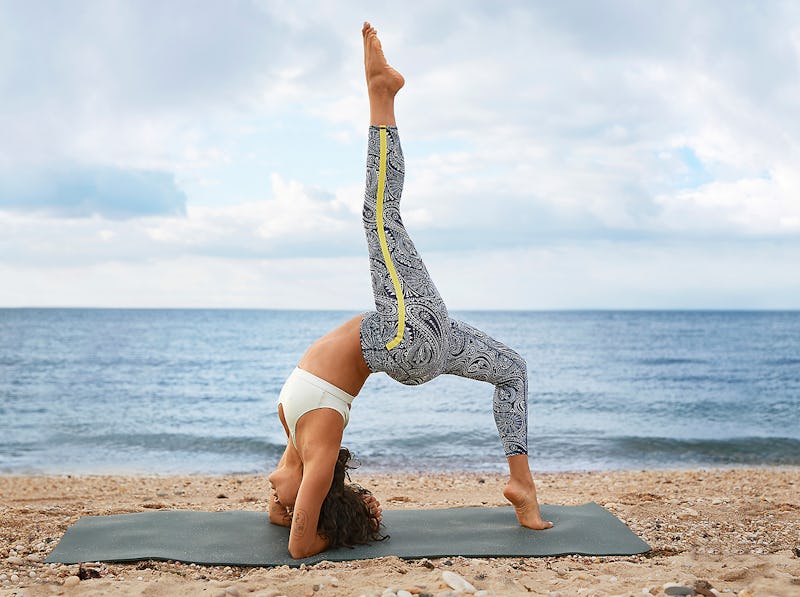 Chances are good that you know someone who loves fitness. You know, someone who spends a lot of time at the gym, or paying for over-priced exercise classes. Someone who generally eats pretty healthy and likes to try to get in some kind of physical activity on most days. Someone who has nailed athleisure, and who wears a Fitbit every day. If you're looking for the perfect gift for that person, why not get them a fitness-related gift? It's your best option, to be honest!
The truth is, even if you have a friend who isn't a total gym rat, these make awesome gift options. You don't need to be a SoulCycle master or a marathon runner to appreciate the below items, which make fitness a little bit easier and definitely a lot more stylish. These gifts are ideal for someone who exercises a lot, but they're really great for anyone who is on the go, making them versatile and practical, as well as fun and different. Plus, even if they're not super into fitness, let's be real — a lot of these are just handy to have around just in case. Here are a few gift ideas any fitness lover needs in their life.
1. Cool Workout Leggings
This lace up look is pretty trendy right now, but it's also really cool looking and makes workout clothes a little bit more fun. Forever 21 has a surprisingly awesome sport line, with clothes that are comfortable, functional, and have a touch of style. These are a great price and make a cute gift.
Active Tie-Back Capri Leggings, $19.90, Forever 21
2. A Yoga Mat
Looking for a gift for someone who's into yoga? This cute mat is so rad and also very truthful. This is a good gift for anyone though, actually — mats can be used for strength training exercises too!
Work It Out Exercise Mat, $32, ban.do
3. A Gym Backpack
I'm currently coveting this sleek backpack that doesn't even look like it should store gym clothes. It's made of a super lightweight material, offers pockets for sweaty items and valuables, and has some great rose gold hardware. Most gym lockers are small and not ideal for big gym bags, so something like this is really helpful.
All Sport Backpack, $115, Sweaty Betty
4. Good Earbuds
I personally cannot work out if I'm not listening to music, and a lot of other people feel the same way, meaning a good set of earbuds is essential. These Jaybird earbuds are wireless and work on BlueTooth, and they wrap around the back of your neck, meaning no more annoying thumping against your chest every time you move. They give great sound and even have a portable battery pack you can use to charge them on the go.
Jaybird X3 Wireless In-Ear Headphones, $129.99, Best Buy
5. Stylish Sneakers
Sneakers are having a moment right now, so you really can't go wrong with this option. Nike obviously makes great sneakers. These metallic sneakers are versatile, fun to look at, and super lightweight and comfortable. They're also so unique!
Nike Internationalist Sneaker, $120, Nordstrom
6. A Cozy Hoodie
Make it easier on this person to go from the gym to hanging out, running errands, or going to work with this stylish hoodie. It's super soft and comfortable, lightweight but cozy, long in the back, breathable for when you're sweaty, and looks good zipped up or left open.
Cozy Karma Asym Hoodie, $118, Athleta
7. A Nice Water Bottle
You can never have enough water bottles! S'well makes great ones that keep drinks cold for hours and hours, and it doesn't hurt that they're quite aesthetically pleasing. These marble ones couldn't be more trendy, and they're so nice!
S'well Marble Water Bottle, $25-$45, Urban Outfitters
8. Printed Leggings
Comfortable printed leggings are actually one of the best things about working out. I like to have a few pairs that are vibrant and stand out besides just basic colors. American Eagle's Aerie makes the most comfy workout leggings that come in bright, fun patterns, like this option.
Aerie Printed Play Leggings, $29.96, American Eagle
9. A Mini Foam Roller
Little accessories like these are great for someone who works out at home, but they're also good for gym rats. These mini foam rollers have a structured inside, so they're not easily destroyed. I just got one and I love how sturdy they are. And I'm so into the bright shades!
GRID Mini Foam Roller, $24.99, Trigger Point
10. A Fitness Journal
If you know someone who's really serious about that fitness life, a tracker journal is a thoughtful gift. This one isn't just for jotting down workouts —it's full of helpful tips, inspiring quotes, and loves of lists to help stay on track.
Goal Getter: Fitspiration Journal, $16.95, Fitlosophy
11. A Beanie
Know someone who runs outside a lot? This beanie is great for the cold weather — aside from being warm, the top is reflective. Safety first!
Reflective Pom Beanie, $26, Athleta
12. Dry Shampoo
Anyone who works out a lot knows that washing your hair every day is a bit unrealistic. Living Proof has the best dry shampoo I've ever used, and it would make a great gift. I was introduced to this after a grueling SoulCycle class, and it works wonders. Unlike a lot of other dry shampoos, which just gives texture and volume, making hair look less limp and greasy, this one actually cleanses strands. It doesn't feel gross, it makes your hair look better, and it smells good.
Living Proof Perfect Hair Day Dry Shampoo, $22, Nordstrom
13. Basic Leggings
Hey, you can never go wrong with a pair of basic leggings if you don't know what else to get. I'm obsessed with Athleta's leggings because they're so, so soft, and they don't stretch so much that they become transparent. This black, white, and gray pair is so versatile.
High Rise Jacquard Chaturanga Tight, $79, Athleta
14. A Yoga Mat Bag
If you need a gift for a yogi, this bag is so nice. Carrying a mat around is annoying, and the add-on straps aren't always the best. A mat bag protects it and makes things more convenient.
Yoga Mat Bag, $55, Sweaty Betty
15. An Armband
I can't speak for everyone, but I personally can't stand the phone armbands that go around your upper arm. This one is for your wrist, making it easier to control music on your phone or check out who's messaging you while exercising. And it's pretty!
Batik Banjees Wrist Wallet, $20, Free People
16. A Nice Gym Bag
A really nice gym bag is something any fitness lover would be excited to receive. Lululemon makes this perfect option. It's very stylish and sleek, and it also has lots of pockets to stay organized — one for a tablet, one for your phone for easy grabbing access, one for sweaty clothes. There's a heat pocket for hot tools, like flat irons, and lots of space for everything you need. It's so nice that you can easily use it all day!
Go Getter Bag, $148, Lululemon
17. A Travel Mat
Know a fitness lover who's always on the go? This travel mat is a thoughtful present. It's light and easy to take anywhere, and it's a must-have for anyone working out in a hotel room. Or, it's just great to bring to the gym any time!
Folding Travel Mat, $30, Merrithew
18. A Blender
Okay, so this obviously isn't for the gym, but a little blender like this one is a great gift for anyone who likes to make smoothies and such. It quickly chops up ingredients for an easy smoothie or shake, and then you just pop off the container, put a travel lid on it, and go.
Oster My Blend Blender with Travel Bottle, $24.84, Amazon
Images: Courtesy of Brands