'Little Women: Atlanta' Season 3 Cast Is Fierce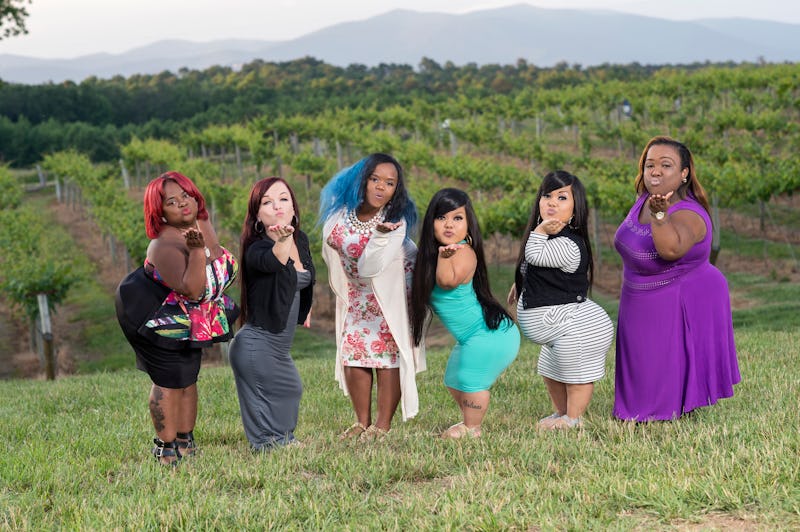 It may not seem like it, but we do have something to look forward to in 2017. Season 3 of Little Women: Atlanta premieres on Wednesday, Jan. 4 at 9 p.m. ET on Lifetime. You don't even have to wait until next year to start getting excited about the third installment of this drama-filled reality series because Lifetime is giving you a first look at Season 3 following Wednesday night's Season 1 finale of Little Women: Dallas, according to the network's schedule. Hopefully, we'll find out who will be in Season 3 of Little Women: Atlanta during the special, too.
Of course, that's always an important question, but I've never been so curious to know the answer than after Season 2 of Little Women: Atlanta, which ended in October. That's because original cast members Emily Fernandez and Bri Barlup both left the ATL during and after Season 2, respectively. They then went on to be a part of the inaugural cast of Little Women: Dallas . So that means there could be some fresh faces in the mix to round out this group of Georgia Peaches this time around.
Luckily, Lifetime has already revealed who we can expect to see in Season 3 of Little Women: Atlanta. I can already tell that this combination of old and new faces is going to be a recipe for a whole lot of fun, as well as some major drama, when the series returns.
Minnie
Season 2 wasn't an easy one for Minnie, what with all of the controversy surrounding her involvement with Pastor Troy and her alleged pregnancy. However, it looks like Minnie is going to be ready for new beginnings in Season 3 of Little Women: Atlanta, and that includes coming clean about not actually being pregnant, which she reveals to Ms. Juicy, according to this exclusive sneak peek of the new season that In Touch has on its website. Well, I think that's all the proof I need to know that this season is going to be jam-packed with jaw-dropping moments.
Ms. Juicy
Minnie breaks that aforementioned shocking revelation to Ms. Juicy, who has long expressed her disbelief over Minnie's relationship with Pastor Troy and her pregnancy. I. Cannot. Wait. To. See. What. She. Has. To. Say. About. That. News.
When not filming Little Women: Atlanta, Ms. Juicy has been hard at work as a member of the Rickey Smiley Morning Show crew. However, that also comes with some drama, which you can see on the TV One reality series Rickey Smiley For Real .
Monie
Monie will be back and fiercer than ever when Little Women: Atlanta returns for Season 3. Since we last saw her during the Season 2 reunion, she has been there for her son's big milestones, such as turning 11 years old and has turned a year older herself, according to her Instagram profile. Even when times are tough, Monie still keeps on smiling.
Amanda & Andrea
Andrea has been busy taking care of her newborn daughter Aubrey since Season 2 of Little Women: Atlanta wrapped. That includes celebrating her first holidays, such as Halloween and Christmas, according to her Instagram profile. Her son Andre is growing up, but not too fast, and he's been joining in on the fun as well.
When she's not hanging out with her twin sister and helping her take care of her little ones, Amanda has continued to keep her selfie game strong. She also still seems to be in a great place with her boyfriend Jordan, according to a lovely photo of the couple Amanda posted on Twitter in November.
Tanya
The Little Women: Atlanta squad will welcome new cast member Tanya this season, Lifetime has revealed. She's a mom, herbalist, and has started a skincare company called Life Body Naturals, according to her Instagram profile.
But we've actually already met Tanya. She's a friend of Monie's and attended her bachelorette party last season of Little Women: Atlanta. Tanya made a lasting first impression when she caused a bit of a stir on the party bus as she, Amanda, and Andrea had an unofficial twerk-off. Tanya later admitted to Monie that she felt some iciness from the "Tiny Twins," so I can't wait to see how they all get along in Season 3.
Samantha
Like Tanya, we were also introduced to Samantha, who is pictured second from the right in the above cast photo, last season of Little Women: Atlanta when she attended her pal Monie's bachelorette party. Monie told Little Women: Atlanta viewers that Samantha lives in New York, but since she'll also be a newbie in Season 3 as a friend to the ladies, Lifetime has revealed, it looks like she decided to spend more time in the ATL. Samantha is a makeup artist, her Instagram bio says, and I can only imagine that she's going to serve up some stunning looks throughout the upcoming season.
With everything that the Little Women: Atlanta cast is sure to bring to this new season, I have a feeling that it could be the most entertaining one yet.
Images: Scott Gries/Lifetime (5); Lifetime (2)