How Much Is The Clarins 4-Colour All-In-One Pen?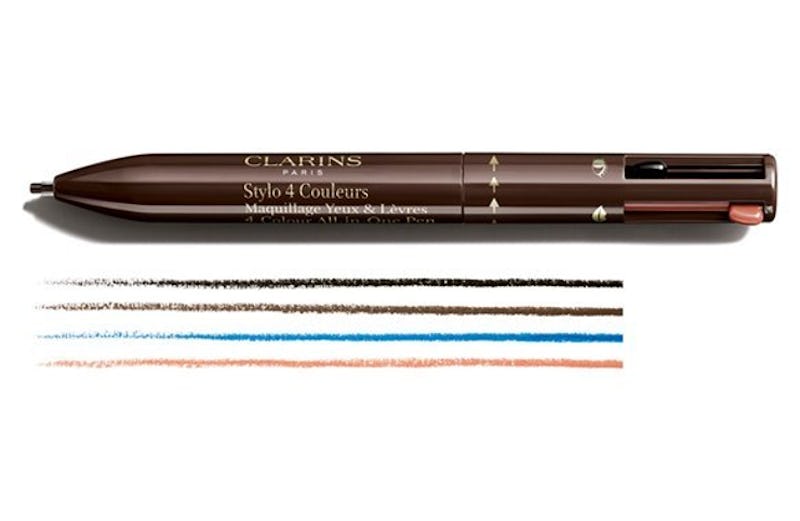 For a middle school student in the '90s, there was quite possibly nothing more thrilling than scoring a four-in-one click pen — the kind that boasted a green, black, red, and blue cartridge, all in one utensil. The Clarins 4-Colour All-In-One Pen mimics that design, but instead of being for middle school kids, it's for former middle school kids who are now enthusiastic beauty lovers. If this sounds like you, prepare yourself for awesomeness.
Just like your four-way pen was a pencil case staple, the Clarins 4-Colour All-In-One Pen could definitely become a beauty staple. The minimal design takes some of the clutter out of your makeup bag, and according to Refinery29, "Instead of barrels full of multicolored ink, you'll find three smooth, creamy eyeliners in black, rich brown, and royal blue, plus a lipliner in the perfect neutral shade."
Just like it's inky predecessor, users of the four-color pen will be able to click around to choose the different colors they want, providing convenience to beauty queens while giving them a healthy dose of nostalgia.
It sounds pretty awesome, right? Only one question remains: How much will the Clarins 4-Colour All-In-One Pen retail for? Considering the amount of product you get, it's pretty affordable.
4-Color All-In-One Pen (Limited Edition), $30, Available Jan 2017, clarins.com
According to Allure, the Clarins 4-Colour All-in-One Pen will be available the first week of January 2016, and will retail for a totally doable $30. Beauty and nostalgia-lovers, rejoice: You finally have your perfect product.
Images: Courtesy Clarins