How To Fix A Gel Mani Meltdown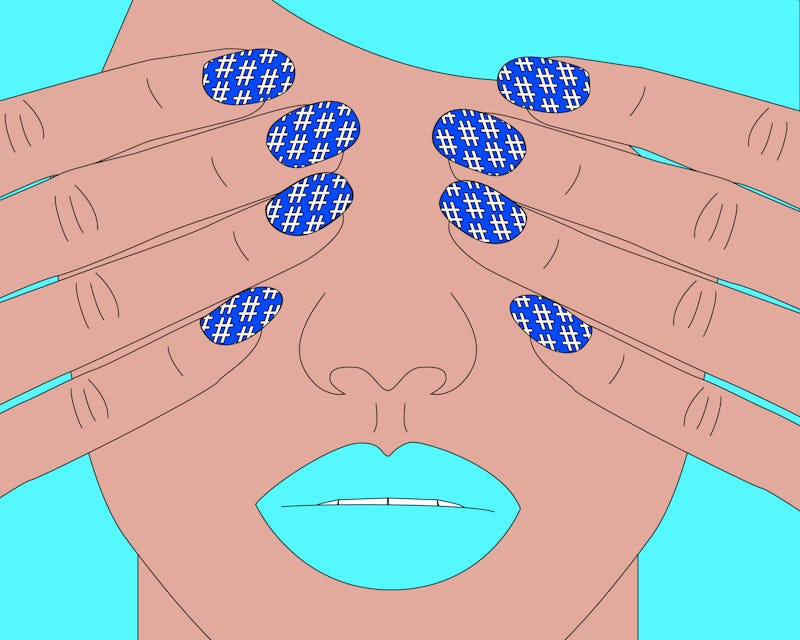 No one wants to get caught toasting their champagne flute with chipped nails. If you're making the rounds this holiday season and wind up with a manicure meltdown, here's how to fix your gel polish in a pinch.
Gel manis are perfect for the holidays because they last for up to two (sometimes three) weeks. Your fingers will be looking fresh for gatherings with friends and family, and you won't have to worry about chips and cracks. But sometimes, stuff happens. So what's a girl to do?!
According to Bellacures Founder Samira Far, first thing's first — do not try to remove the gel yourself. "Your gel starts to raise or chip, again, resist the urge to peel it off," said Far. "If you can, go back to your salon and have them properly remove and fix it. You can't remove gel polish with acetone that you buy at the market. It needs to be 100 percent acetone which is not sold to consumers. Or, you can use a gel removal soak solution."
If you have acetone available, you can safely remove the polish yourself. "First, you should buff the surface down with a file, then soak a cotton ball in acetone and place it directly on top of the nail," Far said. "Use something to wrap it and secure it in place — a small piece of foil does the trick. Let it sit for 10-15 minutes and the gel should slide right off. Getting them removed at a salon by a certified technician is recommended, but if you follow these steps, you will be in the clear."
Try to pop into a local salon to have your polish safely removed, or DIY your own before going out..
If that's not an option, here's how to execute an impressive plan B for chipped gel polish.
1. Cut Off The Peeled Piece Of Polish
Tweezerman Rockhard Cuticle Nipper, $26, Ulta
"If you can't make it to the salon, clip off the lifted gel with a nail or cuticle clipper," said Farr. Be gentle and only trim what is already lifted off your nail bed.
2. Buff Your Nail
Revlon Nail File, $2, Walgreens
Next, buff your nail right where your natural nail ends and the chipped polish begins. Far suggests buffing the polish edge down until it's smooth like the rest of your nailbed.
3. Fill In With A Similar Color
Marc Jacobs Beauty Polish, $18, Sephora
Far says the best way to disguise a chipped nail is with a little regular polish. After clipping off the excess polish and buffing your nail to smooth perfection, fill in the blank space with regular polish that is the same color (or slightly darker) than the original gel polish. At all costs, avoid going lighter — it will make your chip even more noticeable.
Doing your nails at home? Here are some more tips to help you achieve a professional-looking mani from your couch.
Images: Mary Rabun/Bustle; Courtesy of brands