22 Vegan Beauty Gifts You'll Want To Keep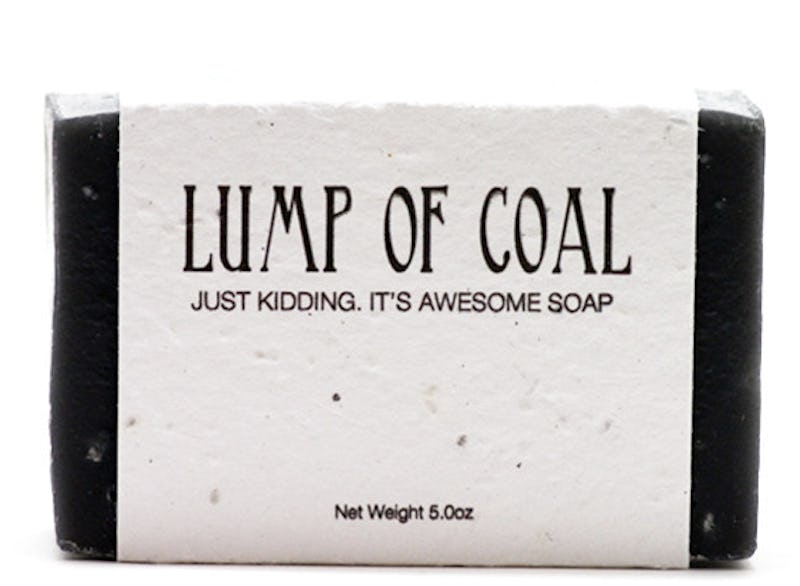 It's definitely getting to be last-minute gift shopping season, but luckily, it still isn't too late to express-order some presents for the special Vegan Beauty Buff in your life. Whether they're all about cruelty-free makeup, hair, or body products, there are tons of vegan beauty stocking stuffers and gift boxes to choose from for anyone on your list. And if you've already done your shopping, well, congratulations — buy yourself one of these as a reward, or keep this vegan beauty gift guide bookmarked for future shopping!
As someone who went vegan a few years ago now, one of the most fun parts of eating more consciously is that now I also pay more attention to what kinds of products I put on my skin. Your skin absorbs chemicals too, so it really is worth thinking about what we use, how it's tested, and what's in our products. The gift suggestions below are great for not only being cruelty-free and vegan, but also lighter on the harsh stuff you wouldn't want to be eating, and therefore shouldn't put on your skin, either.
Happy holidays, and remember: a cruelty-free gift is the best kind of gift.
LOVE GOODLY Box Subscription
At $29.95 every-other month (the box comes every two months), the LOVE GOODLY box is a great value filled with (often full-sized) products. Some subscription boxes feel like a tease, but this box is so well-stocked that you get an $85+ value for only $29.95. I would love to receive it every month (hint, hint, friends), because this vegan and cruelty free subscription is not only luxurious and fun, but also gives back a portion of its proceeds to animals.
LOVE GOODLY Box Subscription , $29.95/month
Born Sensitive Skin Bundle
Personally, I have very sensitive skin, so I would be stoked if someone knew that about me and gifted accordingly. The Born Sensitive Skin Bundle includes a foaming cleanser, perfect for pairing with their nightly anti-aging oil serum for sensitive skin. Give the gift of expensive-feeling skincare for a relatively reasonable price, and they'll think of you every time they shower.
Born Sensitive Skin Bundle, $50
Almond Luxe Body Polish
I love the scent of almonds, and this luxurious almond body polish by Soap Walla is just the kind of thing I'd never buy myself — but would feel downright fancy having in my shower. Of course, this product is vegan, free of sodium lauryl sulfate, parabens, harsh and harmful chemicals, petroleum byproducts, and is never tested on animals.
Almond Luxe Body Polish, $28, Soap Walla
High-Gloss Hair Serum
As someone who has very dry, think hair, I love a good hair serum. The problem is, most of them are filled with synthetic fragrances and chemicals. Enter GLOSS Moderne's serum, which is vegan, sulfate- and paraben-free, and aims to "epitomize clean luxury," according to their website. Sounds like a great gift to me.
GLOSS Moderne High Gloss Serum , $46, Amazon
True Moringa Body Oil
Recently, I started using body oil after my showers — and I love it. It feels more luxurious than lotion, and also seems to absorb better into my dry skin. Available in lemongrass, peppermint, and unscented, this True Morninga oil aims to restore essential fatty acids and antioxidants to skin — and is also ideal for massage. Gift this with a promise of a back rub for your special someone.
True Moringa All Purpose Oil, $36, True Moringa
A Private Aromatherapy Consultation From Buer Beauty
Recently, I had the pleasure of having a private aromatherapy consultation with Bustle's own Kristin Collins Jackson. She's started a Brooklyn-based business called Buer Beauty in which she meets with you, goes through all your skin and healthcare needs, and designs products just for you.
She made me a "Sleep Well" Tincture (it tasted delicious!), a mango body lotion, and a "Breathe Well" aromatherapy inhaler. The experience of talking to someone about my preferred scents and needs — and then having them hand-make a personalized gift just for me — was truly special and healing in and of itself. If you know someone in the New York area, book an appointment for them with Kristin for a great last-minute gift they'll never forget. (If you live farther, you can also get in touch and she can do a consult with you remotely.) Even better, you'll be supporting an independent businesswoman!
A Lipstick Subscription
For your lipstick-obsessed friend, Trust Fund Beauty (snobby name, cool vegan company) will allow you to subscribe her to three months worth of custom-picked lipstick. So, basically, you're buying her a lipstick shopping spree, and she gets to pick all the awesome, ethical shades. Pretty nice gift.
3-Month Trust Fund Beauty Lipstick Prescription, $90
Brightening SPF 30 All-In-One Beauty Balm
OK, so maybe this seems like a weird gift to suggest, but I'd be remiss if I didn't include it, because it's one of my favorite vegan products! This sunscreen and all-in-one beauty balm adjusts to many different skin tones, is light, protects your skin, and works as a moisturizer. I use it every day. A perfect stocking stuffer for your no-fuss friend who should be wearing sunscreen, but never remembers to.
Andalou Naturals All-in-One Beauty Balm , $15, Amazon
Raw Antioxidant Facial Oil
Of all the vegan products I've tried in the past year, this raspberry skin seed oil (cold-pressed and sold by a woman-founded and -owned business, no less) is my favorite. It left my skin glowing, clear, and smelling delicious. Get this for the friend who needs some luxury in her life.
Age-Defying Concentrate, $55, Raw Is Everything
Under Eye Brightener
A stocking stuffer that might seem like a veiled insult, I have to include this under eye concealer because it's simply awesome. It has caffeine in it, goes on smooth, and just makes you look slightly, naturally more awake every morning. Gift it to your friend who's always complaining about dark circles, and see if this doesn't help! Instead of caking on the makeup, this is a lighter, brighter touch that won't irritate even the most sensitive of eyes.
Pacifica Under Eye Brightener , $16, Amazon
Everyday Eye Kit
If you'd like to give a gift set but don't want to break the bank, Mineral Fusion is your brand. I love their brown eyeliner more than any other — it doesn't irritate my sensitive eyes, is only slightly iridescent, and gives me definition while still managing to make me look kind of like I'm not wearing makeup. Give them this trio, and their eyes will be ready for a night or day on the town.
Everyday Eye Kit, $29, Mineral Fusion
Clear Skin Bundle
Since I just moved to California, my skin has been more dry and prone to breakouts than usual. That's why a 3-part clear skin treatment sounds like a great gift to me — especially since this BioClarity kit has ingredients gentle enough to fight acne without drying out my sensitive skin.
Bio Clarity Clear Skin System , $30, BioClarity
Normal & Dry Skin Starter Kit
I randomly met the founder of this product at a death meditation (long story), and I can tell you firsthand that she is a sweet, genuine person. She runs this company with her mom in Malibu, and deeply cares that it uses only the finest vegan ingredients. I used the day lotion, but this starter kit looks like the perfect present (even her packaging is very expensive-looking, so this will feel like even more of an upscale gift).
Normal And Dry Skin Starter Kit , $48, Osea
Travel Brush Set
This PETA-approved vegan company makes a high-quality travel brush set, ensuring that no animals were harmed in the making of your blush application. (Something you can't say for all makeup brushes, that's for sure.)
Travel Brush Set, $89, FACEatelier
The Petit Vour Beauty Box
Another all-vegan non-toxic beauty subscription service, this is the perfect way for recently cruelty-free folks to find their new favorite products. You can buy just one box for $15, or give them a whole year for $180. They'll think of you every month when they open their new goodies.
Petitvour Beauty Box, $15/month
Lump Of Coal Soap
A solid stocking stuffer (especially for the soap-obsessed dude in your life — I know I have one), this lump of coal is actually an ethical, vegan bar of soap. Even better, the company gives 20 percent of its proceeds back to charity.
Garden Skincare Collection
I've yet to find a product by Le'Spelndour that I don't love. All their products are vegan, organic, and free of unnatural ingredients or synthetic fragrances — yet they still smell great and feel expensive. More importantly, they work! I love the facial cleanser, anti-aging cream, and eye serum best, so I have to recommend this Garden Skincare Collection, which includes all of the above, plus a face scrub.
Le'Splendour Garden Skincare Collection, $62
Glow For A Cause Trio
Glow for a Causes' scent trios include a full-size roll-on perfume, solid perfume, and 2.5 oz. body butter in their signature scents. They also give five percent back for every purchase to several different charities, including an animal shelter!
Glow For A Cause Scent Trio, $40
Natural Organic Mascara
Of all the more natural vegan mascaras I've tried in the last few years (and I've tried quite a few) this one is my favorite. This little mascara is perfect for on-the-go application, and would make a great stocking stuffer for your friend who demands long lashes without cruelty, clumps, or artificial ingredients.
Endlessly Beautiful Mascara , $20, Amazon
Lush Charity Pot
Lush donates 100 percent of the price of this vegan body lotion to organizations working in the areas of environmental conservation, animal welfare, and human rights. As in, 100 percent.
Charity Pot, $8, Lush
Migrator Kit
This collection of travel-sized goodies from vegan company MeowMeowTweet is the perfect sampler for someone who prefers to taste all the flavors before they order. It contains body oil, deodorant, face exfoliant, cleanser, toner, and lip balm, and comes in an adorable little gift box.
Migrator Kit, $40, Meow Meow Tweet
Obsessive Compulsive Lip Tar
I barely ever wear lipstick because usually it either comes right off, feels sticky, or is filled with crappy chemicals. Enter Obsessive Compulsive Lip Tar, which I snagged a sample of in Bustle's cosmetic giveaway box. It feels great, looks great, and stays put as a bold red lip. It's ethical, vegan, and keeps ingredients to a minimum. I'm sold.
Lip Tar, $16, Obsessive Compulsive Cosmetics