Here's Your Daily Horoscope For December 20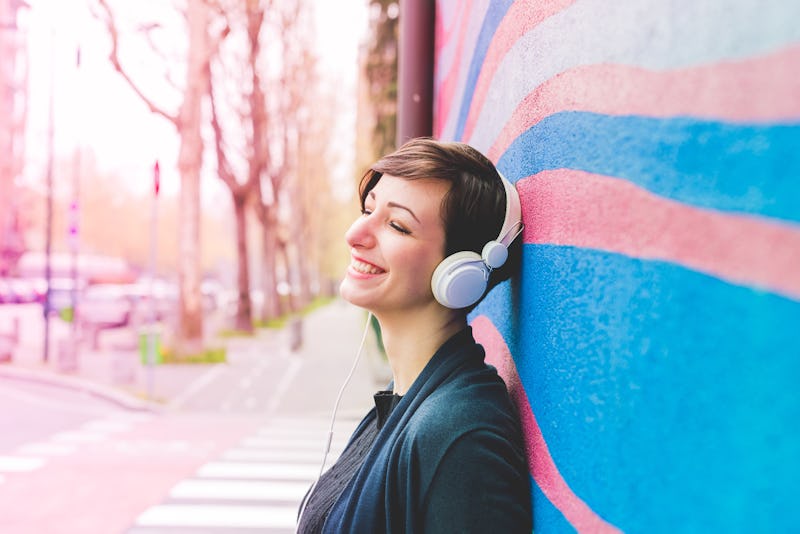 We're constantly fascinated by what our zodiac sign says about our lives, whether it's which signs are most compatible, the best sex positions for each sign, or how each sign handles conflict in relationships. That's why Bustle has enlisted Mecca Woods, a New York City-based Astrologer of MyLifeCreated.com to tell us all about how astrology is affecting our lives each day. Today's topic: your daily horoscope for December 20, 2016.
The Moon finishes her trip through analytical Virgo, but not before having a couple of kerfuffles with her cosmic crew. The day opens with the Moon squaring off with hard-nosed Saturn in the very early hours of the morning that could have us starting the day in a bit of a funky mood as something or someone we need may feel too far out of reach. The day continues with the conscientious Virgo Moon barely seeing eye-to-eye with rebellious Uranus in Aries, sensitive Chiron (healing) in Pisces, and the Sun (confidence) in freedom loving Sagittarius. Under these tough aspects we may know there's something we need to break through and release but we may opt to play it safe or have a hard time seeing a way out that will cause the least amount of damage. While this won't be a time for making reckless decisions, we will need to find an alternate route forward.
Read below to see what today's stars mean for your sign.
And remember to tune into Bustle's weekly horoscopes video live on Facebook every other Monday at 4 p.m. ET for a rundown of your weekly horoscope.
Aries (March 21 - April 19)
You may be in the mood to be 10 million miles from where you are right now but as the old saying goes — wherever you go, there you are. That's right, kiddo. Running away or avoiding what challenges you now, won't stop it from happening. Hold yourself accountable for what happens.
Taurus (April 20 - May 20)
You may need to step back where a love connection is concerned as the person you're interested may be more flakey than they are a solid option. While you're not the one to necessarily jump immediately into a relationship you do have a habit for forcing what's not meant to be. Fall back.
Gemini (May 21 - June 20)
You might find that you're not seeing eye-to-eye with your partner or significant other today which could have you wondering if the two of you are really on the same page. Similarly, if you're single, you could have a moment of clarity in terms of what you want from love. Some reassessment is needed.
Cancer (June 21 - July 22)
You may want to take some time out today to focus on your health and well-being. Do you feel run-down? On the verge of burning out? Is stress making you physically sick? If the answer to any of these questions is yes. Put yourself on pause and do what you need to do to guard your health.
Leo (July 23 - Aug. 22)
Are you doing grunt work or great work? It seems like it's been too hard to tell between the two. Though here's a hint to point you in the right direction: stop wasting your time, talent, and energy in work spaces that devalue you and what you offer. Use that time and talent to create a space all your own.
Virgo (Aug. 23 - Sept. 22)
You might find that a longstanding belief, familial legacy, or family tradition no longer aligns with the person that you need to be. Though don't let this realization rattle you too much as you've reached a place where you need to figure out what works for you and you alone. Claim your freedom.
Libra (Sept. 23 - Oct. 22)
Your thoughts may be heavy today but know that you don't have to go through this rough patch alone. Look to your partner, a close friend, or family member for support. And if you find yourself feeling really stuck, now might be the time to enlist the help of a reputable therapist or healer. Take care of you.
Scorpio (Oct. 23 - Nov. 21)
A friendship could come under scrutiny today as you wonder if someone in your camp is really Team Scorpio. Though one way to find out is to examine how well this person respects your personal boundaries and time. Repeat offenders may need to be put on hiatus until further notice.
Sagittarius (Nov. 22 - Dec. 21)
You may feel like recognition that you deserve for your hard work isn't the recognition you're getting — especially in terms of your career and reputation. Though instead of feeling slighted, consider whether you are letting your true self shine regardless if others cheer or not. Don't filter yourself.
Capricorn (Dec. 22 - Jan. 19)
You may be feeling a bit ho-hum today as your faith is tested. Recognize that not only is it OK to challenge something you thought to be true, but it's necessary to do so to support your personal growth. Ultimately, you decide the laws and the standards that you adhere to. Find your center.
Aquarius (Jan. 20 - Feb. 18)
You may feel like something you've been wishing for or working towards is still too far out of your reach because of a current financial issue but it could be that you need to shift your perspective and find the silver lining. Take a step back, refocus, and map out a workable plan to move ahead.
Pisces (February 19 - March 20)
The needs of your partner or your relationship needs may be brushing up against what you want for your career, leaving someone feeling like they may be asking for too much. Though this isn't the time for beating yourself up; thinking you're doing something wrong. It's just that what you value is changing.
Images: Fotolia; Caroline Wurtzel/Bustle