The Kylie Shop Is Restocking Everything Online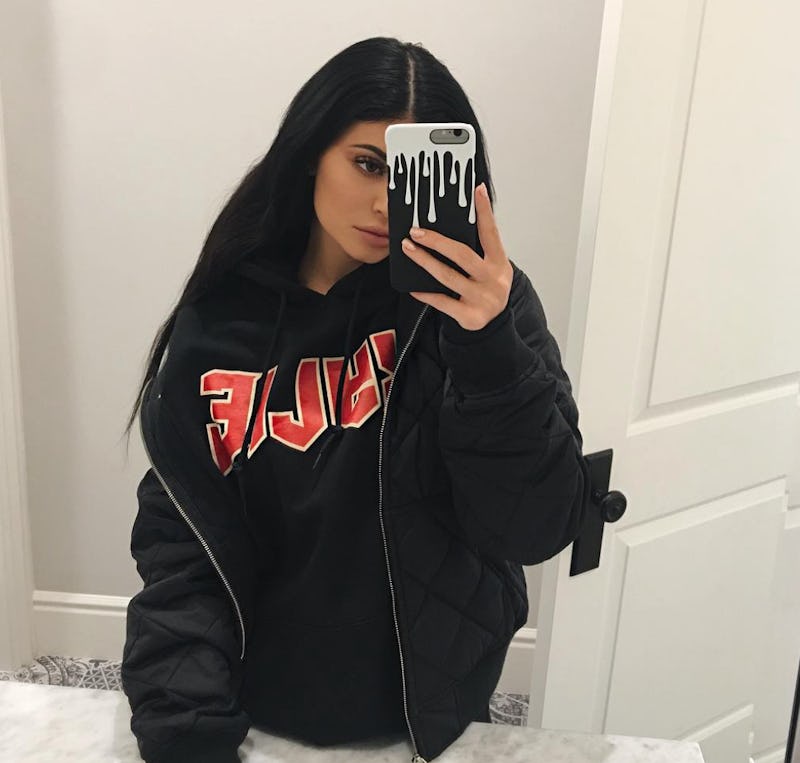 The digital Kylie Shop debuted on Saturday, Dec. 10 and the shirts, hoodies, thongs, and more sold out quickly. Only a few items — iPhone cases, some hats, and the calendar— remained after kustomers and Kylie-philes cleaned out the e-shelves. Kylie Jenner is restocking the online Kylie Shop on Monday, Dec. 19 at 10 a.m. PT, which is 1 p.m. ET. What merch is being restocked in the online Kylie Jenner Shop?
Well, according to Instagram posts shared on both Jenner's official Insta and the Kylie Jenner Shop IG, everything is being replenished. That's a motherload of apparel and accessories that includes the socks, the black satin bomber with the Kylie Cosmetics lips, and more. However, there is a small caveat. The Kylie Shop is only restocking a limited supply. We have no idea what the quantity will look like.
That basically means you need to hop online at around 12:45 pm ET/9:45 a.m. PT, have your credit card by your side, and be ready to browse, fill up your cart with the items you desire, and check out on the quick. Know what you want in advance, since there is no time for browsing because this is the first and only restock thus far and the brand is being honest that only limited quantities will be made available.
If you are a Kylie-phile or need to shop for one, you cannot go wrong with The Kylie Shop merch. It's super Kylie-centric and hits on all aspects of her brand, from her personal image to her cosmetics company. It's not likely that you will receive the merch in time for Christmas, but who cares, right?! At least it's BACK!
In her personal IG confirming the restock, Jenner looks to be wearing the black satin bomber and is rocking one of the phone cases. The frequency of The Kylie Shop restocks is TBD at press time. But live in the now and be ready today!
This graphic tee will return.
If you need some new sexy underthings, these thongs are it!
There's also loads of Kylie Cosmetics-branded items for all you Lip Kit devotees.
Be ready at 1 p.m. ET/10 a.m. PT, Kylie-holics.
Images: The Kylie Shop/Instagram (1); Kylie Jenner/Instagram (4)