You Don't Know Jack About This Evil Queen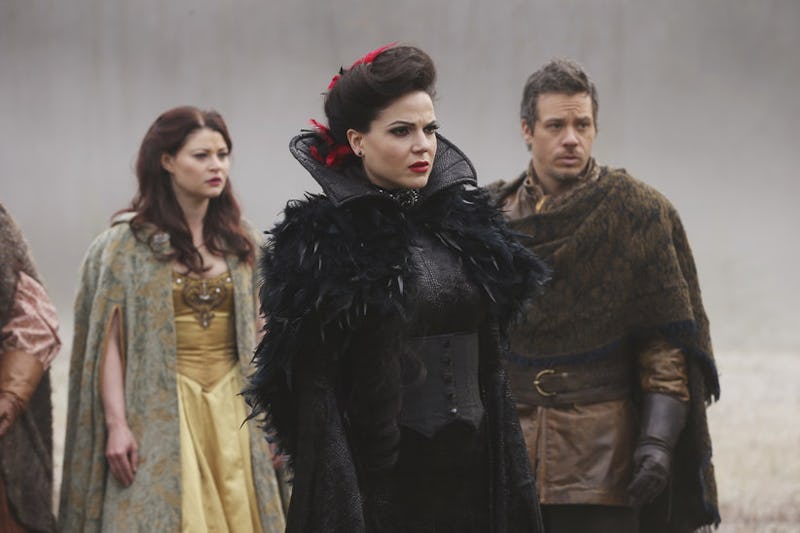 And the plot thickens — everyone's related on ABC's Once Upon A Time and The Evil Queen's family just keeps on growing. During the series' midseason premiere, we learned that Regina has a half-sister that she didn't know about — Zelena, who also happens to be The Wicked Witch. That big reveal came during the missing year, so none of the characters in Storybrooke know about this connection yet — but that's all going to change during "It's Not Easy Being Green". The Wicked Witch and the Evil Queen are going to brawl, Wild West style, and we're going to find out just how messed up their relationship is. So what better time to get to know Lana Parrilla, who's brought a little evil and vindictiveness to the series for the past three seasons?
From the episode's promo and the released synopsis — we know that Regina's going to get thrown through a window and learn (again) that she's got yet another family connection. Because if OUAT is anything, it's thorough in making sure we know who's related to who a thousand times over. But the Evil Queen isn't just who she's related to — OUAT is as much about Parilla's character's transformation as it is any other's.
So is the actress that's pulled off the role of innocent daughter, evil stepmother and queen, ruthless sorceress, and now, vulnerable, former adoptive mother? Here's five facts about Parrilla that prove she's more than just the Wicked Witch's half sister:
She's Got A Tattoo With A Magical Story
If you follow Parrilla on Twitter, you know she's all about her feathers and you probably noticed her tattoo (pictured above). In a 2012 interview, Parrilla explained the significance of the simple tattoo: and the story is actually pretty damn magical. According to the actress, during a difficult time following her post-high school graduation move to L.A., she was sitting in a park when she asked, "Send me a sign. Why am I here?" And she saw a feather caught in the wind. In the following months, the actress recalled that whenever she was feeling down, a feather would appear. Parrilla said of the signs, "You ask for signs in your life, but what you get is more like a confirmation: You are where you need to be. Just take a deep breath." She didn't get the tattoo until eight years after she saw the first feather.
She's Got Something In Common With George Clooney
After graduating from high school in New York City (she grew up in Brooklyn), she moved out to Los Angeles to pursue her career in acting. And her first stop in building a career, was to begin training at the Beverly Hills Playhouse — the very same place that helped George Clooney when he first moved to L.A. to pursue acting.
She's Got Performance In Her Genes
Parrilla's interest in acting started as a child — according to her TVGuide bio, the actress used to make home movies with her family's video camera, one of which was called Attack of the Killer Handkerchief. But the influence of performance on her life didn't stop there, Parilla's late father Sam Parrilla was a professional baseball player for the Philadelphia Phillies in 1970 and her aunt, Candice Azzara, has been acting in Hollywood since the 1960s.
She's Starred In A Handful Of Series
Unfortunately, a lot of them haven't made it past their first seasons. Parilla's breakout television role was as a series regular in ABC's 2000 comedy hit Spin City where she played a deputy mayor assistant opposite Charlie Sheen. She later went on to star in NBC's Boomtown and Windfall, respectively, and in CBS' Swingtown and Miami Medical. Parrilla also had recurring roles on 24 and NYPD Blue.
She's An Award-Winner
In 2003, Parrilla received an Imagen Award for Outstanding Supporting Actress in a Drama Series for her role as a paramedic in Boomtown. The critically-acclaimed series that also starred Donnie Wahlberg only lasted two seasons before being cancelled. Parrilla's also won NHMC Impact Award and an ALMA Award for Outstanding TV Actress for her role in Once Upon A Time.
Images: ABC, LanaParrilla/Twitter, CBS