The Too Faced Peach Palette You Need Right Now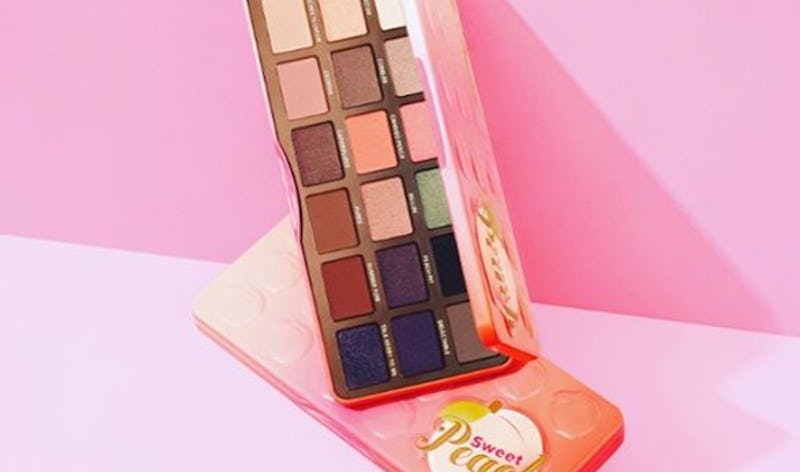 If you're totally obsessed with makeup palettes, then you have undoubtedly seen the beauty world become enamored with a certain mix of peachy pinks, sultry purples, and striking browns. That's right: I'm talking about Too Faced's famous Sweet Peach eyeshadow palette, which features 18 stunning hues that in a range of textures, from mattes to shimmering pearls to metallics. Wondering where to buy the Too Faced Sweet Peach palette? Don't worry, we've got you covered, plus a whole bunch of other amazing products from the famed brand.
The only problem with snagging this lovely pick is that the Sweet Peach palette is so often sold out. Fortunately, it is totally in stock right now, making it the perfect gift to buy yourself. Perhaps it's a reward for all the hard work you've done lately, or maybe the perfect boost to your current beauty routine, or even just as a pick-me-up if you're feeling down. Whatever your reason may be, it's a cute collection of shades that can create just about any look, from a deep smokey eye to a sheer wash of orangey rose over your lids.
On top of picking up the Sweet Peach palette, you may want to grab a few other beloved Too Faced products while you're at it. A little matte bronzer here, a little melted lipstick there, and your makeup stash is ready for anything.
1. The Oh-So-Gorgeous Sweet Peach Palette
Sweet Peach Eyeshadow Collection Palette, $49, Sephora
With 18 colors ranging from a creamy vanilla matte shade to warm peach colors to deep, shimmering plum and black hues, this palette has everything you need. No wonder it's usually sold out!
2. This Matte Bronzer That Never Looks Over-The-Top
Soleil Matte Bronzer, $30, Sephora
Trying to find a bronzer that isn't shimmery is a common frustration of many a makeup lover. Sometimes you just want to contour your cheekbones and jawline or get a little extra glow to your skin without adding tons of sparkle, but most formulas on the market feature a fair amount of shimmer. Luckily, Too Faced's bronzer — which features real cocoa powder, giving it a delicious scent — delivers a solid warm bronzing effect with none of the glitter.
3. A Mini Collection Of Sultry Matte Shadows
Natural Matte Eyeshadow Palette, $36, Sephora
If shimmery shadows just aren't your thing, try this set of nine gorgeous browns, pinks, and taupes to make your matte dreams come true.
4. A Formula That Adds Shine And Boosts Volume To Your Lips
Lip Injection, $22, Sephora
If you want the look of plumped-up lips (or if you simply want to add serious shine to your lipstick), Too Faced's Lip Injection gloss is a clear formula that delivers real results.
5. An Excellent Powder Brush For Any Job
Mr. Right The Perfect Powder Brush, $36, Sephora
This gorgeous brush with a baby blue handle features tapered bristles, making it perfect to use with powders, highlighters, bronzers, blush, and even foundation. Plus, it's cruelty-free!
6. The Most Delicious Palette You'll Ever Own
The Chocolate Bar Eye Palette, $49, Sephora
Another Too Faced pick that smells absolutely amazing, the Chocolate Bar palette is famous for it's adorable packaging, beautiful range of pink and brown shades, and its pretty mix of metallic, matte, and shimmery formulas.
7. This Coveted Lipstick That Feels (And Smells) Like Melted Chocolate
Melted Chocolate Liquified Long Wear Lipstick, $21, Sephora
If you're a massive fan of the long-lasting power of liquid lipstick and the full finish of lipgloss, you'll love Too Faced's innovative Melted Chocolate formulas. This delightful pick makes your lips look and feel amazing with a highly pigmented formula, and comes in three shades with a metallic finish as well as three shades with a satin finish.
8. A Peachy Blush To Go With Your Palette
Love Flush Long-Lasting 16-Hour Blush, $26, Sephora
If you're in search of the perfect blush to pair with all the looks you create using the Sweet Peach palette, try this gorgeous pick that combines a long-wearing formula with a whole lot of pigment, making it a great choice to pop on your cheeks at the beginning of the day without worrying if it'll still be there after work. It comes in six colors, including watermelon pink, rosy plum, and dusty nude pink.
9. This Formula That Ensures Your Lipstick Lasts All Day
Lip Insurance Lip Primer, $20, Sephora
Tired of your lipstick smudging, fading, or bleeding by the end of the day? Try using a lip primer — it's just like face or eye primer in that it keeps your makeup it place all day and night long.
Bustle may receive a portion of sales from products purchased from this article, which was created independently from Bustle's editorial and sales departments.
Images: Too Faced (1), Sephora (9)