17 Gluten Free Holiday Recipes Sure To Impress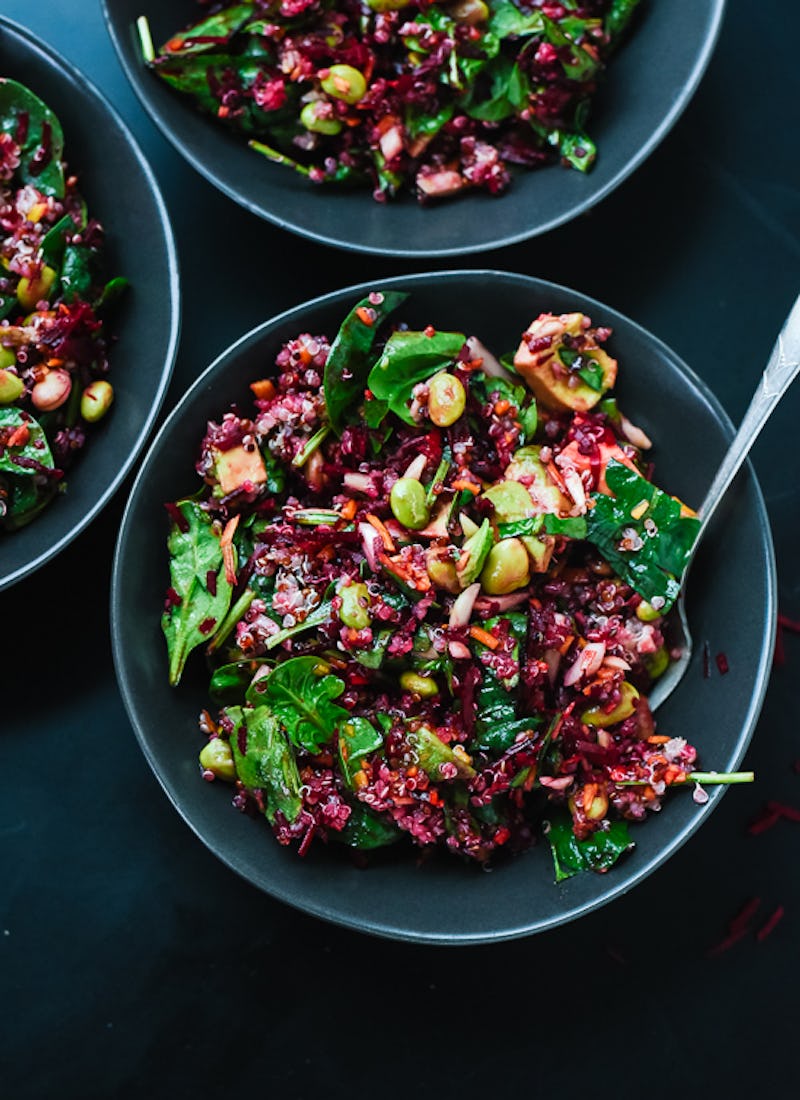 I'm sure it feels completely impossible, but with this beautiful thing called the Internet, finding decent gluten free holiday recipes in 2016 is actually possible (*pssst* thanks a million, Pinterest). Having a dietary restriction such as not consuming gluten shouldn't hold you back from enjoying delicious food this holiday, so I'm here to help.
The following recipes will walk you through a complete day of delicious holiday foods! From breakfast, lunch, dinner, and even mouthwatering snacks and appetizers, these recipes will be a hit throughout your family — especially for those who think eating gluten-free is the equivalent of being on your death bed. Time to seriously prove them wrong.
Some of these recipes call for gluten-free alternative mixes, which can be expensive. However, others don't require bread products at all — like that amazing looking Colorful Beet Salad and the Brown Rice Risotto. However, if you have a few bucks to spend this holiday on some gluten-free bread mixes, be sure to give that Cornbread Stuffing a go, as well as that Gluten-Free Dutch Baby. Seriously, I've been dreaming about it since stumbling across the recipe … and may even attempt to make it myself.
I hope these recipes will enhance your holiday grub, and you finally feel full enough to fall into the most delightful, sleepy food coma.
1. Cornbread Stuffing
Satisfy that stuffing craving with this cornbread stuffing by Gluten Free on a Shoestring, made with gluten-free cornbread mix. If you really feel like giving it something, throw in some pork!
2. Colorful Beet Salad with Carrot, Quinoa & Spinach
This wintery salad by Cookie & Kate is the perfect side dish for dinner, or even as a small course before the big meal! Stuffed with beets, carrot, quinoa, spinach, avocado, almonds, edamame, and a homemade vinaigrette.
3. Honey Satsuma Cranberry Sauce
This sauce recipe by Savory Sweet Life is actually really easy — you just need fresh cranberries, satsuma (mandarin) oranges, and honey. Yup, that's seriously it!
4. Lentil Mushroom Walnut Balls with Cranberry-Pear Sauce
Another great idea for those who are gluten-free and vegan! These lentil mushroom walnut balls by Oh She Glows look just like meatballs, but are baked instead of greasy and fried! These balls are stuffed with all kinds of delicious gluten-free power foods — green lentils, walnuts, mushrooms, kale, garlic, cranberries, gluten-free oats, and ground flax!
5. Brown Rice Risotto with Mushrooms
Didn't think risotto was possible whilst staying gluten-free? Well, it is! This recipe by Cookie & Kate has you actually making your very own homemade risotto with long-grain brown rice, cooked with mushrooms, white wine, onions, oregano, and parmesan cheese. Ugh, yum.
6. Chilled Dark Chocolate Pie
You may not believe it, but this homemade gluten-free pie crust is pretty simple! Just make sure to pick up almonds, coconut oil, maple syrup, salt, oat flour, and rolled oats. The inside of this pie by Oh She Glows is filled with a dark chocolate filling and topped with a strawberry compote.
7. Thai Mango Cabbage Wraps
Need a fun appetizer idea that is gluten-free and vegan? These Thai mango cabbage wraps by Cookie & Kate burst with flavor, and sit perfectly on a serving tray!
8. Gluten-Free Dutch Baby with Eggnog Whipped Cream
If you have a iron-cast skillet and a package of almond flour, then there is no reason why you shouldn't wake up to this mouthwatering dutch baby during your holiday festivities by The Kitchn. Topped with a homemade eggnog whipped cream (in case you need ideas for that leftover eggnog) and sugar-tossed berries.
9. Spicy Vegan Black Bean Soup
Looking for a delicious soup to warm you and the family up after your snowball fight? This black bean soup by Cookie & Kate will easily do the trick.
10. Gingerbread Pancakes
These pancakes by Healthful Pursuit are about to be your new best friend. Why? They are dairy-free, egg-free, gluten-free, grain-free, nut-free, refined sugar-free, soy-free, and vegan. So … basically they hit every dietary restriction possible that a family member may have! Jackpot!
11. Crispy Buttermilk Coconut Chicken Fingers
Crispy chicken on a gluten-free diet seems, well, impossible. This recipe by Gluten Free on a Shoestring will change your mind! The chicken tenders sit in buttermilk for a bit, and are then dipped in baked coconut flakes, a gluten-free flour blend, cornmeal, paprika, salt and pepper. The chicken is then baked on parchment paper for ten minutes. So yeah, it's actually possible, and a great appetizer idea!
12. Arugula and Cremini Quiche
This gluten-free quiche by Cookie & Kate has an almond flour based crust (with all sorts of spices such as garlic and thyme), and filled with arugula, mushrooms, and goat cheese. Nom nom nom nom.
13. Cranberry Pecan Pilaf
This grain-free pilaf by Healthful Pursuit is filled with butternut squash, cauliflower florets, kale, parsley, cranberries, pecans, pistachios, and pepita seeds. Topped with a batch of homemade Catalina salad dressing!
14. Salt & Pepper Garlic Prawns
These flavorful prawns by Savory Sweet Life will serve perfectly as an appetizer, or a great side dish for dinner!
15. Roasted Garlic Brussels Sprouts
An easy vegetable side dish by Healthful Pursuit that cooks with a few simple ingredients — a head of garlic, thyme leaves, extra-virgin coconut oil, sea salt, and ground pepper. Super simple!
16. Texas Roadhouse Rolls
It doesn't make sense to have a huge holiday feast without homemade rolls, so give these rolls by Gluten Free on a Shoestring a try!
17. Chickpea Salad with Lemon Mint Vinaigrette
This refreshing chickpea salad by Savory Sweet Life will be a very eclectic taste to add to your table – especially with all of the hot foods you'll be displaying.
Images: Gluten Free on a Shoestring, Cookie & Kate, Savory Sweet Life, Oh She Glows, Cookie & Kate, Oh She Glows, Cookie & Kate, The Kitchn, Cookie & Kate, Healthful Pursuit, Gluten Free on a Shoestring, Cookie & Kate, Healthful Pursuit, Savory Sweet Life, Healthful Pursuit, Gluten Free on a Shoestring, Savory Sweet Life