11 Plus Size Bloggers On Changing Fashion In 2017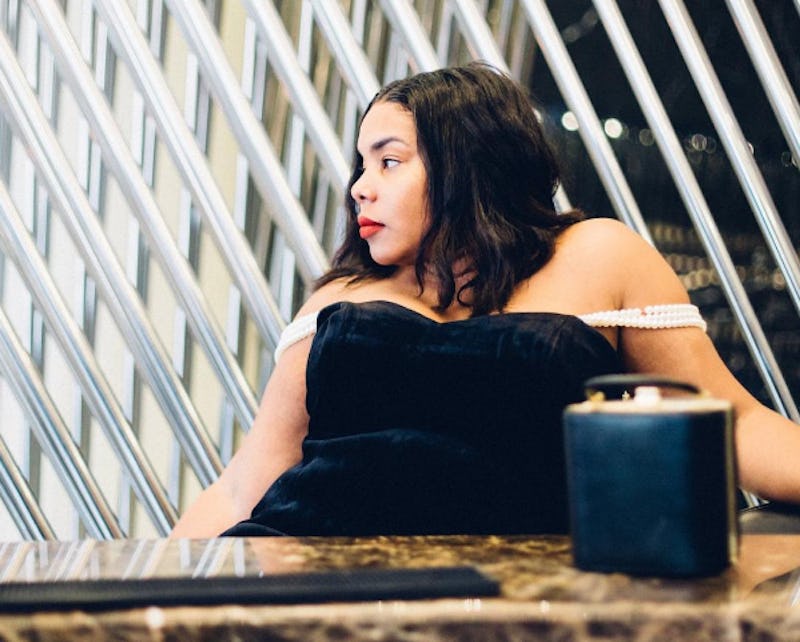 Despite the fact that 2016 was a little bit challenging, remaining hopeful is key — especially when it comes to representation for everyone. For plus size bloggers, there are plenty of changes to hope for in fashion in 2017. There were moments in 2016 that championed plus size women — from the first curve Barbie to a plus size model on the cover of British Vogue, Sports Illustrated and Maxim . Plus size bloggers have continued to thrive as well, and the plus community online is arguably stronger than ever.
Be it small victories or huge steps forward, the world is opening up to a plus size public that requires more from fashion. And no matter what 2017 has in store, at least body positivity is making some notable steps forward. We can only hope next year means more of the same.
To paint a picture of dreams for size inclusivity in 2017, I spoke to everyone from big names in the plus size and body positive community like Bethany Rutter and Corissa Enneking all the way to some body posi influencers you may not now (but should follow in 2017). They shared their body pos-related hopes large and small for the upcoming year — let's cross our fingers it all comes to fruition.
1. Lottie L'Amour
Lottie L'Amour's blog covers not just plus size style, but a whole load of body positivity too. Her wishes include what she wants to see in the clothes themselves, as well as in the models cast for ad campaigns.
"I want to see more interesting fabrics and cuts [for plus size customers] in 2017. Embroidery is going to be huge, so I want to see interesting choices with maybe more mesh items to layer over clothes (or not!)" She continues, saying, "I really want to see more high street, affordable fashion as well but actually cut for fat bodies, not just sized up from a size 10 with a hope that it'll work! And of course, more fat models, more varying body shapes, skin tones, abilities and heights would be GOALS."
2. Chloe Elliott
British blonde Chloe Elliott (Chloe in Curve) often takes to Twitter to spell out her disappointment and satisfaction with plus size fashion. Accordingly, her wish asks for more from brands that she purchases from as well as the media at large.
"I'd love to see brands showing their plus size collections on their social media, in their marketing campaigns and magazines," says Chloe Elliott. "We need to see more from them, and we need to see more plus size women in the media in general in 2017."
3. Chloe Pierre
Intersecting the bridge between race and size, plus size black blogger and ASOS insider Chloe Pierre can see more than just the plus size agenda. Her comments on 2017 focus on diversity for everyone, which is exactly how it should be.
"I want to see fashion continue its efforts to be inclusive in both the diversity and size sense. I want to see more features directly from the mouths of both plus size and women of colour. I'd also like to see more fashion journalists do a better job at sourcing content from more places than just 'top bloggers' and the same faces and voices who tend to lend for nearly every article and every opportunity." Chloe Pierre comments, "These are not necessarily always the voices or even faces that represent diversity or plus size for the regions or topics they are speaking on. I want to see more people who really embody the term ethnic minorities on the public stage!"
4. Bethany Rutter
Even if you only follow the body positive and plus size fashion movements briefly, you'll recognise Arched Eyebrow's Bethany Rutter. Rutter appears regularly on television, radio and Twitter to discuss body positivity and plus size issues and as her hopes for 2017 are as eloquent and aspirational as you'd expect.
"In 2017 I want to see a genuine move towards diversity in fashion rather than tokenism," says blogger Bethany Rutter, "I want to see clothes for a range of sizes included throughout fashion magazines and features rather than mags doing one-off 'specials' and then only ever using fat people in 'before' photos in diet features. Genuine and meaningful inclusion of plus size brands and the many, many stylish fat women out there is what I want to see!"
5. Diana Zeferino
Diana of Fat Femme Fabulous has a sense of anger about her as she fills us in on her wishes for the fashion world in 2017. The kind of rightful rage that Zeferino is known for capturing so perfectly.
"Primarily, I want brands to expand their ranges to at least a size 24. Plus ranges especially have no reason to not cater to that or above." Zeferino continues, "Within advertising and campaigns, we need lumpy fats, and non hourglass fats and larger fats modelling. Stop demanding our money and not representing us."
6. Alysse Dalessandro
For designer, writer, blogger and body positive activist Alysse Dalessandro of Ready To Stare, celebration should be the focus of 2017. Her positivity shines through constantly on her social media and can be found again in her comments to Bustle.
"I want to see us celebrate personal style in the plus size fashion community and stop judging people for wearing something that's not your individual taste," she says. "I want fashion rules, especially ones that are based in body policing, to go away. I want to see those on the smaller side of plus make more room for folks sizes 22+ to have more visibility. I am pretty sure I said the same thing last year but it still needs to happen so I'm just going to keep saying it!"
7. Stephanie Yeboah
As a plus size black woman, Nerd About Town's Stephanie Yeboah often uses her platform as a blogger to discuss politics and social justice both together and separately from the plus size movement. Her dedication to furthering diversity is admirable and for 2017 she wishes for more diversity not just from representation, but from the clothes offered themselves.
"I would love to see an extension of mainstream lines as opposed to completely separate plus size lines which often feature garish, oversized blanket-type outfits that work to conceal instead of show off our curves," Yeboah says. "I'd love for brands to also take the leap and create edgy, tailored pieces, as is often seen with brands such as ASOS White whose outfits I absolutely adore!"
8. Sarah Moffat
Not only does Velveteen Femme's Sarah Moffat discuss body positive issues from a unique standpoint regularly on her blog, she includes everyone in her point of view, not just plus size people. Moffat is looking to abolish boundaries for everyone, not just the plus size community.
"In 2017 I'd love for us to finally tear up the rules around fashion!" she says. "No more arbitrarily gendering clothes, no more dictating that only certain bodies deserve certain styles, and no more brands suggesting that only certain people can make pieces look good enough for them to sell."
9. Corissa Enneking
Corissa Enneking of Fat Girl Flow is notorious for her strong opinions on body positivity. In 2016, she became most well-known (and faced criticism) for her video about diet culture and how dieting can never be a body pos act.
Her hope for the new year? "For years plus size designers have looked at the fat body as a pit stop. We're a market based around the idea that we want our bodies to change, that plus size clothing is temporary until we can fit in straight sizes." Enneking explains, "I want to be dressed as if I'll have these clothes forever. I don't want throw away pieces, I want beautifully made, thoughtful designs. I want to feel like my current body is respected and loved by the pieces that are made for fat bodies."
10. Sam Rowswell
As an amazing contributor to plus size fashion and style posts on her blog Fatty Boom Tatty, it's unsurprising that Rowswell chose to focus on the clothes themselves when asked about fashion in 2017.
"It's a no brainer that I want to see more inclusive sizes, not just in stores but within fashion and media as a whole. More people of color too," Rowswell comments. "I'm desperate to see clashing colors and prints. There's been such emphasis on plain, oversized cuts this year that I'm pining for more flesh on show, especially on the more ample body."
11. Sarah Conley
Sarah Conley of Style It uses her blog to discuss fat fashion and fat acceptance as one and similarly, her comments to Bustle seek to combine the two in 2017. Conley just wants unity between sizing and shopping experiences. "I'd love to see more brands offering style for all sizes, not just adding on sizes or launching plus sizes, but everyone being able to shop in the same place at the same time. Oh, and bringing plus back to brick & mortar stores!"
There's a major sense of positivity radiating from these plus size bloggers that may have been unexpected: Instead of focusing on the negatives that have occurred this year in and out of fashion, we can take comfort in the thought that there's plenty of hope for 2017.
Images: Chloe Pierre