What's In The Selena x MAC Restock?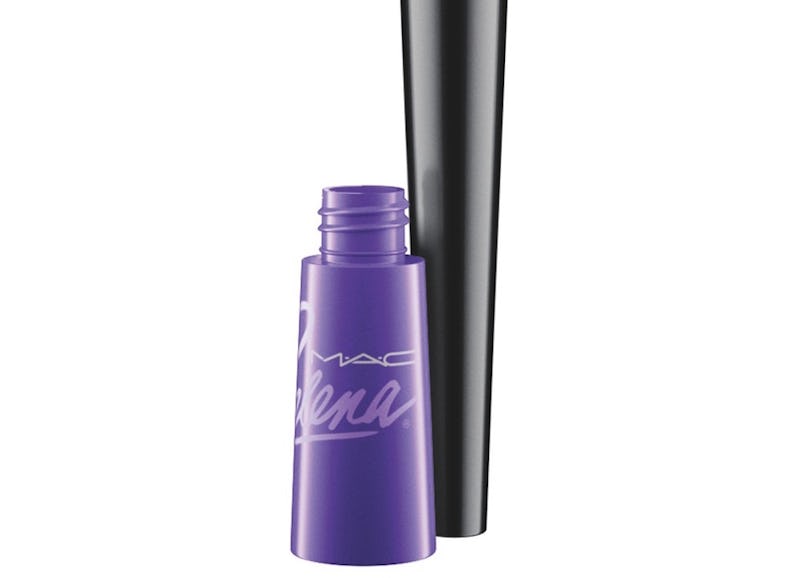 Every so often, you get a second chance at things. And knowing what you know now, what you wish you'd known then, can make all the difference to the limited edition beauty products you buy. Such is the very profound case with the Selena x MAC collection, on the docket for restock with the dates released today. Gather round to see if you'll have a chance to get in on the lipstick everyone went crazy over — or if you'll be able to pick up six more tubes of Como La Flor, after knowing its greatness yourself. What's in the Selena x MAC Restock? We finally have the details.
The good news: Almost everything is coming back. The bad news: Fans of the Liquid Eye Liner in Boot Black, you're dealing with this blow alone. According to a press release from the brand, all products from the collection will be available for purchase on MAC's website on Dec. 28, and in retail stores and other online sellers on Dec. 29. That means that everything from the Opulash Mascara, to the Selena eyeshadow, to the Ven Commigo and Blunt Techno Cumbia bronzer/blush will be back in action — outside of the eyeliner designated for Selena's trademark flick.
Boot Black Liquid Eyeliner
RIP, Boot Black. On the plus side, most black liquid liners will work equally well — and the rest of the collection is back to complete the look.
1. Missing My Baby
Missing By Baby Eye Shadow, $17
Pale pink Missing By Baby is great for a soft eye look.
2. No Me Queda Mas
No Me Queda Mas Eye Shadow, $17
Especially with cool, tawny brown No Me Queda Mas in the crease.
3. Fotos Y Recuerdos
Fotos Y Recuerdos Eye Shadow, $17
Or amp it up with hot pink Fotos Y Recuerdos.
4. Selena
Selena Eye Shadow, $17
A fitting complement to the eponymous Selena shadow.
5. Is It The Beat
Is It The Beat Eye Shadow, $17
Charcoal Is It The Beat can sub in for eyeliner, stroked along the lash line for a soft and smokey effect.
5. Opulash Mascara
Optimum Black Opulash Mascara, $18
Build up a thick lash with the Opulash mascara, necessary for Selena's eye-catching look.
6. Techno Cumbia
Ven Commigo and Blunt Techno Cumbia, $29
The versatile Techno Cumbia bronzer/blush adds a healthy flush...almost as if you were on stage with the greats.
7. Brush
129SH Powder/Blush Brush, $35
Apply without fear, with the branded powder and blush brush.
8. Amor Prohibido
Amor Prohibido Glaze Lipstick, $18
Pinky-nude Amor Prohibido goes perfectly with the natural eyeshadows, or anything else — the slightly glossy finish is infinitely wearable.
9. Como La Flor
Como La Flor Amplified Lipstick, $18
While hot red Como La Flor is a beaut worthy of its namesake song.
10. Dreaming Of You
Dreaming Of Your Matte Lipstick, $18
And Dreaming Of You has definitely made it into some dreams, on the strength of its brick red color alone.
Images: Courtesy MAC Cosmetics (11)