Quotes About The Holidays To Share This Season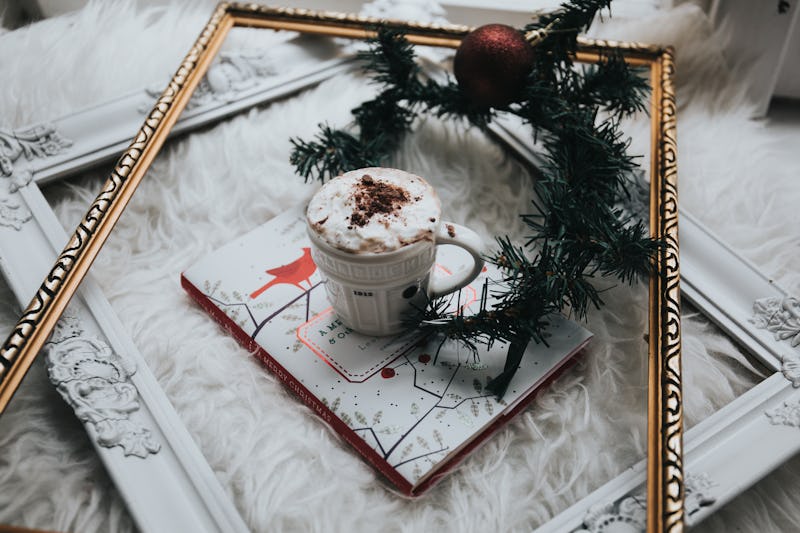 The chestnuts are roasting on an open fire, Jack Frost is nipping at your nose — in other words, the holiday season is in full swing. A magical time of year that always goes by too quickly, the spirit of the season can be captured in these beautiful holiday quotes from books.
It isn't always easy to express your feelings, especially around the holidays. Whether you love the time of year that brings family and friends together or try and avoid the annual reunion all together, delight in the decadence of the season or dread the demands of the stressful holidays, coming up with the right words to communicate your complicated emotions is harder than wrapping an awkwardly shaped gift.
Luckily, there are people out there who are crafty than language than you. Instead of scribbling "Merry X-Mas" at the bottom of your Christmas cards or ending your festive toast with "Happy holidays," borrow the elegant sentiments of authors whose holiday quotes are more elegant than even your most clever tweet.
No matter how you're feeling about the holiday, whether you couldn't be more excited or more anxious, here are 19 holiday quotes from books that express all of your emotions better than you ever could.
1. "Happy, happy Christmas, that can win us back to the delusions of our childish days; that can recall to the old man the pleasures of his youth; that can transport the sailor and the traveller, thousands of miles away, back to his own fire-side and his quiet home!"
— Charles Dickens, The Pickwick Papers
2. "At Christmas every body invites their friends and thinks little of even the worst weather."
― Jane Austen, Emma
3. "The rooms were very still while the pages were softly turned and the winter sunshine crept in to touch the bright heads and serious faces with a Christmas greeting."
— Louisa May Alcott, Little Women
4. "Miracles happen on Christmas, Pat. Everybody knows that shit."
— Matthew Quick, The Silver Linings Playbook
5. "Harry had never in all his life had such a Christmas dinner. A hundred fat, roast turkeys; mountains of roast and boiled potatoes; platters of chipolatas; tureens of buttered peas, silver boats of thick, rich gravy and cranberry sauce — and stacks of wizard crackers every few feet along the table. These fantastic party favors were nothing like the feeble Muggle ones the Dursleys usually bought, with their little plastic toys and their flimsy paper hats inside. Harry pulled a wizard cracker with Fred and it didn't just bang, it went off with a blast like a cannon and engulfed them all in a cloud of blue smoke, while from the inside exploded a rear admiral's hat and several live, white mice. Up at the High Table, Dumbledore had swapped his pointed wizard's hat for a flowered bonnet, and was chuckling merrily at a joke Professor Flitwick had just read him."
― J.K. Rowling, Harry Potter and the Sorcerer's Stone
6. "Christmas Eve was a night of song that wrapped itself about you like a shawl. But it warmed more than your body. It warmed your heart…filled it, too, with melody that would last forever."
— Bess Streeter Aldrich, Song of Years
7. "Fine old Christmas, with the snowy hair and ruddy face, had done his duty that year in the noblest fashion, and had set off his rich gifts of warmth and color with all the heightening contrast of frost and snow."
— George Eliot, The Mill on the Floss
8. "Call a truce, then, to our labors—let us feast with friends and neighbors, and be merry as the custom of our caste; for if faint and forced the laughter, and if sadness follow after, we are richer by one mocking Christmas past."
— Rudyard Kipling, Christmas in India
9. "At one time, most of my friends could hear the bell, but as years passed, it fell silent for all of them. Even Sarah found one Christmas that she could no longer hear its sweet sound. Though I've grown old, the bell still rings for me, as it does for all who truly believe."
― Chris Van Allsburg, The Polar Express
10. "I heard the bells on Christmas Day / Their old familiar carols play / And wild and sweet, the words repeat / Of peace on earth, good-will to men."
— Henry Wadsworth Longfellow, Christmas Bells
11. "Christmas magic is silent. You don't hear it — you feel it, you know it, you believe it."
― Kevin Alan Milne, The Paper Bag Christmas
12. "It was the beginning of the greatest Christmas ever. Little food. No presents. But there was a snowman in their basement."
― Markus Zusak, The Book Thief
13. "Then the Grinch thought of something he hadn't before! What if Christmas, he thought, doesn't come from a store. What if Christmas...perhaps...means a little bit more!"
― Dr. Seuss, How the Grinch Stole Christmas!
14. "There is something about Christmas that requires a rug rat. Little kids make Christmas fun. I wonder if could rent one for the holidays."
— Laurie Halse Anderson, Speak
15. "We wish you a merry Christmas" is the most demanding song ever. It starts off all nice and a second later you have an angry mob at your door scream-singing, "Now bring us some figgy pudding and bring it RIGHT HERE. WE WON'T GO UNTIL WE GET SOME SO BRING IT RIGHT HERE." Also, they're rhyming "here" with "here." That's just sloppy. I'm not rewarding unrequested, lazy singers with their aggressive pudding demands. There should be a remix of that song that homeowners can sing that's all "I didn't even ask for your shitty song, you filthy beggars. I've called the cops. Who is this even working on? Has anyone you've tried this on actually given you pudding? Fig-flavored pudding? Is that even a thing?" It doesn't rhyme but it's not like they're trying either. And then the carolers would be like, "SO BRING US SOME GIN AND TONIC AND LET'S HAVE A BEER," and then I'd be like, "Well, I guess that's more reasonable. Fine. You can come in for one drink." Technically that would be a good way to get free booze. Like trick-or-treat but for singy alcoholics. Oh my God, I finally understand caroling."
― Jenny Lawson, Furiously Happy: A Funny Book About Horrible Things
16. "Christmas is never over, unless you want it to be... Christmas is a state of mind."
― Lauren Myracle, Let It Snow: Three Holiday Romances
17. "Quite deliberately my friend drops a kettle on the floor. I tap-dance in front of closed doors. One by one the household emerges, looking as though they'd like to kill us both; but it's Christmas, so they can't."
― Truman Capote, A Christmas Memory
18. On Christmas Eve, Dad took each one of us kids out into the desert night one by one.
"Pick out your favorite star", Dad said.
"I like that one!" I said.
Dad grinned, "that's Venus", he said. He explained to me that planets glowed because reflected light was constant and stars twinkled because their light pulsed.
"I like it anyway" I said.
"What the hell," Dad said. "It's Christmas. You can have a planet if you want."
And he gave me Venus.
― Jeannette Walls, The Glass Castle
19. "And it was always said of him, that he knew how to keep Christmas well, if any man alive possessed the knowledge. May that be truly said of us, and all of us! And so, as Tiny Tim observed, God bless Us, Every One!"
― Charles Dickens, A Christmas Carol
Images: Alisa Anton (2), Tim Mosshander, Ben White, Joanna Kosinska, Annie Spratt (2), Brigitte Tohm, Mira Bozhko, David Beale, Freestocks.org, Aaron Burden/Unsplash