J.K. Simmons On 'La La Land's Universal Theme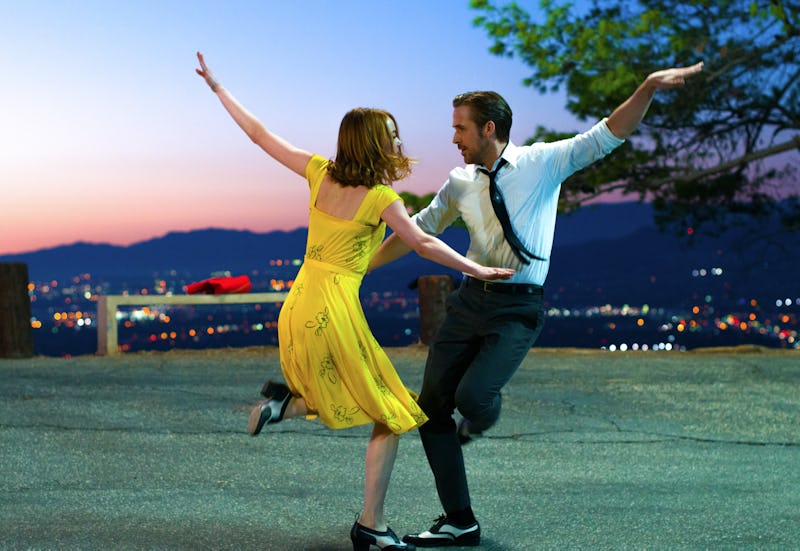 The critically-acclaimed film La La Land continues to make 2016 a little bit brighter since it debuted in select cities on Dec. 9th. The whimsical and dreamy new musical is winning America's heart, as its been deemed "a musical masterpiece," "dazzling," and "soaring and gorgeous" by critics. If I could watch in on repeat for a week straight, I would. A colorful hybrid of classic Hollywood musicals and modern filmmaking, the film pays ode to the age-old conflict of ambition and love. Ryan Gosling and Emma Stone reunite to play two struggling artists in the City of Stars, gracefully showing what can happen when dreams get in the way of relationships, as heartbreaking as that can be. This conflict has been reincarnated on screen hundreds of times, I'm sure. But as J.K. Simmons (who makes a brief cameo in the film) says, it still speaks to audiences for a reason, especially through La La Land.
Coming off from an amazing 2015, in which the actor scored an Oscar, Golden Globe, and SAG Award (to name a few) for his supporting role as an abusive jazz instructor in Whiplash, he again returns to the screen as a player in the music realm. Simmons reunites with Whiplash director Damien Chazelle in La La Land, making this movie magic inevitable. I sit across from the actor, who smiles and jokes that he was only in the film for "about one-and-a-half minutes," but still, his appreciation for it shines.
"It's beautiful. It's one of those things — really good fiction writing and movie making can accomplish," Simmons says. "It obviously speaks particularly to people who have a particular dream — in this case, an actress and a musician." In the film, Simmons plays Bill, owner of a LA restaurant who's fed up when aspiring jazz player Sebastian (Gosling) continues to go off playing his own music when he's instructed to play campy Christmas tunes. Stone plays Mia, an actress struggling to make it to the big time.
But as Simmons puts it, audience members don't have to be artists for the film to resonate. Anyone who aspires to be something greater will feel moved. "Whatever it is, a journalist, a filmmaker, whatever it is you want to go to the big city and succeed in whatever it is that your dreams are," says Simmons. And most people who dream big find their love lives, as enriching as they are, getting in the way, which has been portrayed many times — from 1942's classic Casablanca to 2016's La La Land.
"At the same time, find your happiness, find your love, find your personal life, too. It's important," the actor says. "Really, the central theme of that movie is that those things don't always go hand-in-hand. Sometimes they're at odds." Although making room for relationships while fighting for a satisfying career often feels like a new-age problem, it's clearly not. Thus, younger audience members, older audience members, and anyone with a dream will be greatly touched by Chazelle's story, which serves as a unique mirror to their own lives.
Images: Lionsgate (3)