The Best Drugstore Lip Balm Costs Less Than $3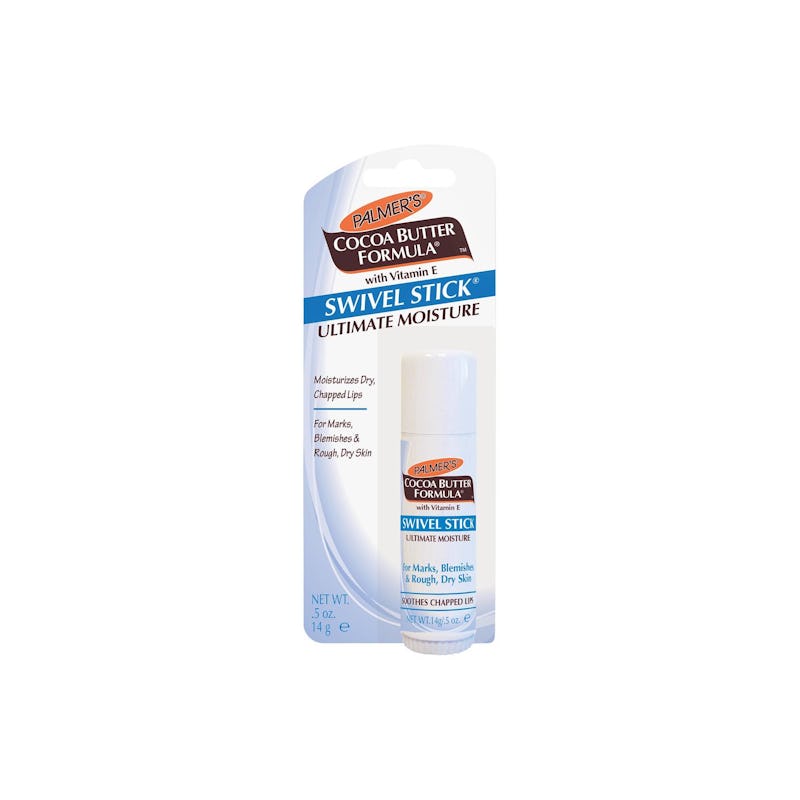 Say what you will about moisturizers and body lotions, but this time of year there is on hero beauty product that stands above all the rest: lip balm. TBH, chapped lips can ruin an entire day (or, more importantly, and entire new years kiss) so having a product on hand at all times is vastly important. And the best part? You don't have to shell out any major $$$ to get the good stuff. There are plenty of inexpensive lip balms that are just as good as the fancy stuff.
My personal favorite? Palmer's Cocoa Butter Swivel Stick.
I'd like to put it out there: I was a Palmer's devotee way before DJ Khaled gave it his Snap Story stamp of approval. He's made me feel a lot more legitimate about my obsession ever since he partnered with the brand and deemed their body lotion his #keytosuccess. I have at least one swivel stick hiding out inside the inner pocket of every purse I've ever owned, and have turned almost every single one of my friends onto the product (which means they are constantly stealing them from me... I wonder if DJ K. has the same problem in his house).
Palmer's Swivel Stick Lip Moisturizer Cocoa Butter Formula, $2, Target
First of all, Palmer's Swivel stick is the most "bang for your buck" product ever. You can order it online for less than $3, and it's so big it will literally last you for years (unless you're as addicted as I am, in which case it will only last you about three weeks). It comes in an extra-girthy package, which means you only really need one swipe on the top and the bottom of your lips and you'll be totally covered. Plus, it has a good level of longevity, which means you only have to apply every couple of hours (versus other brands that I've tried that dry out after 15 minutes).
The swivel stick's Cocoa Butter base makes it extra moisturizing, which is tough to come by in stick form. Personally, I hate lip balm that comes in a pot even though it tends to be more nourishing, because 1) It ruins my nails and 2) My hands are never, ever clean enough to be that close to my mouth, but somehow Palmer's manages to be even better than the cream-based stuff.
Not only is it moisturizing, but it goes on smoothly and seamlessly, so can be used as a primer underneath lipsticks or glosses. It's not tacky or sticky, Plus, its tropical, coconut scent mentally transports you to a breezy island far, far away from the freezing cold weather thats chapping your lips in the first place.
Beyond all of this amazingness, he best part about Palmer's lip balm is the fact that it has a cult following that includes me, DJ Khaled, my friend Maggie who turned me onto the brand five years ago and a lot of drunk girls I've met in bar bathrooms. There is a special bond among Palmer's users, and every time I take it out of my bag there is a resounding cry of either "OMG I USE THAT TOO!!!" or "Hey, do you mind if I borrow that?"
Images: Courtesy of Brands; Palmers/Instagram