How To Keep Your Hair Healthy In The Snow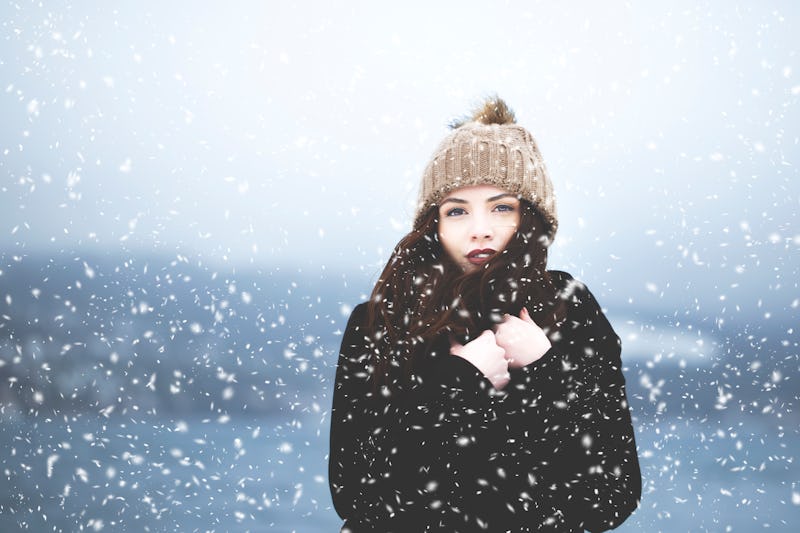 GizemBDR/E+/Getty Images
As fun as it can be to go frolicking in the snow, it's just not always the best activity for your hair. After all, frozen water vapor is one of the harsher winter elements, so if you don't protect your hair in the snow, it could cause some sneaky damage. Besides, the last thing you need to worry about during a snowball fight is how much breakage your hair is suffering at that moment. So to find out some more about why our hair is more fragile in the winter and some ways to protect it from the elements, I emailed with an expert.
Lauren McCowan, Evo's International Creative Director, let me know that "Hair tends to become drier and more fragile in the winter months because the scalp is not producing as many oils, and the hair itself suffers from exposure to the cold and wind as well as heating." She further explains that scarves, jackets, and hats rubbing against your hair can also cause fragility and breakage. So essentially, once the winter hits, there's almost nothing around you that doesn't inflict some sort of damage on your strands. But there are ways to make it through the cold and the snow with your tresses in tact. So you can venture outdoors on the coldest day without worry, here are six ways you can protect your hair from the winter elements:
1. Use A Leave-In Conditioner
Try: evo Happy Campers Leave-In Moisturiser, $33, Evo Hair
"Leave-in moisturizers are an absolute must," says McCowan. She explains that these products are like a primer for your hair that creates a shield against the elements. So to better protect your hair from snow-damage, she recommends looking for a leave-in treatment that has both hydrating and repairing properties to help prevent and also heal any damage to your hair.
2. Adopt A Color-Preserving System
Try: MATRIX Total Results Color Obsessed Shampoo and Conditioner, $19, Amazon
Besides drying and damaging your hair, being exposed to winter elements can also cause your color to fade if you dye your hair, says McCowan. To prevent this, she recommends regularly using a system of shampoo and conditioner that will repair hair and help maintain color during the winter.
3. Keep Your Scalp Hydrated
Try: WEN SIXTHIRTEEN Ultra Nourishing Treatment Oil, $82, Chaz Dean
The cold, dry air can easily contribute to a dry and itchy scalp. To keep your scalp hydrated and healthy, try using a treatment oil or scalp balm. A good moisture treatment will help hydrate not only your scalp but also your strands for extra protection against the cold and snow, explains McCowan.
4. Regularly Brush Your Hair
Regularly brushing your hair can be quite helpful, especially during the winter. According to McCowan, not only will it help activate the scalp and increase sebum production to counter dryness, but it will also help detangle knots from where hair tends to rub against scarves and jackets to counter breakage.
5. Try A Braid Or Bun
Two styles that can help guard your strands against damage from the cold and snow are braids and low buns, says McCowan. She explains that braids will keep your hair under control beneath a hat, scarf, or hooded jacket to minimize friction while still looking cute, and a low bun will help protect the majority of your hair from the elements. Plus, both styles will mitigate any frizz the snow or winter air may cause.
6. Use A Heat Protectant
Try: L'Oreal Paris Advanced Hairstyle Boost It Blow Out Heatspray, $4, Target
Because we can't always afford to air-dry in the winter, McCowan reminds that it's important to protect your strands whenever you need to heat style, and that includes blow-drying. She therefore recommends always using a heat protectant whenever you need to blow-dry or heat-style your hair. After all, the healthier you can keep your hair indoors, the better protected it will be outdoors.
Images: Getty Images (3); Miki Hayes (1); Courtesy of Brands