How To Get Instagram Stickers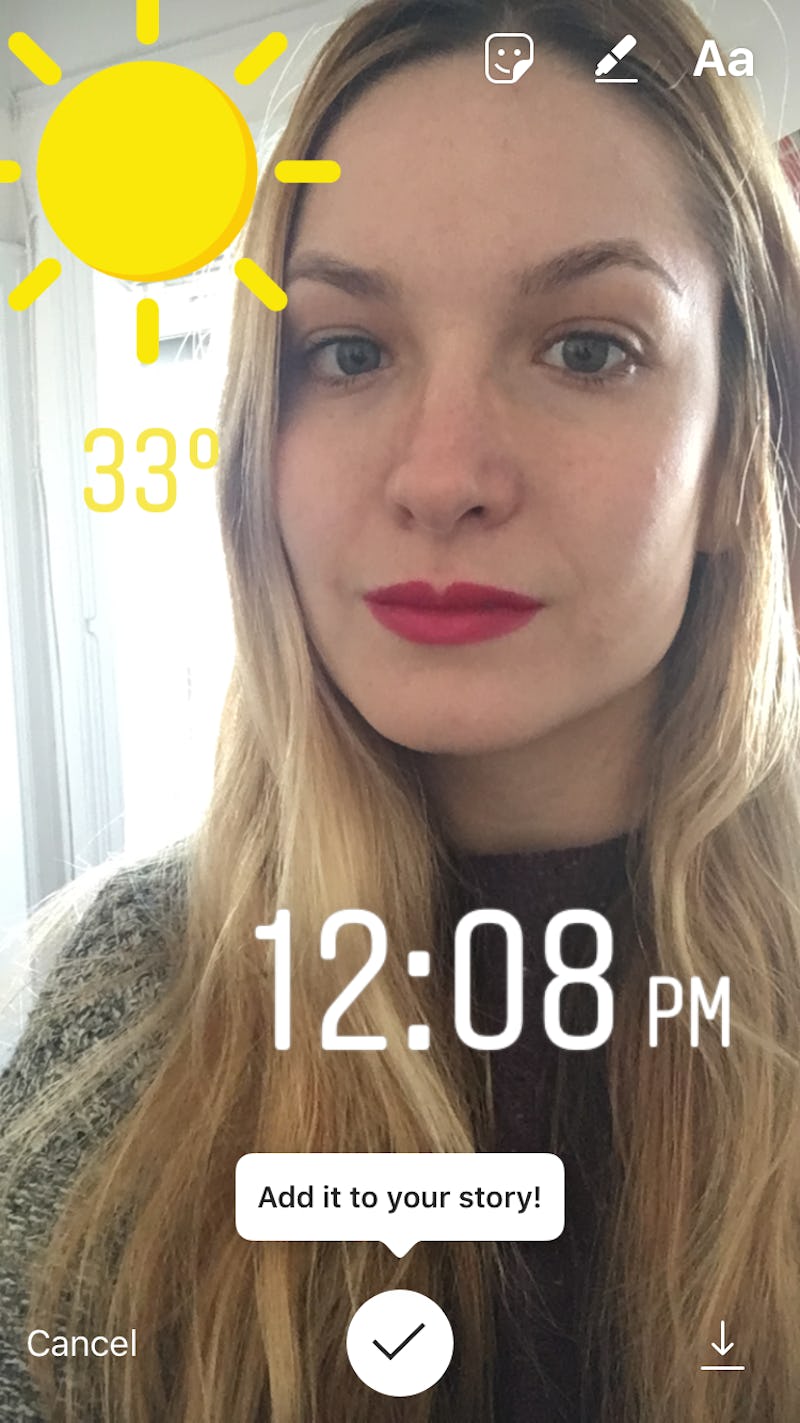 Instagram Stories are all about capturing a moment and telling a, well, story — but without captions, how do you let your followers know all the important deets? Solve this issue in a heartbeat by learning how to get Instagram stickers, the new ingenious way to artfully add context to your posts. The stickers give 'grammers a variety of personalized options to tag the weather, time, and location of a photo or video. So whether you're chilling on a beach in Majorca in 88 degree sunshine (side note: I hate you), or building a snowman at 10 degrees below freezing, you can let your followers know at a glance what's going on.
Instagram has already given us so many tools to play around with since Stories premiered in August, with Boomerang video, mentions, and links, but these stickers are really the cherry on top of the social media sundae. Each of the stickers — which are customizable, by the way — comes with several choices for how to display the temperature, time, and location of your post; they can also be stretched and shrunk to your preference.
Oh, and the update also comes with seasonal stickers and emojis to make your Insta Stories even more festive at this magical time of year. Now, for the month of December, you can celebrate the holidays with Stories by hanging some mistletoe or surrounding yourself with dreidels. Stories only last for 24 hours anyway, so why not have some fun? The holiday stickers are totally customizable, too, and can range from minimalist to super colorful and detailed. All you have to do is tap on the sticker to reveal the many options. You can even wear an ugly Christmas sweater without actually having to buy one — thanks Instagram!
Here's how to get stickers for Instagram stories, and really make your photos and videos stand out.
1. Uninstall the Instagram App
I know, I know, it seems unnecessary to delete the app from your phone before updating it, but bear with me here. It's a surefire way to make sure you're installing the most recent version of the app when you update (just make sure you remember your login information). To delete the app, simply hold down on the Instagram icon until you see the little "X" appear. Tap the X to delete the app from your phone. (Don't worry, though! We'll get the app right back in the next step.)
2. Download the Latest Version Of Instagram
Head on over to the App Store or Play store, depending on your phone, and download the latest update of the Instagram app (version 10.3). You may see Instagram waiting to be updated when you click on the "Updates" option in the lower right hand corner, but if the app is no longer in the list, go ahead and download it once more onto your phone.
3. Capture A Photo Or Video
Once your app has been updated, it's time to start having some fun! Once you open Instagram, swipe right on the feed to reveal your camera feature (you can also tap on the camera icon in the upper left hand corner of the screen). Pose for a perfect shot or film a short video, and prepare to get creative.
4. Add Stickers!
To add stickers, tap the smiley-face in the upper right hand side of the screen (it's next to the drawing and text tools). A menu of your context stickers and emoji will drop down for your viewing pleasure. Tap the desired sticker to add it to your photo. Use your finger to position the sticker or alter its size (or both!). You can view the different designs for each image simply by tapping the sticker. So easy!
There you have it folks! Gorgeous holiday art!
Maybe I should just make stories my Christmas card this year?
Images: Lily Feinn/Instagram (5)