Online Gifts Perfect For Last Minute Shoppers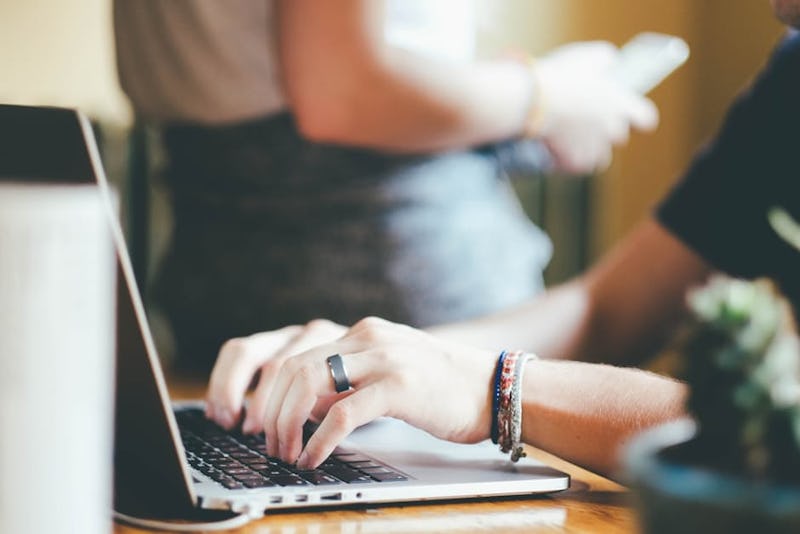 There is nothing like looking at your calendar and realizing that you are so behind on holiday gifts. Thankfully, the digital world is alive and well, making online gift ideas totally possible. Seriously, where would the world be without it? Sending a digital present isn't just easy and quick, but it is pretty darn convenient. It also might cover up the fact that you totally lost track of time. I know I can't be the only one.
Luckily, the wonderful world of the Internet is home to so many wonderful services. It won't be too hard to find something that can actually enhance another person's lifestyle. It comes down to thinking about their likes, hobbies, and interests. Focus on things that they already do. By doing so, you can be sure that they'll get good use out of your present — even if it is a super last-minute gift. In some cases, an online gift can just be a fun addition to a tangible item. For example, a subscription to a craft class can be paired with actual DIY supplies. Easy.
Thanks to these online gift ideas, you can finally stop panicking about holiday shopping. All it takes is a few clicks and you're done. Take that, Santa Claus.
1. Amazon Prime
Amazon seems to be the answer to everything these days. Looking for an obscure knick-knack? Searching for a new shower curtain? Amazon has your back. And if you know someone who's obsessed with this online marketplace, it only makes sense to gift an Amazon Prime subscription. At $99 for one year, this awesome service includes free 2-day shipping on millions of items. Select purchases may even ship for free. The lucky recipient will also get free instant access to movies, television shows, music, photo storage, and audio books on Audible. Awesome.
2. Sephora Flash
Much like Amazon Prime, Sephora Flash grants you free 2-day shipping for one year. The main difference? Sephora Flash only costs 10 bucks. Ten bucks. It's enough to make any beauty lover swoon. This is an excellent online gift idea if you're looking to tack something onto an existing present. At the same time, it also works a nice little gesture for a family or friend.
3. Skillshare Membership
Creative minds and small business owners will adore a Skillshare Membership. This learning community is packed with online classes ranging from hand-lettering and music theory to yoga and marketing. It's basically a dream come true. A three-month membership is $36, while a six-month version is $60. A year-long membership will run you $96.
4. Creativebug Subscription
Creativebug is right up there with Skillshare. But since this educational platform is all about arts and crafts, a subscription to Creativebug would be best for a Martha Stewart-wannabe. Here, you can find classes on canning, book binding, and quilting — just to name a few. It's affordable, too. A 3-month subscription will cost just $15, while a six-month version will run you $30. A one-year version is $50, which is an even better deal.
5. eGift Card
If you're really pressed for time, consider sending a loved one a digital gift card. I mean, almost everyone shops online these days. Once you purchase the gift card, the website will generate a code and alert the recipient. Need some ideas? Home Depot, Sephora, and Nordstrom are all great options. Make it personal by choosing a store that fits their hobbies, interests, or whatever is going on in their life at the time.
6. Honor Donation Gift
For the person who is all about social justice and community, consider making a donation gift in honor of their name. Simply choose a movement or cause that they care deeply about. Websites like Care and Planned Parenthood typically give the option of donating in honor of someone's name.
7. Online Magazine Subscription
While there's nothing quite like flipping through an actual magazine, digital magazine subscriptions can really help clear up some space. This is especially ideal for the person who's trying to cut down on clutter in 2017. Websites such as Magzter, New York Times, and Texture are great places to start.
8. Kindle Unlimited
Treat a bookworm to something special with a Kindle Unlimited subscription. This service grants access to millions of books, magazines, and audiobooks on any device with a Kindle app. It's a mecca for those who are all about libraries and bookstores. A pre-paid Kindle Unlimited subscription costs $60, while a full year is $120.
9. Accounting Subscription
This one might sound boring, but hear me out. These days, so many people are working on side projects and passion projects. Many are freelancers or run their own businesses. But when it comes to taxes (ugh) and other financial tasks, things can get downright stressful. A subscription to an accounting program can be a serious game changer. Services like Freshbooks and Quickbooks are especially popular.
Images: Pexels (9)