The One Gift That Can Strengthen Your Relationship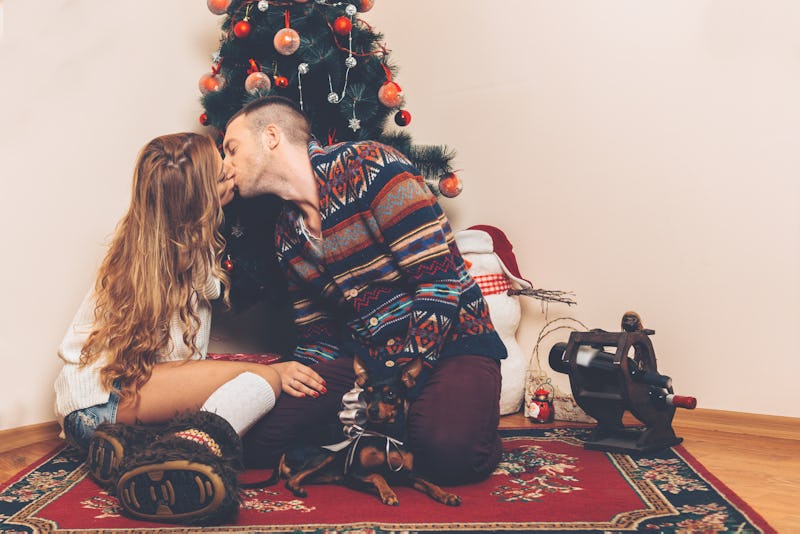 Finding the perfect gift to give your significant other can be difficult. I know when I'm in the middle of deciding what to gift the special people in my life, I tend to put a lot more thought into it than I probably should. I want to make sure I give them something they'll not only love, but is also meaningful and won't end up forgotten in the corner of a closet someday. According to a new study, there is a perfect gift to give your partner that will help strengthen your relationship. As a bonus, it's pretty much guaranteed to not end up forgotten.
"Consumers frequently struggle with the challenge of choosing what to give," the study's co-author, Cindy Chan, an Assistant Professor of Marketing at the University of Toronto, tells Bustle. "Our research offers simple guidance: To make your friend, spouse, or family member feel closer to you, give an experience."
Chan and her colleague, Cassie Mogilner Holmes, an associate professor of marketing at UCLA, conducted several studies to measure the effectiveness of gifts. In one study, Chan and Holmes worked with a group of fathers and measured how close they felt to their kids before and after Father's Day. As they found, daters who got "experiential gifts" from experienced an improvement in their relationship with their kids.
In another similar study, they looked at pairs of friends. One friend was given $15 to buy the other an experiential gift or a material one. Of course, those who received experiential gifts felt much closer to their friends than those who got material gifts. The researchers looked at different types of personal relationships from spouses to family members and close friends and found the same overall result. Here's why it matters:
The Benefits Of Experiential Gifts
"We found that emotion evoked during gift consumption was responsible for the power of experiential gifts over material gifts to strengthen relationships," Chan says. "Therefore, gift-givers may want to consider experiences that will be emotionally evocative for the recipient."
For instance, Chan says a safari adventure can elicit feelings of awe and fear, a rock concert can fuel excitement, a spa package can promote calmness, and an opera can have the power to move someone to tears. Interestingly enough, the authors also found that you don't necessarily have to experience the gift you give together. Experiential gifts were still more effective at connecting people together over material gifts even when the experience wasn't consumed together.
Therefore, gift-givers shouldn't feel they have to consume the experience with their recipient. "Your recipient might enjoy a peaceful afternoon at the spa alone. If you're not a sports fan, you could give a pair of tickets to a baseball game and suggest that your recipient bring a fellow baseball fan to make the experience even more fun and exciting," Chan says.
Emotionally Evocative Material Gifts Are Also Great Options
But Chan also says you shouldn't completely write material gifts off. In one study, gift recipients felt connected to the gift givers when an experiential aspect of the material gift was highlighted. Meaning, you could give your partner new speakers and tell them of the hours of music-listening fun you two can share together. Another study found that emotional material gifts like jewelry engraved with a loving message was also effective in strengthening relationships. "Gift-givers are often focused on how much recipients will like a gift, neglecting a fundamental objective in gift giving – to foster the relationship between the gift giver and recipient," Chan says.
So whatever you decide to get your partner this holiday season, make it meaningful. Overall, it really is the thought behind it that counts.
Images: serbbgd/Fotolia; Giphy(2)