This Woman Is Running 240 Miles For An Epic Cause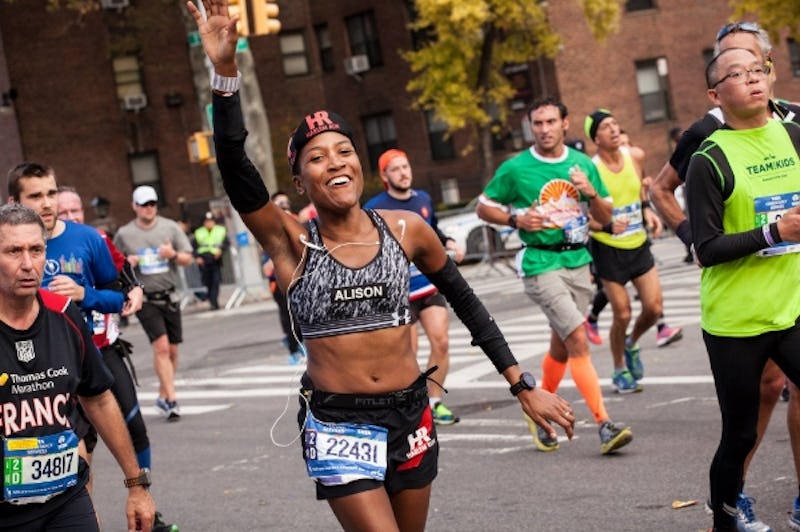 As a female athlete, my body is more than just a space to occupy my being. It has carried me to the finish line of 11 marathons, trained for and completed an Ironman Triathlon, and summited a mountain over 14,000 feet in elevation — among other (mostly) less taxing activities. So when I woke up on Nov. 9 to find out that Donald Trump — a man who has continuously shown a complete lack of respect for women's bodies — had become our president-elect overnight, I, like many other women, was shocked. I was sad. I was, and am, scared for my future as a woman in America. But, one fellow runner, Alison Mariella Désir, has figured out a way to use her talents to take action against Trump — and her story is truly inspiring.
Désir is combining her athletic prowess and public opposition to the future president's candidacy by actually running from her hometown in Harlem to the Women's March on Washington that takes place following Trump's inauguration. Yes, you read that right, she's running there — a route that spans approximately 240 miles. Not only that, but she's running to support Planned Parenthood; any donations she receives along the way will go directly to the women's health organization.
"I came up with the idea [to run from Harlem to D.C.] just a few days ago," Désir tells Bustle. "I thought, 'What if I put my money where my mouth is? What if I just ran to D.C. to do something about this?'"
On Jan. 16, 2017 (which also happens to be Martin Luther King Jr. Day), Désir and a small team of women will begin a 240-mile run from Harlem to Washington D.C. in an effort to raise money and awareness for Planned Parenthood, and to showcase the awesome power of women. The initiative, called "Four Women Run for ALL Women," will require Désir and her comrades to run roughly two New York City Marathon distances for five days in a row (a marathon is 26.2 miles, meaning the women will be running an ultra marathon each day).
It may sound like a crazy feat to some, but for Désir, a running coach and founder of Harlem Run, it seems like the natural thing to do. Like many women in America, Désir felt helpless and unconfident about her own future — and the future of the country — after the election. By leveraging the power of the running community, she realized she could activate momentum toward actually doing something about it.
Within a few hours of coming up with her idea, Désir already began to generate support from her community. A friend, Talisa Hayes, committed to joining her on the journey. From there, Désir began to brainstorm ways to get other women involved, and chose to position Planned Parenthood as the beneficiary of her efforts.
"I started to think about the things that I struggled with most, like the potential of what a Trump presidency could mean for women's rights, and women's reproductive rights," Désir says. "Naturally, Planned Parenthood came to mind."
"There's so much [debate] surrounding women and their bodies — what they can do, what they can't do — and this is a really great opportunity to showcase women who are in control of their bodies."
As stated on the event Facebook page, Désir is inviting individuals everywhere to not just donate to the cause, but to actually join her on various legs of the route as she runs through different cities, and activate their own networks to donate per mile, or to the cause in general. People can check out the route here, so that they can follow along and jump in for sections of the course if they want to. Upon arrival in Washington D.C., Désir plans to join roughly 200,000 others to stand in solidarity against Trump at the Women's March on Jan. 21.
"I think another really great thing about this is visibility," Désir says. "There's so much [debate] surrounding women and their bodies — what they can do, what they can't do — and this is a really great opportunity to showcase women who are in control of their bodies. We're not only fundraising for an organization that respects that, but actually showing people that they too can do something like this."
Désir is also excited about the opportunity to highlight diversity within the running community.
"The four women who will be running the course in its entirety are four black women, which is not what you think of when you think of ultra running, or ultra distances," she says.
Personally, I love this initiative and hope it inspires other women to leverage the power of their own communities to do something similar if they are feeling helpless, or join the (quite literal) movement themselves. And, with Planned Parenthood in danger of losing federal funding as early as February, it's especially important to do everything in our power to fight back.
Those who wish to join Désir along the route can stay updated through the Facebook event page, and everyone can donate to the cause on its GoFundMe page.
Images courtesy of Alison Mariella Désir