How Experts Recommend Air-Drying Hair In Winter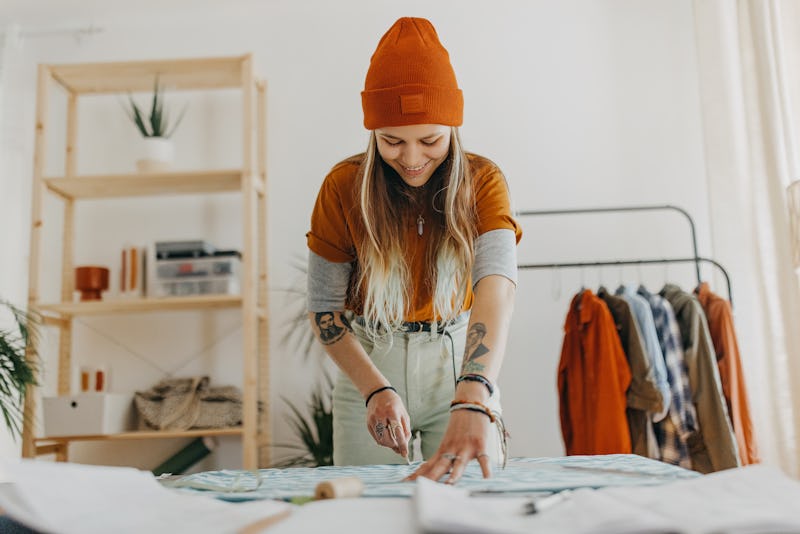 supersizer/E+/Getty Images
Even though you're probably aware that air-drying your hair is generally better for it than blow-drying and otherwise heat-styling, when winter weather rolls around, committing to a few hours of wet locks seems pretty daunting. After all, wet hair is cold hair when the temps are sub-freezing. But if you still like the idea of avoiding heat damage year-round, there are some tips for air-drying your hair in the winter that can help it dry faster and stay healthier. So to find out what the experts recommend, I emailed with a few.
Nick Stenson, Matrix SoColor Celebrity Stylist; the Renpure Style Team; and the Umberto Beverly Hills Style Team, all let me in on how to keep your hair healthy this time of year and tips for efficiently air-drying your strands. Because even though air-drying usually helps eliminate potential damage from heat-styling, during the winter, you could cause different types of damage by venturing outside with wet locks. For instance, Stenson explains that when you leave your hair wet, you allow heat to escape from your body. This will not only leave you extra cold, he says, but could also make your hair appear frizzy. So to help avoid frizzy or even frozen locks, here are six tips for air-drying your hair when the temperature drops uncomfortably low:
Matrix Biolage Anti-Frizz Lotion For Medium Hair, $18, Amazon
One thing all of these experts agree on? A leave-in conditioner is a must. Besides the fact that winter weather leaves hair drier, it can also cause more frizz. And if you air-dry on top of that, the frizz could be out-of-control. So to help not only keep your tresses moisturized but also tame any excess frizz from air-drying, apply a leave-in conditioner immediately after hopping out of the shower.
2. Brush It Back
After towel-drying and applying your leave-in of choice, the Umberto Beverly Hills Style Team recommends brushing your hair back as it dries. This, they say, will allow your hair more stretch and smoothness as it dries so you won't need heat to style or tame your tresses. And to make sure your hair won't fall flat after drying, they also suggest using a finger or brush to gently nudge your roots up so your hair dries with some volume.
3. Style While You Dry
To totally cut out any need for heat styling, the Renpure Style Team suggests tying your hair into a topknot or braids while you wait for it to dry. While you should only do this if you don't need to venture out into the cold for a few hours following your shower, these simple styles will help you effortlessly achieve curls or relaxed waves when you take your hair down after it has dried.
Aquis Lisse Luxe Hair Turban, $21, Amazon
To help speed up the process of air drying, it's important to make sure there is as little water as possible stuck on your strands. So Stenson recommends continuing to scrunch out excess water from your hair after initially towel-drying. Especially if you use a silk cloth or towel made specifically for hair, your locks will dry faster and frizz-free.
Umberto Beverly Hills Roman Oil Serum, $10, Target
If you have curly hair, the Umberto Beverly Hills Style Team warns against using your hands to style and adjust it as it dries, as this can cause hair to frizz. Instead, after towel drying, they recommend using an oil or shine serum to smooth your hair, and brushing with a wide-tooth comb before letting your strands air-dry.
Renpure Black Label Coconut Water Replenishing Treatment Mist, $9, Target
Air-dried hair can sometimes look limp midday, says the Renpure Team. So to keep it looking fresh, or even to add some moisture and shine to keep locks nourished and smooth in the dry, winter weather, they recommend using a replenishing treatment mist as necessary.
Because you can actually protect your hair from the heat and the cold at the same time.
Images: Getty Images; Courtesy of Brands; Miki Hayes (1)