Look Out For These New Makeup Trends In 2017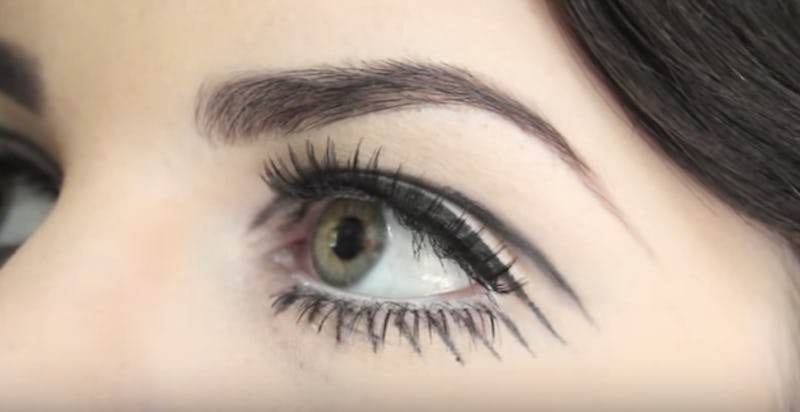 Following the latest beauty trends needn't mean you have to look like everyone else. On the contrary, you can stay in vogue while putting your own unique spin on the latest trends. Beauty babes take note — here you will find the best new makeup trends for 2017, so that you can forge your own way through the fashion pack.
With the rise in popularity of social media platforms, it's easier than ever to get lost among the hoard of makeup addicts flaunting their on-fleek brows and perfectly contoured faces. So a great way to stand out from the crowd is to be one step ahead of everyone else and get next year's most popular looks nailed, so you can focus on giving them your stamp of individuality. Of course, not all of 2017's makeup trends will be your cup of tea, so you may want to spend a little time acquainting yourself with each one, then focussing on the ones that you really love and that are in line with your personal aesthetic.
When it comes to the best makeup trends for 2017, we are seriously spoiled for choice. So I spoke to a bunch of experts to get their opinions on the top makeup trends for next year.
1. Blush As Eyeshadow
Susan Posnick, makeup artist and founder of Susan Posnick Cosmetics, tells me over email, "Think pastel-like blush colors, but on the eyes rather than the cheeks. Use a wash of a peony pink or golden coral on the cheek, but apply it full-on as an eyeshadow."
"Sweep the color onto the entire lid in a more haphazard way, using a blush brush or pot of color," she instructs, "keep the color uneven so that it creates dimension on the lid. Line inside the upper lashes with a black or deep green and then apply mascara."
2. Liner Queen
Honey Artists Makeup Artist, Min Min Ma, explains over email, "This is my all-time favorite makeup look whatever the season and occasion. Anyone looks good when sporting eyeliner."
"In 2017, we're seeing lots of liner looks focusing on tracing the upper and inner rims of the eyes, such as on Rag & Bone and Thierry Mugler runways. I like to pick deep colors such as black, midnight blue, or dark purple, trace the liner along the rims and lash lines, and smudge slightly with [a] fingertip," says Min Min Ma.
"I'm obsessed with YSL Waterproof Eyeliner Pencil in 'Burgundy,' Charlotte Tilbury Rock 'n' Kohl in 'Bedroom Black,' and Chanel Precision Eye Definer in 'Blue Jean,'" she admits.
Yves Saint Laurent Waterproof Eyeliner Pencil , $30, Nordstrom ; Charlotte Tilbury Rock 'N' Kohl In Bedroom Black , $27, Nordstrom ; Chanel Precision Eye Definer In Blue Jean , $30, Nordstrom
3. The Return Of Lip Gloss
"I think in 2017 we are going to see the resurgence of lip gloss. Something that hasn't been as possible with recent social media trends," Honey Artists Makeup Artist, Robert Greene, tells me in an email.
"The matte lip will have its time come spring where you will see many opting for a more glossy finish especially with metallics! We are already seeing some of the indie brands making glossy formulas to add [to their] collections," says Greene, "I think this comes from an over stay ration of matte lip products."
"Let's face it they look great, but are hard to wear all day long," he adds, "I'm loving the new Christian Louboutin Loubilaque Lip Lacquer in 'Rouge Louboutin,' which is an incredible red for a great pop of color!"
Christian Louboutin Loubilaque Lip Lacquer In Rouge Louboutin , $85, Nordstrom
4. Retro Cheeks
"I love pretty cheeks especially in the spring time. For 2017, we're seeing lots of blush on runways but with an '80s fun twist," says Min Min Ma, "check out [the] Kenzo and Chanel shows. Instead of wearing the blush on the apple of the cheeks, concentrate on the cheekbone area and swipe upward towards the ears and temples with an angled brush such as Laura Mercier's Angled Cheek Countour Brush."
Laura Mercier's Angled Cheek Contour Brush , $45, Nordstrom
"Because this look is more daring, pick softer shades or something with a bit [of] shimmer. Some of my favorites are Lancôme Powder Blush in 'Shimmer Rose Cashmere,' Maybelline Fit Me Blush in 'Medium Nude,' and Nars Blush in 'Orgasm,'" Min Min Ma recommends.
Lancome Powder Blush In Shimmer Rose Cashmere , $32, Nordstrom ; Maybelline Fit Me Blush In Medium Nude, $4, Amazon; Nars Blush In Orgasm, $34, Amazon
5. Glistening Skin
Posnick explains that this next look is adapted from Asian trends and the runways. She says, "We will continue to see glowing, glistening skin, but not wet as we have seen in the past few seasons."
"This look is easy to achieve using illuminating products blended with moisturizer or foundation," she elaborates, "my favorites are the Illuminate pots by Susan Posnick. They come in three shades — 'Champagne' (with a golden glow), 'Seduction' (a peach, pearl essence), and 'Whisper' (with a pale lilac glow); each shade giving a slightly different tinted glow to the skin, the eyes, the cheeks, and the lips."
Susan Posnick Illuminate Pots, $18, Susan Posnick
6. Bold Makeup
Esthetician at Haven Spa, Monique Romatowski, tells me over email, "Make more of a statement with your eyes by mixing colors like pinks and orange golds, opt for stronger brows and brighter blush — it's meant to be seen." This is a seriously fun trend if you enjoy experimenting with makeup.
7. The Natural Look
However, if OTT makeup sounds like your personal nightmare, you'll likely be interested in what dermatologist Dr. Janet Prystowsky has to say on next year's trends. "As a dermatologist, I whole heartedly subscribe to the notion that less is more when it comes to skincare. The less makeup, toners, exfoliators, concealers, etc. we use the better," she says, "that's because above all else, healthy skin is beautiful skin. I've often found that the more we try to change our appearance, the more skin problems we make!"
"That's why I like the natural makeup look that's started trending (not to be confused with all-natural makeup)," Dr. Prystowsky explains, "you still have the fun of applying makeup, but it's more to enhance the natural, healthy look of skin. It generally involves less makeup than other inspired looks, which bodes well for me and my less-is-more mantra."
8. Green Eyeshadow
Posnick discusses next year's must-have eyeshadow hue, that she tells me is adapted from clothing colors for 2017, "Think green — everything from a pastel, jade green to a deep moss green on the eyes."
She explains how to get the look saying, "Use a pale green shadow on the eyelid up to the crease, or create a smoky eye with a deep, hunter or tourmaline green. Make green the new black as it enhances the eye color."
9. Wash Of Color
"In line with warm colored eyes from fall 2016, we'll be seeing beautiful washes of colors in the New Year," says Min Min Ma, "I suggest to have fun and go for unexpected ones like pinks, peaches, and violets and skip your traditional powdered eyeshadows."
"Instead, go for textures in creams and gels as they give more of a translucent feel and in turn, it's easier to wear especially during daytime," she says. Min Min Ma recommends a bunch of products to achieve this look, "Check out Lancôme Ombre Hypnose Stylo in 'Passion Passiflore,' Maybelline Metal 24Hr Cream Gel Eye Shadow in 'Inked In Pink,' and Tom Ford Cream Color For Eyes in 'Midnight Violet.' Simply using your fingertip to apply and smudge. Follow with couple of quotes of mascara."
Lancome Ombre Hynose Stylo In Passion Passiflore, $27, HSN; Maybelline Metal 24Hr Cream Gel Eye Shadow In Inked In Pink, $6, Amazon; Tom Ford Cream Color For Eyes In Midnight Violet, $45, Nordstrom
10. Twiggy Inspired Lashes
Twiggy's iconic style is set to be fashionable once more. Kristine Cruz, senior makeup artist at Antonio Prieto Salon, divulges over email that Twiggy inspired lashes were seen on the 2017 Christian Dior and Nina Ricci runways and exuded a 1960s mod inspired, doll eyed look, with super long spider like lashes.
"The best way to achieve this look is by using eyelash extensions for the top lashes rather than heavy mascara application — it can look clumpy in a wrong way," says Cruz, "I like the Ardell #104 or #102 Demi False Lashes. Apply black gel eyeliner first then false lashes. Use Dior Show Maximizer lash plumping serum for the bottom lashes. Apply this lash primer before your mascara and you can achieve that separated thick lash look in no time. Add Mac's Eye Kohl Costa Riche in white on the the bottom water line to achieve bigger defined eyes."
Ardell Lashes In 104, $11, Amazon; Ardell Lashes In 102, $12, Amazon; Dior Show Maximizer Lash Plumping Serum, $30, Nordstrom; MAC Eye Kohl In Costa Riche, $17, Nordstrom
Get a head start on next year's makeup trends by trying out your favorites over the holiday season, you'll soon discover which ones you love!
Images: Abbey Egeland/YouTube