7 Ways To Keep Your Hands Soft & Smooth All Winter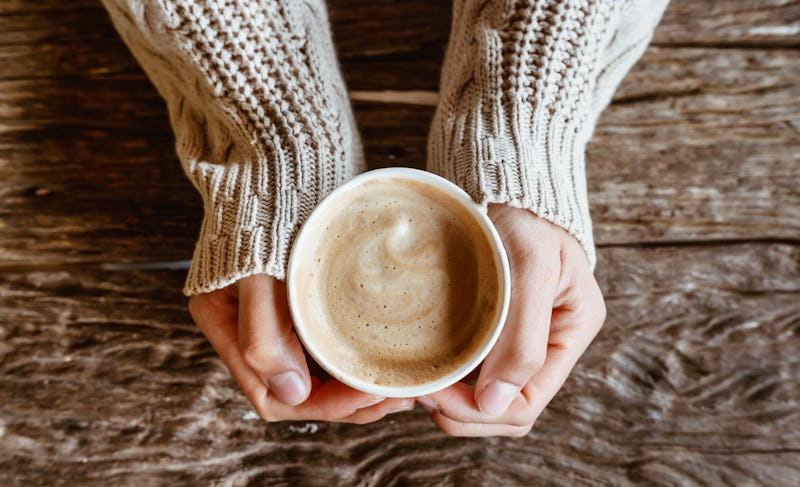 Boy_Anupong/Moment/Getty Images
It's not exactly news that winter weather can really wreak some havoc on your skin. But that doesn't change the fact that it's something we have to worry about every year. And one of the areas that gets it the worst are hands. For some reason, it just seems impossible to keep hands hydrated in the winter. It's like, when the temperature drops and the wind picks up, lotion just gives up. But thankfully, constantly smearing on hand cream isn't the only way to keep your fingers from cracking in the cold.
So to find out some tips for keeping hands soft and smooth in the winter, I emailed with Mary Delgado, Operations Manager for artnaturals; Amanda Hume, founder of VERT Beauty Salon; and Dr. Clarissa Shetler and Dr. Christine Falsetti, founders of C2 California Clean. Turns out, there are actually a number of things you can do to prevent dry, cracked hands that don't involve having to tend to them every five minutes. So you never have to worry about tight, itchy fingers again, try any combination of these seven, helpful tricks from the experts. Your hands will thank you for it.
1. Try Not To Wash Your Hands As Much
Try: Artnaturals Hand Sanitizer, $14, Artnaturals
As if the winter weather weren't harsh enough on hands, constantly washing them can also deplete your moisture levels. To combat this, Delgado recommends sometimes using a hand sanitizer with hydrating ingredients such as aloe vera, vitamin E, and jojoba oil instead of washing your hands every time you need to.
2. Use A Nourishing Hand Soap
Try: Mrs. Meyer's Clean Day Hand Soap, $4, Target
If you still find you wash your hands too frequently throughout the day, Hume suggests switching to a more nourishing hand soap that is free of sulfates and applying a hand cream immediately after washing your hands.
3. Hydrate With Oil
Try: C2 California Clean Ultra Replenishing Oil Squalane + Vit E, $88, C2 California Clean
To really protect your hands from the winter elements, instead of just relying on a lotion, Dr. Shetler and Dr. Falsetti recommend hydrating with oils. "Pay special attention to the top and corners of your nails as those areas are more prone to dry, cracked skin," they add.
4. Or Hyaluronic Acid
Try: Artnaturals Hyaluronic Acid Serum, $13, Artnaturals
Another way to more deeply hydrate your hands is with a serum containing hyaluronic acid. "This acid is essential to hydrating skin because it's capable of binding up to 1000 times its weight in water, while strengthening the skin's barrier, and providing antioxidant defense against free-radical damage," explains Delgado. If your hands are in need of some intensive moisture, try layering an oil over a hyaluronic acid serum.
5. Wear Gloves
Try: Aloe Moisture Gloves, $7 each, Bed Bath & Beyond
To help lock in moisture after applying an oil, Dr. Shetler, Dr. Falsetti, and Delgado all recommend wearing gloves. Try a pair like these that are infused with aloe for extra nourishment and are soft enough to sleep in for an overnight treatment.
6. Carry A Balm In Your Purse
Try: CV Skinlabs Restorative Skin Balm, $26, Vert Beauty
Make sure you can keep your hands hydrated even when you're out and about by stowing a cream or balm in your purse or pocket. Hume says she carries this one to relieve dry areas throughout the day.
7. Try An Antibiotic
"If your hands do have cracks or a burning sensation due to some cold, windy weather, use antibiotic ointment on the cracks and areas that are chaffed," say Dr. Shetler and Dr. Falsetti. They recommend applying the antibiotic twice per day and topping it with an oil or cream to heal your hands and keep them hydrated.
Because you can totally make it through winter with healthy, hydrated hands.
Images: Boy_Anupong/Moment/Getty Images; Courtesy of Brands