Internet Pretends Near Nip-Slip from Kate Upton Is News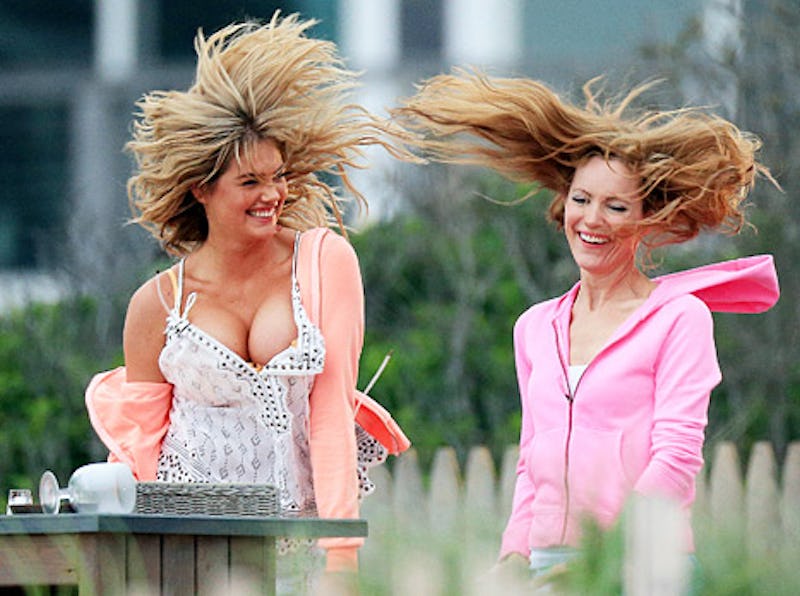 Here are three things to know about Kate Upton: One, she's a supermodel. Two, she has graced the cover of the Sports Illustrated Swimsuit Edition two years in a row. And three, finding a photo of her nipples is just a Google search away.
So let's categorize this article about Kate Upton's latest near nip-slip (and that is near nip-slip, which means that you can't see any nipples, period) as non-news. It's like a photo of Ryan Gosling doing something adorable or Amanda Bynes doing something sad. These photos are basically what make the Internet a thing.
The Internet's fascination with the pictures is only making me sad. (Well, only sort of sad, because, really, she's a supermodel and I'm here writing about her boobs.) There's no doubt she has a fantastic body — and, hey, it's making her millions — but when will conversation shift to her acting role in The Other Woman But will people take the movie seriously? Probably not, because the first thing that will come up when they look for movie times will be the link to an article about how her boobs -- which are fantastic -- almost revealed themselves when she and Leslie Mann were jumping up and down on set.
So, yes, I'm sorry for you, Kate. But more importantly, I am sorry to you Internet users who had no idea that there are about a million more photos of Kate's boobs out there. Ones where you can see way more than just her ample cleavage.
Try Googling it. Just saying.