What Women Want...From Their Porn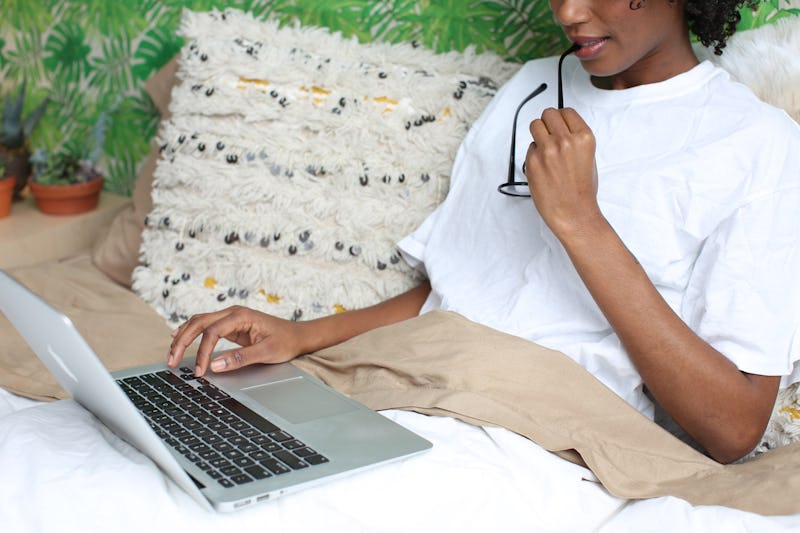 There are two kinds of women: the ones who don't watch porn and the ones who watch readily available, mainstream, created-by-men-for-men porn — or at least that's what the authors of A Billion Wicked Thoughts: What the Internet Teaches Us About Sexual Relationships believe. As spotlighted by AlterNet, authors and neuroscientists Ogi Ogas and Sai Gaddam dared to ask the question, "What do women want out of porn?" According to their research, most women are either floating through existence porn free, or watching the same hardcore scenes our straight guy friends enjoy — thus making "porn for women" unnecessary.
Although they have some decent facts about how few women watch porn — I won't argue that, it's not for everyone — they make one specific statement I just can shake, which is that women will not watch porn targeted to them. Ogas elaborates on the subject for AlterNet:
"There is definitely an audience for feminist-friendly porn, just a small audience and a small fraction of women overall. What is fascinating is that women commonly promote the idea of feminist porn and socially want to believe in it. Activists argue that there needs to be more of it, women support it in public and I see women start erotic websites all the time. But when it comes down to it, that is just not what they are interested in looking at," he said.
Yes, women do watch "mainstream" made-and-packaged-for-dudes porn. Women are, after all, only human and it's extremely available — key word being "available." But when it comes "porn for women," we shouldn't just can the idea. In fact, we should expand upon it. We're already off to a good start with Dusk, a 24/7 porn channel — the programming of which is selected by an all-female panel. There's also feminist porn, or porn which empowers its female actors with ethical practices. Unfortunately, these sites don't get as many viewers, because most porn on the Internet is made by men for men — hence why the few ladies who do watch porn (or the ones who admit to it) are flocking those sites.
This is where Angie Rowntree, the founder of Sssh.com — a porn site geared toward women — comes in. She explains for AlterNet that there is absolutely place for this market in the industry:
"If the vast majority of porn on the market is made by and for men—and it is—is it any wonder that a relatively small portion of women wants to watch it? To me, that number just speaks to the opportunity on the market for porn made with a female viewership in mind. It's just a function of the numbers and what has been available on the market, historically speaking," she told AlterNet.
There's also the fact that most people (especially women) might not want to admit to watching porn. The Huffington Post points out how women "really" feel about porn, and that despite low viewing numbers, we're secretly big fans. Apparently 85 percent of female viewers see it as a de-stresser, and some are even into creating their own amateur porn. Also, most of the women who watch it are Millennials. Yet another reason why now is the best time to create more sites and films geared toward ladies.
I'm definitely with Rowntree on this one. Of course the few ladies who watch porn may be perusing men's sites now — all the more reason why there should be more options. This is no reason to shut down the idea of porn for women entirely.
If you're not interested in reading the book, check out their Youtube recap.
Image: Bustle Stock Photo