Kathryn Vs. Thomas: A Battle Of The Mugshots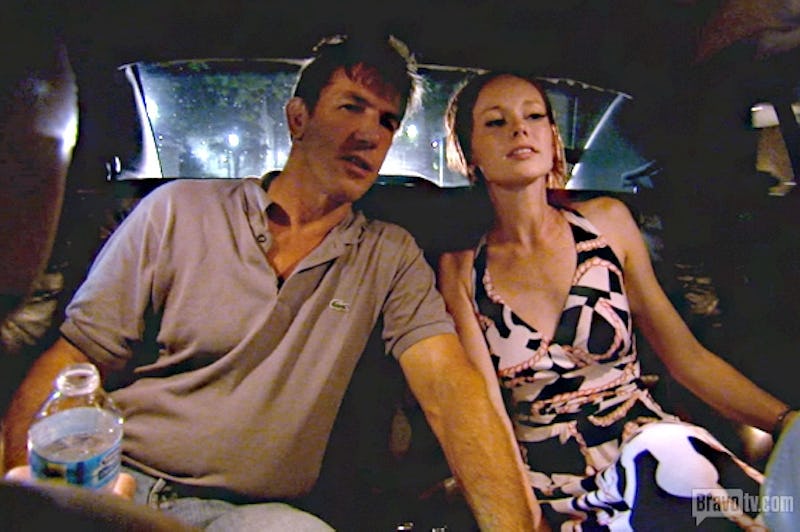 Southern Charm's Kathryn Dennis and Thomas Ravenel are one of reality television's strangest couples. On the show, they started off a rocky relationship with a pregnancy scare, but in real life, they've just revealed that they're happy and recently had a baby together. It doesn't seem that Ravenel and Dennis have much in common on the show, but apparently in real life they have everything figured out and it could be that their connection stems from a propensity for breaking the law. As the Daily Mail has reported, Kathryn Dennis and Thomas Ravenel both have mugshots and they're both pretty ridiculous.
As we all know by now, Ravenel was charged with participation in a cocaine distribution ring in 2007 which lead him to drop out of office as South Carolina State Treasurer. This has not been Ravenel's only run-in with the law, he also recently plead guilty to a DUI charge that occurred in July 2013 in New York.
Dennis' criminal past, on the other hand, is less well known and far more reasonable. Dennis was arrested for underage drinking in 2012 when she was 20. If you can get over the fact that Dennis was still underage in 2012, a simply underage drinking charge isn't surprising in the least.
But enough about the technicalities. Dennis and Ravenel are doing perfectly fine now, so looking at their mugshots (and maybe laughing at them a little...) is totally cool.
First up, Thomas Ravenel:
This one is pretty goofy because of that smile-ish thing he has going on, but is also a little scary because of the lighting and his pale eyes. Even still, it's not the worse mugshot that's ever happened.
As for Kathryn Dennis:
Very impressive. This could be a young Hollywood mugshot circa the crazy party days of the mid-aughts. This is a Lindsay Lohan level mugshot. Her makeup is appropriately smudged, her hair looks voluminous yet messy, and her eyes display just the right combination of drunk and hopeless.
Dennis' mugshot wins this round and hopefully this is the only round because y'all have a daughter and these crazy times need to end! Also, Ravenel needs to focus on his ill-advised attempt to take Lindsey Graham's Senate seat.
Image: Bravo; Daily Mail