Lindsay Explains That Sex List to Andy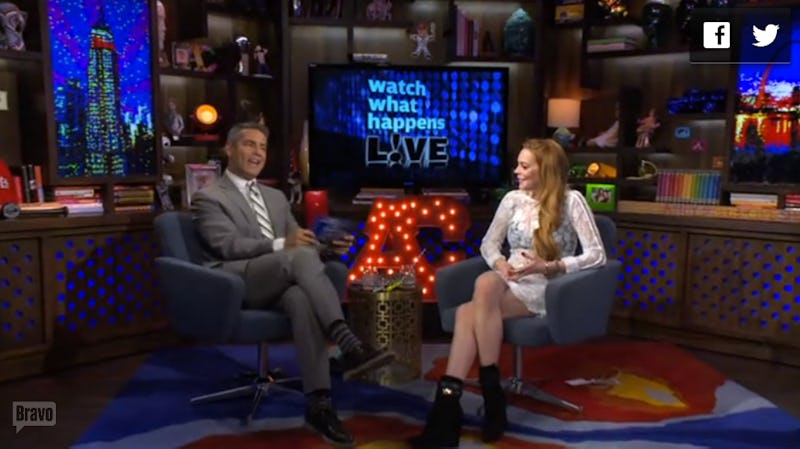 Is Lindsay Lohan ready to talk about her alleged sex list? Not exactly — and we kind of feel like jerks for even asking about it now. Lindsay Lohan went on Watch What Happens Live this week and sat down with Bravo host Andy Cohen to discuss some of the recent events in her life. Lindsay is currently the star of new OWN reality show (sorry, "docu-series") Lindsay that shows the troubled star getting her life back together post-rehab. Of course, like every other part of Lindsay's life, her post-rehab life is filled with drama. Recently, an unnamed source released a list that Lindsay had apparently written of the celebrities who she had sex with. Naturally, Andy Cohen just had to include a question about the alleged sex list on WWHL's "Plead the Fifth" segment, which gives guests the opportunity to avoid answering one of three questions.
While Lindsay was forthcoming with the answer to the first question (turns out that Samantha Ronson was Lindsay's first time dipping into "the lady pond") she stayed quiet about the next two questions... and it was actually pretty classy of her. Though Lindsay doesn't have the reputation of getting along very well with her co-stars, she stayed quiet when asked which celebrity lady was the "biggest mean girl" on set, telling Andy that she didn't want to talk badly about other actresses. When the question finally rolled around to that scandalous sex list, she again pleaded the fifth (cheater!) — and the reason why makes us feel sort of bad for speculating in the first place.
According to Lindsay, the list was made during her fifth step of AA (according to Alcoholics Anonymous, the fifth step is "admitting to God, ourselves, and another human being the exact nature of our wrongs"). According to the actress, someone snapped a photo of it during the move from Los Angeles to New York and sold it to the press. Not so cool, right?
The list contains A-list names like Justin Timberlake, Orlando Bloom, and James Franco (who denied that he ever slept with Lindsay) so it's pretty natural for people to speculate about the nature of the list. We now know that it is real — at least on some level — and that it was written at a very low point in Lindsay's life. That said, it's unclear if it's a sex list, or just a list of people who Lindsay feels she wronged.
I know that the list may read like a young actress bragging about her conquests, but it seems doubtful now that she wanted it seen by the public. Could this be a publicity stunt? Possibly — or it could be further proof that famous people really can't trust anyone.
Check out the video below.