Should We Start Calling Them Belle & Beast?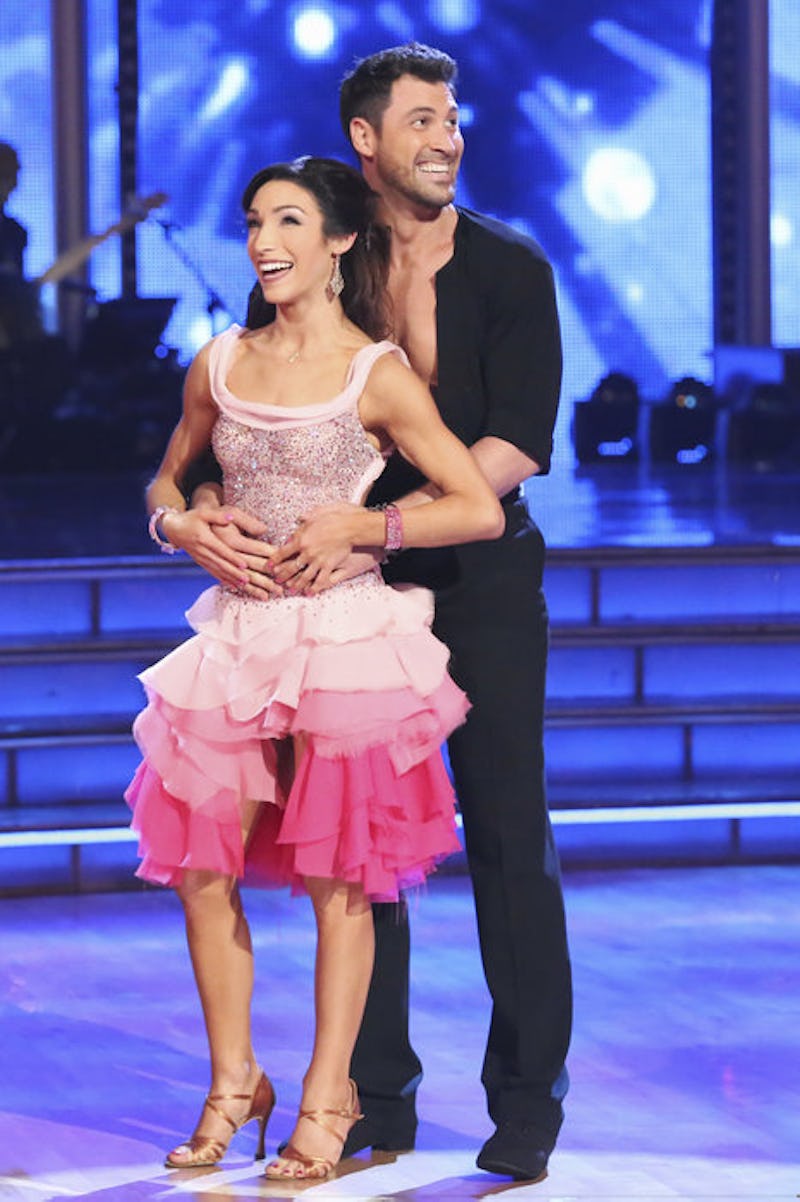 Are Maks and Meryl dating yet? Sadly, no. But that's still not stopping us from looking for every possible reason why Dancing with the Stars' Meryl Davis and Maksim Chmerkovskiy should get together right away. During the 2014 Sochi Olympics, our Disney-loving hearts made the epic connection that Meryl Davis is Aladdin 's Princess Jasmine's twin, but now it seems that the figure-skating champion is living out quite a different fairytale. Maks and Meryl — even though they performed a Jungle Book number during Week 5 — are Belle and the Beast from Beauty and the Beast, so they're guaranteed a happy ending.
Maksim Chmerkovskiy has been DWTS' notorious and resident bad boy since he debuted on the show's second season — actually, he's been downright beastly at times. And no, I'm not making that comparison just to prove my point. Maks has actually said that he's not really the short-tempered guy we've seen on-air and that he's actually changed a lot this season. Why? Because of Meryl Davis — not only does Davis look like a Disney princess (we initially said Jasmine, but she could easily pass for Belle as well), but she's apparently got the power to tame the untamable Maks. Sound like Beauty and the Beast to you?
They Look The Part
Everything Meryl does screams "I'm a princess!" But she truly does look the part from face shape to her flowing, brunette locks. Now, Maks is far from looking like a beast but he could definitely pass for a Disney prince. For argument's sake, we'll say that his impressive facial hair counts towards reminding us of the Beast's overall hairiness — just in a far more attractive way.
She Loves Her Hobby
For Belle, her life was her books — well, and her father — but mostly, she loved her hobby so much that it made her who she was. And, considering she just won an Olympic gold medal, you could say the same for Meryl Davis. I mean, she did dedicate her contemporary dance number about a life-changing moment to her year leading up to the Olympics. Meryl Davis is a figure skater and she loves it — almost as much as Belle and her books.
He's Got The Personality & Reputation Down Pact
Maks reputation precedes him every season — he's known for being argumentative, his messy relationship with ex-Karina Smirnoff, and having a short fuse. The pro was also known for being a tough and strict with his celebrity partners and constantly butting heads with contestants and judges alike. Does that not sound extremely beastly to you? Hot-headed and intense with the ability to fly off the handle at any given moment? The only thing he's not known for is letting out guttural roars in the studio — I guess there's a first time for everything.
They Met By Chance
Belle ends up with the Beast after her father ends up being held captive in his castle after being chased through the woods by wolves. Belle asks to trade her life for his and so their story goes. As for Maks and Meryl, their union isn't quite so dramatic — but the people at ABC and DWTS paired them up at random. So, just like Belle and the Beast, there was a chance that they'd never even meet. And yet, here we are petitioning for their love.
She's Tamed Him
What was the Beast's problem? Well, for one, he was miserable and, well, beastly. And Belle swept in a melted his cold, indignant heart with her kindness and general warmth and essentially tamed the beast. For Maks and Meryl, things have kind of happened the same way. As the show's resident bad boy with a reputation for flying off the handle when he doesn't get the results he wants — Maks has admitted that Meryl brings out the best in him and that he's become a much calmer person since they started dancing together. Probably because she's not intimidated by him — like Belle, who went toe-to-toe with the Beast when he was out of line.
The Dancing
This is more of a fundamental similarity than anything else — but when you think about it, the Beast and Belle had their most romantic moments ("Tale As Old As Time" and above) while dancing. And for Meryl and Maks, the same is beyond true (they danced to "All Of Me" for crying out loud). We're also pretty sure they've done this lift before — double points if they can figure out the magical dress change for their next performance.
And then they lived happily ever after.
Images: ABC (2), Fanpop, Rebloggy, shadowhunters/Wikia, gif-database/Tumblr, Fanpop, Rebloggy