18 Best & Worst Prom Moments From 'Saved by The Bell,' 'Footloose,' & Everything In Between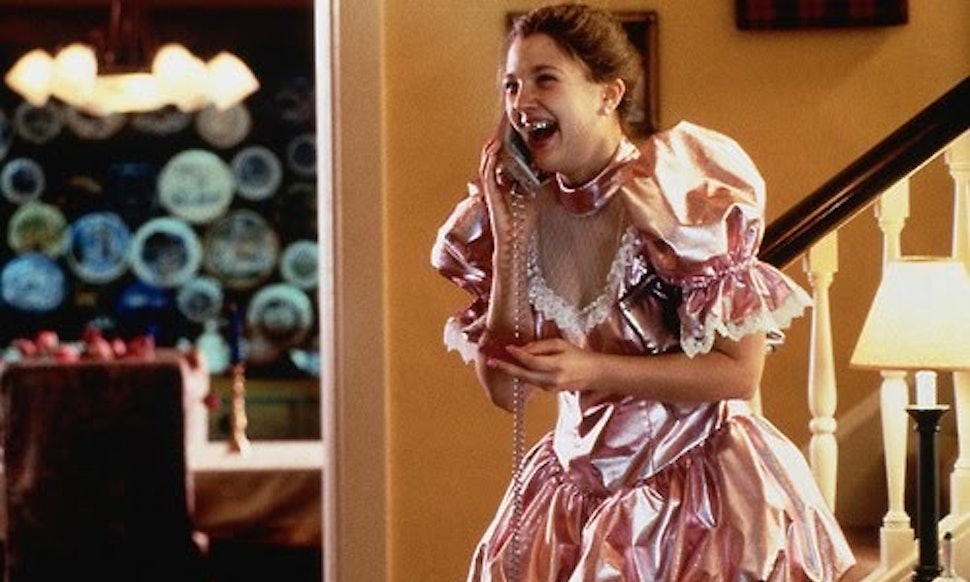 "Will you go to prom with me?" Those seem to be the words on everyone's lips lately, whether you're Leslie Knope (Amy Poehler) asking your own husband Ben Wyatt (Adam Scott) out on Parks and Recreation (he said yes!) or you're a teen asking Miss America (and getting in trouble for it), or you've had Bryan Cranston ask on your behalf (and winning the respect of the Internet for it), because let's face it: Prom is a prominent part of pop culture. In fact, the prom is as much a rite of passage in high school as it is in teen movies and themed episodes of television.
From the sky-high expectations about what's supposed to happen to your virginity (thanks a lot, American Pie) to the slow dances with your boo (swoon, Buffy the Vampire Slayer) to those fashions (hello, Pretty in Pink), movie and TV has you covered. And sure, maybe your date didn't look like Cameron Diaz in There's Something About Mary, but at least your night didn't end as nightmarishly as Ben Stiller's did.
From Footloose to Grey's Anatomy and everything in between, we've picked the best and worst pop culture prom moments.
Image: 20th Century Fox
Best: 'Pretty in Pink'
While it's still entirely bogus that Andie and Duckie don't wind up together at the prom, Molly Ringwald's character making her own iconic dress – and her grand entrance – is still as good as it gets.
Image: Paramount Pictures
Worst: 'There's Something About Mary'
The girl of your dreams (Cameron Diaz) says yes to your prom invitation, but it all goes to hell when you get your "frank and beans" stuck in your fly. Ben Stiller's scream still haunts us, but makes us feel so, so grateful nothing that horrendous ever happened to us on prom.
Image: 20th Century Fox
Best: 'Saved by the Bell'
The prom was saved by Zack Morris when he surprised his girlfriend Kelly Kapowski with a prom picnic. After Kelly gave her prom money to her dad after he lost his job, Zack created a makeshift (an ultimately way better) private prom right outside of their school. Awww.
Image: NBC
Worst: 'Beverly Hills, 90210'
Don't drink and prom, kids. Donna Martin learned that one the hard way.
Image: EW.com
Best: 'Back to the Future'
The gold standard for awesome high school proms, Marty McFly brought down the "Enchantment Under the Sea" dance of 1955 by introducing true rock n'roll to some suburban square. No band or DJ will ever be able to top Michael J. Fox's show-stopping rendition of "Johnny B. Goode."
Image: Universal Pictures
Worst: 'Carrie'
The gold standard for horrible high school proms, the taunted and telekinetic Carrie White had enough and quite literally brought the house down at her prom. After having pig's blood dumped on her head during a cruel prank by high school bullies, Carrie uses her powers to unleash hell and burn most of her classmates alive in a trapped gymnasium.
Image: United Artists
Best: 'Buffy, the Vampire Slayer'
Who the hell needs Prom Queen when you can be declared Class Protector and then get to slow dance to "Wild Horses" with your one true love?
Image: 20th Century Fox Television
Worst: 'New Girl'
Jess tried to get her "freak" on with her timid high school boyfriend, only to have him wind up accidentally stabbing himself, as well as lose the attention of a dreamy, guitar-playing boy she met in the hall.
Image: Fox
Best: 'Footloose'
After years of dance repression, Kevin Bacon and pals got to, well, you know, finally cut loose at their prom to a Kenny Loggins jam. Hey, the '80s were a simpler time. Now… "Let's dance!"
Image: Paramount Pictures
Worst: 'Never Been Kissed'
While poor Josie's (Drew Barrymore) prom bullying wasn't quite as detrimental as, say, Carrie White's, it was still heartbreaking to watch the sweet, nerdy girl get egged on prom night as a teen. Her second prom, as an undercover journalist, didn't go much better considering she won prom queen but then had to reveal she was, you know, a grown woman pretending to be a teen.
Image: 20th Century Fox
Best: 'How I Met Your Mother'
Grown-ups attending proms happens way more on TV than in real life (at least we hope), but HIMYM managed to make their gang crashing a high school prom more cute than creepy when Marshall and Lily got to slow dance to the band they wanted to have play at their upcoming nuptials.
Image: CBS
Worst: 'Friends'
Don't get us wrong, we love the episode when the gang watches Monica and Rachel get ready for their prom, but we hate seeing the crestfallen look on Ross's face when she takes off before he gets to step in and save the day to be her date. Could we be any sadder?
Image: NBC
Best: 'Mean Girls'
Cady's (Lindsay Lohan) moment of redemption didn't come from being named prom queen, rather by admitting her faults and making sure that everyone (literally and figuratively) got a piece of her crown. Sure, as Principal Duvall pointed out, she wasn't technically required to give a speech, but we're still glad she did.
Image: Paramount Pictures
Worst: 'American Pie'
Granted, all of the action (both literally and figuratively) took place post-prom, but the actual prom in American Pie was a dud. From an Arabian Nights-themed band to a kid wetting his pants to the friends all getting in a fight with each other, this was one of the least fun-looking proms ever caught on screen.
Image: Universal Pictures
Best: 'Gossip Girl'
Of course the dresses were to die for in the prom-themed episode of Gossip Girl, but it was Chuck's promise to Blair to give her the "perfect night" that truly made it one to remember.
Image: Warner Bros. Television
Worst: 'Grey's Anatomy'
No, this wasn't technically a real high school prom, but we're pretty sure that when your fiance dies when you're all dressed up in a prom wear, that's about as terrible as a prom memory can get.
Image: ABC
Best: '10 Things I Hate About You'
Larisa Oleynik lived out all of our fantasies of punching any scummy prom date's lights out when her character clobbered Andrew Keegan's dopey Joey. Even better, she gets to walk away victorious with a smitten Joseph Gordon-Levitt.
Image: Touchstone Pictures
Worst: 'Twilight'
Sure, the twinkling gazebo is pretty and you could find worse dates than Robert Pattinson, but watching Bella isolate herself from her friends to be alone with Edward and promise to become a "monster" to spend eternity with symbolizes in one scene everything that's wrong with the Twilight franchise.
Image: Summit Entertainment