Drake's Courtside Antics Are More Interesting Than the NBA Playoffs — VIDEOS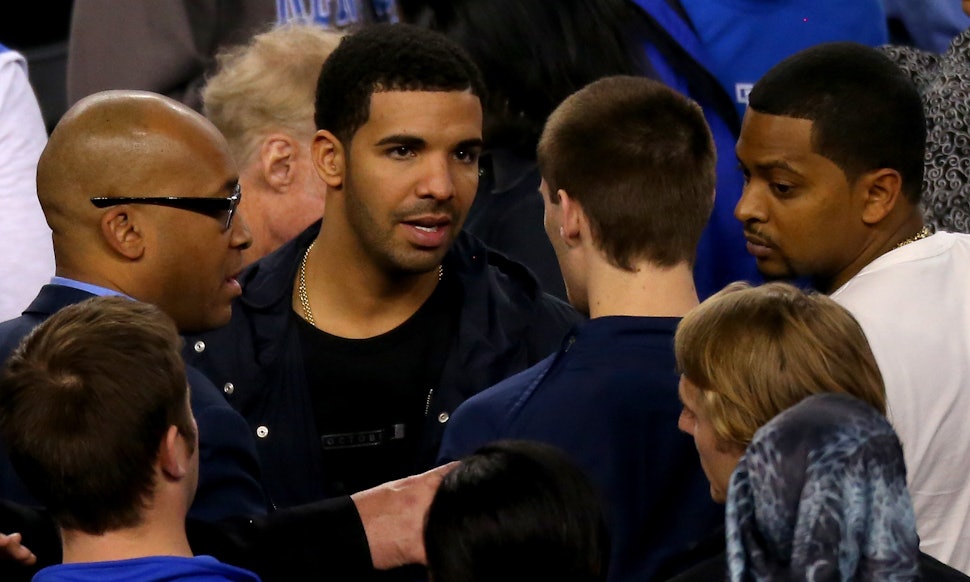 Ronald Martinez/Getty Images Sport/Getty Images
If there's one thing that we've been learning from Drake's career, it's that the inclusion of Drake into anything more or less makes it awesome. Acting? Awesome. Rapping? Awesome. Comedy? Awesome. Sports? Extra awesome. Drake has made his love of sports very clear both in his lyrics, like when Drake name-dropped Johnny Manziel in "Draft Day", and in his gigs, like when Drake got the opportunity to host the ESPY Awards on ESPN. Seeing him court side at the NBA playoffs is no surprise, but even people like me, who consider watching most sports a cruel and unusual form of torture, might want to start tuning in. The antics Drake has been pulling at the NBA playoff games are getting to be more interesting than the actual matches.
He started off small. The feud between Jay Z and Drake is still going on, after all, and Drake's team, the Toronto Raptors, were playing against the Brooklyn Nets in round one of the playoffs. It's like the universe was conspiring to pit the two artists against each other again. Jay Z had an ownership stake in the Nets at one point and his absence of the playoffs did not go unnoticed by Drake, who couldn't resist the opportunity for a one-liner.
"It's the uprising, man... This is the people's team, the Toronto Raptors. Jay Z is somewhere eating a fondue plate," he said, before going on to call the Nets vs. Torontos game an "ironic match-up".
Then, in Tuesday night's game, Drake took his eyes off the action for something very important. Cleanliness is next to godliness, right? Why else would the cameras have closed in on Drake pulling out a lint roller and smoothing it down the leg of his pants?
If you ever thought you were weird that you only bought bags that were big enough to carry your lint roller in it, then you can now tell people it's the latest trend. All the A-List rappers are doing it. Just ask Drake. In fact, Drake even embraced the attention, posting a screen capture of himself with the lint roller to his Instagram with the caption "lint rollers on deck".
If Drake keeps this up, it won't be long before the Internet has a compilation video of Great Things That Drake Did at the NBA Playoffs. Maybe at the next game, he'll have a pizza delivered like Ellen DeGeneres at the Oscars. Maybe he'll do a dance with the mascot. Maybe he'll take a moment at halftime to rap about his Bar Mitzvah like on Saturday Night Live . The opportunities are endless now that he knows the world is watching for more than just the basketball game. "Courtside Antics with Drake" could be the hottest series to hit the Internet since "The Misadventures of an Awkward Black Girl". Don't disappoint me, Drake.
Image: champagnepapi/Instagram