Who Doesn't Find a Shared Hot Tub Comfy?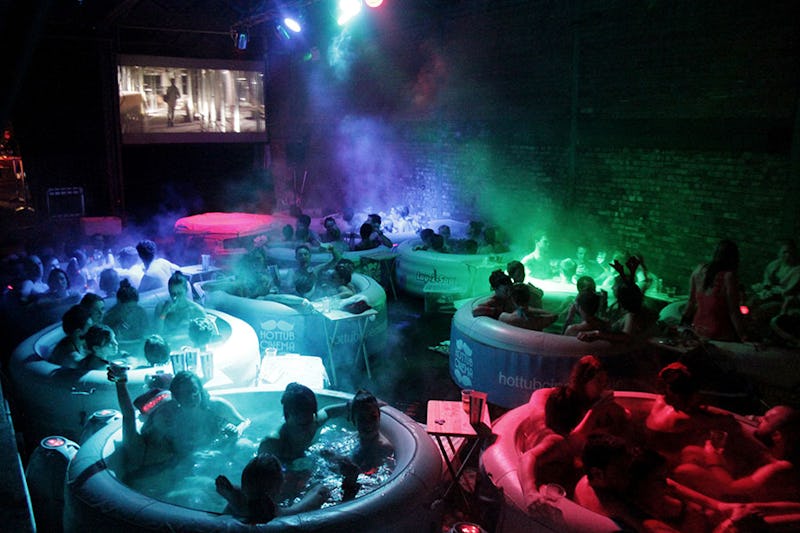 For those of us who thought tea was the best thing to be imported from England, we need to think again. Hot Tub Cinema, a UK phenomenon that first started in the summer of 2012, is crossing the Atlantic and making its way to a New York City near you! Hot Tub Cinema is exactly what the name suggests it is — a movie theater experience in a hot tub.
But the fun doesn't end there. Just watching a movie in a hot tub wouldn't be novel or enjoyable enough, and as such, food and drinks are served "tubside," allowing you to make the most out of your time in the water.
Asher Charman, the founder of Hot Tub Cinema, explained the genesis of his company as something of a logical progression: he loved hot tubs, he loved movies, and then he put them together. And what better way to watch a movie than in warm water with friends and/or stranger? Said Charman of the experience,
Our guests usually arrive with a sense of excitement and trepidation. It is quite a sight to see such a large number of hot tubs in one place. It quickly transforms into surprise and delight once our guests are in the tub and enjoying a few drinks.
Yes, if we ran into a room filled with hot tubs, we'd be confused too. The confusion would definitely abate after a few margaritas, though.
For Charman, it is not enough to simply watch a movie, snack and drink, however. Instead, a Hot Tub Cinema experience is one that delights all the senses at all times. To keep things lively, Hot Tub Cinema staff often don costumes and delight audience members with live performances and musical numbers inspired by the film in order to keep things fun. Because there just isn't enough fun to be had from drinking in a hot tub.
Given this performative aspect, Charman believes that the Hot Tub Cinema format is best suited for comedies and classics, and has been hired to set up Hot Tub Cinemas at film premieres, film shoots, corporate events, and private parties.
According to the company website, Hot Tub Cinema has been looking to go international since meeting such a warm reception throughout London and the UK. In fact, Charman suggested that India might be a great next destination as well.
Since the first public showing of a Hot Tub Cinema, the company has acquired 40 more hot tubs, modernized their projection systems, and continued to find bigger and better venues to show films. And luckily for us, the next great venue is in New York City.
On May 8, Hot Tub Cinemas will officially make their way into the Big Apple, and in a partnership with Crowdtilt, they'll be providing "a unique experience (first in US) you won't want to miss out on!" There are 14 tubs for 100 spots total (how comfortably can seven to eight people fit in an inflatable hot tub?) and tickets are a reasonable $55. Tickets will not only guarantee your spot in a hot tub, but also buys your drinks, food, and an experience of a lifetime.
Unfortunately, all tickets are already sold out, which might just mean that Hot Tub Cinemas will have to do a re-run. If you were lucky enough to get tickets for this fabulous event, however, Hot Tub Cinemas suggests that you bring:
Swim-wear, a towel, a warm cover-up and flip flops for toilet trips, money for drinks and food, and a sense of adventure! For the pros: A camera (waterproof for the very prepared!), a plastic bag for wet items after the screening, fun headwear, hats or wigs to wear in your tub.
Hot Tub Cinemas is also branching out of the film business, offering speed dating and karaoke for those who don't want to watch a movie. Otherwise, what better way to spend your Friday night than watching Hot Tub Time Machine in a hot tub?
Images: http://hottubcinema.com