Here's Your First Peek At Season 2 of 'OITNB'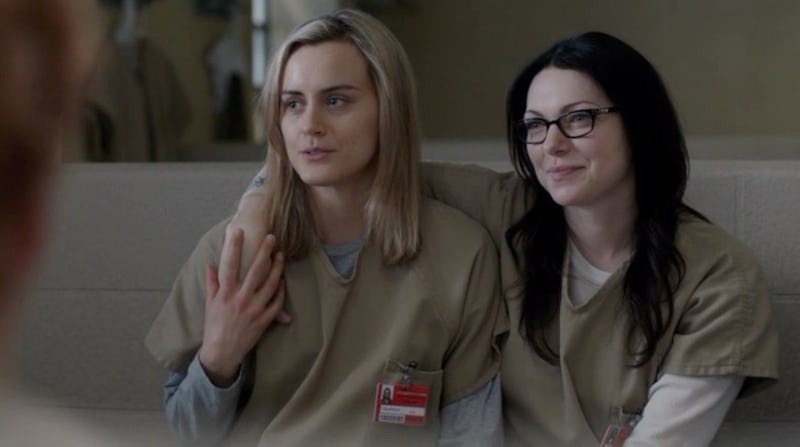 So, here is the Internet's gift to you for the day. We've got the first scene from Season 2 of Orange Is The New Black . Entertainment Weekly posted the first 51 seconds, which is enough to hold us over til Netflix lets us binge watch the whole new season on June 6. In this short clip, we've got our leading lady, Piper Chapman (Taylor Schilling), as she loses her shit — and that's putting it lightly. She's in solitary — as one might expect after she beat down Pennsatucky (Taryn Manning) at the end of last season — but she has no effing clue what's happening. And, oh yeah, she's making art out of egg yolk on the walls.
As we could infer from the season's awesome trailer, this is going to be a pretty dark season. After all, as Piper gets more and more adjusted to life at Litchfield, she seems ready to descend even more into prison life's black hole.
We've been speculating about what's coming up this season, but now we at least have a place to start: after all, painting with egg yolks is not something that most folks would consider a popular form of arts and crafts.
But hold on for a hot second: if she's in solitary — what the hell has happened to Pennsatucky?!?! AAAH. We will have to wait and see. (Unless anybody wants to give us more clips and teasers. Anyone? Anyone?)
Anyway, check out the clip below, and get yourself and your snacks ready for your binge watching session on June 6.
Image: Netflix