Beyonce Deserves That TIME Cover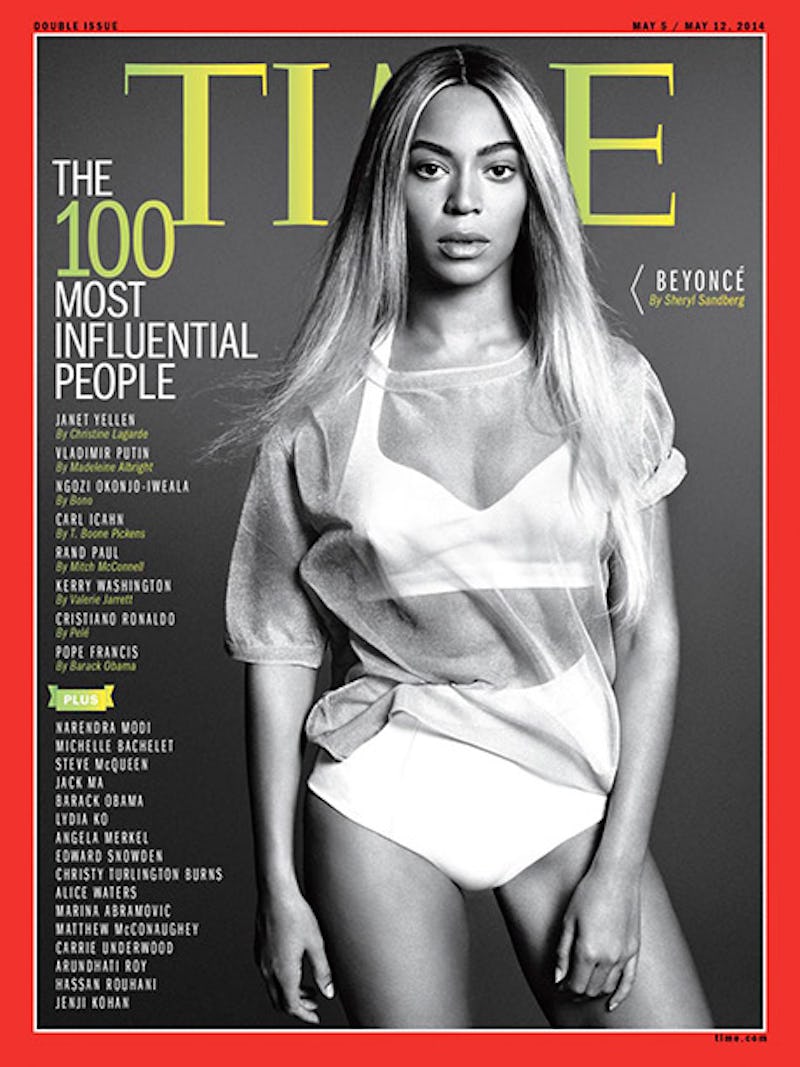 Beyoncé is someone that draws strong opinions. And by strong, I mean 99% of people really like her and think she's an amazing goddess. Unlike some celebrities who draw negative opinions from half of the population or who people just feel "meh" about, for some reason, a majority of people seem to agree when it comes to Beyoncé. This, and many other reasons, explain why Beyoncé is the perfect fit for the cover of TIME Magazine 's most influential issue which was revealed on Thursday.
Now the one percent might say that they don't understand Beyoncé's massive appeal and honestly, as a Beyoncé fan, I'm not sure I do either. I get why she's a famous pop star — she's an extremely talented singer, she's gorgeous, and she comes off as a nice person — but as for why she garners the amount of obsession that she does, well that's more confusing. Charisma? Confidence? Ability to come off as simultaneously a down home Texas girl while also being known as a diva? A combination of all of these? I'm not sure, but it's clear that Beyoncé is doing something right.
This appeal ties right in to why Beyoncé should be on the most influential list in the, unofficial, number one spot. If being the "most influential" means being being able to most influence, the greatest amount of people, then that's exactly what Beyoncé is doing. Beyoncé's popularity is worldwide and has been ever since her Destiny's Child days. There's are other huge pop stars around — Katy Perry, Lady Gaga, Miley Cyrus — but none of them have had a career the length of Beyoncé's and none of them have such an high approval rating.
We know that Beyoncé has a far reach when it comes to her influence, so how exactly is she influencing people? According to Facebook COO and creator of LeanIn.org, Sheryl Sandberg, who interviewed Beyoncé for TIME ,
In the past year, Beyoncé has sold out the Mrs. Carter Show World Tour while being a full-time mother. Her secret: hard work, honesty and authenticity. And her answer to the question, "What would you do if you weren't afraid?" appears to be "Watch me. I'm about to do it." Then she adds, "You can, too."
Beyoncé is able to be an international superstar while still bringing across the message that you can achieve anything you want. Becoming a singer with a level of fame like Beyoncé's is virtually impossible, but seeing her give it her all on stage inspires others to give it their all regardless of their own goals. Even other stars have used Beyoncé to find their strength. In an interview, Anna Kendrick explained how she stayed motivated rehearsing dance routines for her new film. "We kept saying, 'Beyoncé, Beyoncé, Beyoncé,' as a mantra to keep going and work harder."
In particular, Beyoncé's message to young girls has been a powerful one all along. As Sandberg writes, "Beyoncé has insisted that girls 'run the world' and declared, 'I'm not bossy, I'm the boss.' She raises her voice both on- and offstage to urge women to be independent and lead." Beyoncé's message of female empowerment has been around since her days with Destiny's Child as far back as songs on The Writing's on the Wall and, most famously, "Independent Women (Part I)." When she named her tour the somewhat controversial "Mrs. Carter Tour" critics claimed that using her husband's name confused her message of empowerment. Personally, I see it as displaying her right to her own opinion. Being a wife does not cancel out being a strong woman and this points out the infinitely wide variety of strong women in the world: Single, married, straight, gay, career women, stay-at-home moms, pop stars that use their husband's names — none of these are the wrong choices and the power is in having the choice.
As far as her music career goes, Beyoncé changed the game when she secretly released her album on iTunes in December. Nothing like this had ever happened before and it proved that Beyoncé is not only influential to fans, but to others in the music industry. It challenges others to come up with the next big thing and so far, she has not been surpassed.
Beyoncé has kept her private life just private enough giving the public just enough to feel like they understand and know her without appearing in crazy tabloid stories constantly. She shares pictures of her daughter Blue Ivy, but rarely shows her face. She posts makeup-less vacation pictures of herself with husband Jay Z, but doesn't comment on exactly where she was or what she was up to. Then there was her documentary that allowed her to control just what got out. She presents her rare lifestyle with it seeming inspirational instead of it coming off as "Hey! Look what I have that you don't."
Even if you don't think Beyoncé should be influencing people, it's undeniable that she is and that's what the TIME Magazine cover is all about.
Images: TIME Magazine; Beyoncé/Tumblr