7 Reasons Alicia & Finn Are Perfect Together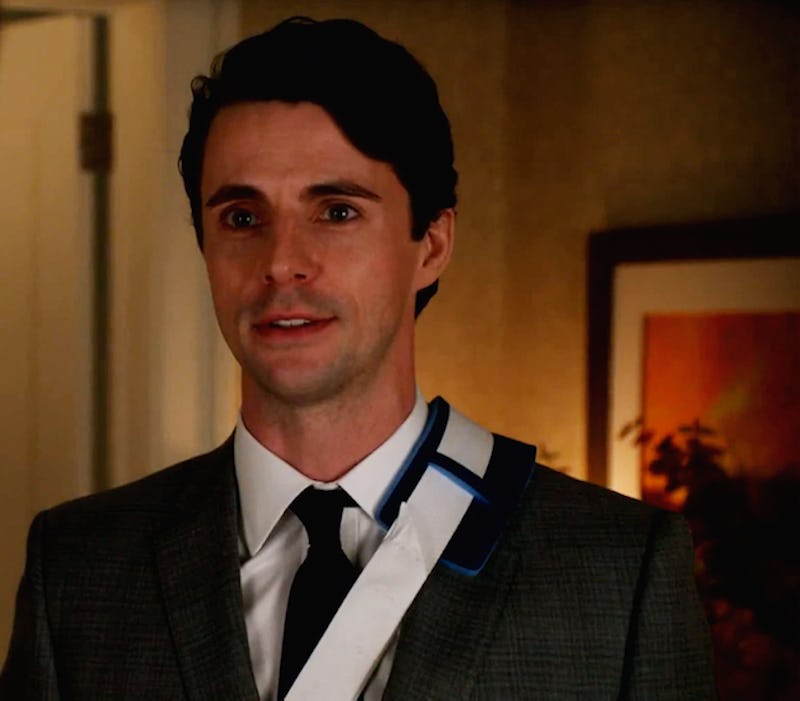 Josh Charles, the actor who portrayed Will Gardner, did an admirable job directing Sunday night's new episode of The Good Wife, titled, "Tying the Knot." Any episode that focuses on accused wife murderer Colin Sweeney (played by the excellent Dylan Baker) is bound to be creepy, but this particular episode was especially so. In the episode's final moments, we discovered that Sweeney's bride-to-be, Renata, killed her best friend so that she could feel closer to Sweeney. Yeah. Renata felt as though she too needed to experience watching the life drain from someone else's eyes in order for their marriage to really work. Yikes! Now that Dexter's off the air, I guess there's room on television for a new serial killer power couple. She then urged Alicia Florrick to attend their upcoming wedding. Don't do it, Alicia!
While "Tying the Knot" primarily focused on the twisted world of Sweeney (naturally, I had to google the Japanese art of "shibari" while I watched… proceed with caution!), when the episode concluded, all I could think was: I am so freakin' happy that Matthew Goode has joined this cast. Goode's Finn Polmar is handsome and warm and kind and I think he just might be the exact person Alicia needs in her life right now. Let me explain.
In the midst of struggling to come to terms with Will's death, Alicia's taken on a rather time-consuming side project: helping Finn avoid losing his job at the State's Attorney's office. But why? Alicia barely has enough time to see her kids at the end of the day, so why would she take on this extra responsibility? Does she feel indebted to Finn because he was there for Will during his final moments in the courtroom? Or is there something more happening here?
Though there haven't been any romantic sparks between the two characters just yet, it's clear that Alicia and Finn are drawn to each other on some level. I think it's only a matter of time before their professional relationship evolves into something more. Need a little convincing that Finn's the right guy for Alicia? Okay, I'll bite.
He's a Hunk and a Half
I mean, just LOOK at that smile. How could anyone resist? It's not that Peter Florrick is unattractive per se, it's just that Chris Noth, the actor who plays Peter, looks to me like he has really bad breath. I can't explain it, it's just a sixth sense I have. More on why Peter is the worst later.
He's Brave
Finn helped Will to safety during the courtroom shooting. He's a good guy.
He's Caring
After helping Will to safety, Finn held his hand and did his best to comfort him while waiting for the paramedics to arrive.
He's Got Some Healing to Do, Too
We already knew that Alicia was having a tough time dealing with Will's passing, but until "Tying the Knot," we had no idea how the courtroom shooting was affecting Finn. As it turns out, Finn may be dealing with post-traumatic stress disorder. Both Alicia and Finn have some healing to do — don't you think that they could rely on each other for a little emotional support? After all, just being around Finn already seems to make Alicia happy.
He Gets Alicia
Enough said.
He's Not Peter
Peter is the worst, you guys. He doesn't really love Alicia — he's just concerned about what splitting up could potentially do to his political career. He's a dirty rotten liar, and a cheater, and his mother Jackie is out of her mind, too. Really, at this point, anyone would be preferable to Peter, but Finn isn't just anyone — he's a good-looking lawyer who has already demonstrated that he's a million times more perceptive and understanding than Peter could ever be.
He Might Be the Next State's Attorney
It's true that Peter's position as the Governor of Illinois provides Alicia with some unique benefits when it comes to making contacts and scouting out new clients for her law firm. But guess what? Finn might be the next State's Attorney! The title's a step down from governor, for sure, but I bet it still comes with a few perks.
Near the end of the episode, Alicia discussed her relationship (or lack there of) with Peter with her brother Owen. Owen asked, "If you were to meet someone new, how would that work?" Clearly rattled by the question, Alicia responded, "That's really not what this is about." As she shut the door to her bedroom, tears welled up in her eyes. So, Alicia might not be ready for a new man in her life just yet — she's still torn up about Will and this new "Bill and Hillary" situation with Peter is probably emotionally draining, as well.
But we know that Goode was recently promoted from guest star to series regular, so when Alicia's ready, Finn will be there. I mean, hopefully. I conveniently forgot to mention that Finn might be married. Oops! Although, he wasn't wearing a wedding ring during Sunday night's episode. Hmm, the plot thickens! If Finn is indeed married, here's to hoping that he and his wife go through a totally mutual, totally amicable, totally "it's for the best" kind of split in the very near future.
Next Week: divorce attorney David Lee goes to war with Kalinda!
Images: CBS; thegoodwifeislife/tumblr; steffmate/tumblr; fanpersoning/tumblr; collect-a-holic/tumblr; smithoc/tumblr; missmarlenedietrich/tumblr