This 'Hannibal' Character is Doomed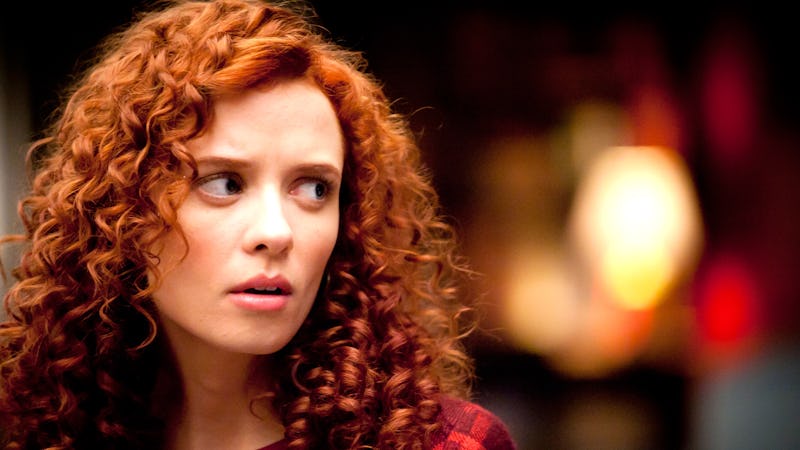 Bryan Fuller, the creator of NBC's beautifully gory hit, has taken a few liberties with his Hannibal source material, including changing the gender of a few characters to make the all-male cast of Thomas Harris' Red Dragon more diverse. One of those swaps was to Freddy Lounds (who was played in the film adaptation by the late great Philip Seymour Hoffman), who became Freddie Lounds (played in the show by Lara Jean Chorostecki). But this is no mere tokenism — the nosy tabloid journalist is simply a much more interesting character as an unapologetically ambitious young woman than as just another sleazy middle-aged man.
Redheaded Freddie quickly became a fan-favorite in Season 1 with her ridiculous fashion and apparent lack of scruples. But sadly, while she appeared in about half of that thirteen-episode season, she has only appeared in 2 out of the 9 episodes so far this year. Thankfully, Freddie will pop by again on this week's Hannibal, presumably to wreak more havoc with her snooping and trashy reporting. But enjoy her antics while they last — in the mortally dangerous world of Hannibal, no one is safe for long. And in fact, if the show continues to follow its source material, there's a looming expiration date for Freddie Lounds.
(Warning: SPOILERS to follow... if you haven't read or seen Red Dragon, that is.)
Poor Freddy doesn't last very long, dying in the first book of Harris' trilogy. The Tattler reporter meets his gruesome end at the hands of serial killer Francis Dolarhyde, whom Freddy was responsible for dubbing with the emasculating nickname The Tooth Fairy. Freddy and FBI profiler Will Graham had been on very poor terms ever since the journalist had snuck into Will's hospital room after he was attacked by Hannibal and published pictures of his wounds.
After he's caught sneaking onto yet another crime scene, Will tells Freddy they'll let him off if he agrees to help catch The Tooth Fairy. So at Will's behest, Freddy publishes an defamatory article about Dolarhyde, labeling the killer as an impotent homosexual, in attempt to lure him out. The article infuriates Francis, who kidnaps Freddy, glues him to an antique wheelchair, bites off his lips, and then sets him on fire outside the Tattler offices. Yikes.
Most people are resoundingly satisfied by Freddy's death in the book and film, as he was a despicable character with little to no redeeming qualities. But TV Freddie has gained quite a few more fans, so expect responses to be more mixed when she finally meets her demise. But part of the fun of Freddy's death (other than its brilliantly brutal execution) is the insinuation that Will had a hand in it, whether consciously or unconsciously. Surely a man as intelligent as Will Graham would know that writing such a provoking piece would likely instigate Dolarhyde into retaliating against his defamer? On some level, was Will hoping for this outcome?
Fuller's Hannibal has been exploring Will's darker side this season more than Harris' books over did — the last episode ended with him killing a man, only the second time Will has ever taken a life. So if (or when) the show reaches this point in the story, expect Fuller to take full advantage of the morally grey area surrounding Will's manipulation of Freddie.
According to the timetable that Fuller has set out, he won't reach the events of Red Dragon until Season 4 — and it's unclear at this point if the show will even make it that long. It's on the bubble for its third season (though TVbytheNumbers is predicting a renewal), so it's way too soon to be counting on a fourth. But we'll keep our fingers crossed, if only for the chance to see unscrupulous Freddie glued to a wheelchair. On fire.
Live in fear, Ms. Lounds. No amount of fabulous hats will save you.
Get a spoonful of Freddie with the promo for this week's episode, titled "Naka-Choko":
Images: NBC (3)